King Digital Entertainment (BATS:KING), the maker of highly addictive game Candy Crush Saga, is all set for an IPO. The company has valued its initial public offering at $22.50 a share ahead of its public debut on the NYSE today. King's IPO price is in the range of $21to $24, which it set in February. King will raise $500 million, however I think the company's IPO will struggle to replicate the success of Candy Crush. Thus, I think investors should stay clear of King's IPO and instead bet their money on the likes of Glu Mobile (NASDAQ:GLUU). Let's take I look at the reasons why I think investors should avoid King.
Over Dependent On Candy Crush
King derives nearly 80% of its revenue from Candy Crush and what makes matters worse is 100% of King's revenue comes from 4% of its entire user base. Mobile gaming business is pretty volatile and there's no denying that many people will stop playing Candy Crush in the future. Do you still play Angry Birds? I don't think there are many people out there who still play old hits like Angry Birds or Temple Run. Angry Bird's best days are behind it and the same thing will happen with Candy Crush in the future. The game has been out in the market for nearly 1.5 years and the company doesn't have any other game in its pipeline to replicate the success of Candy Crush. Innovation is the key to success in the mobile gaming world and I think there are better options out there than King.
Dying Fad
King has enjoyed explosive growth in 2013, however a sequential decline in bookings and revenue indicate that King may soon run into trouble.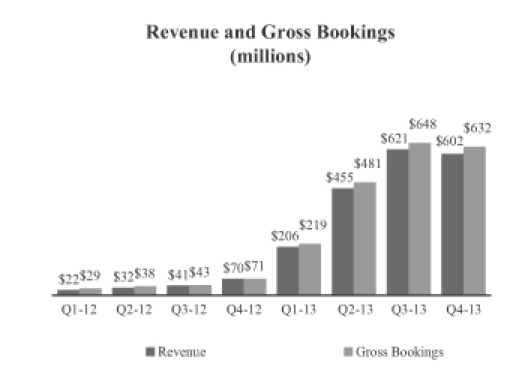 Source: BusinessInsider
This stat is alarming because King, which derived 73% of its Q4 revenue from mobile, was supposed to witness an increment in bookings due to the launch of Apple's iPhone 5S and iPhone 5C. Moreover, 2013's Christmas was the biggest day for mobile app downloads.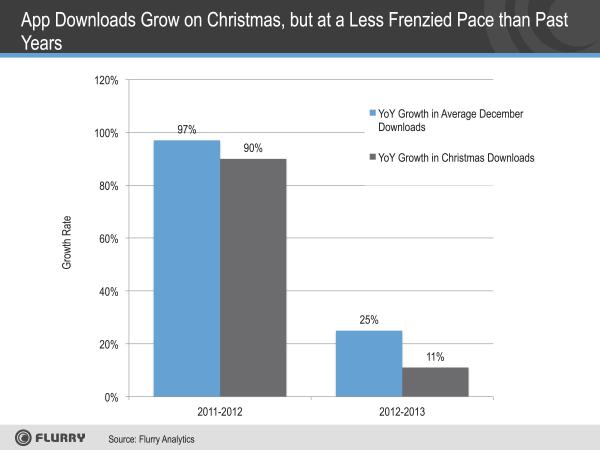 Source: Flurry.com
As you can see, overall app download increased 11% on Christmas 2013 compared to Christmas 2012. Thus, King's revenue was supposed to grow in Q4, but that didn't happen. This obviously means King's growth is slowing down, which is another reason for investors to stay away.
IPO Disaster
Research firm PrivCo predicts "there will be strong demand for the King IPO based on the name recognition for Candy Crush Saga alone." However, the company highlighted a major flaw in King's IPO. PrivCo noted:
· Holders of King's DBUs will receive two payments of approximately $29 million both immediately following the offering and then again one year from the IPO, for an approximate total payout of $58 million.
· In total, management, investors and shareholders will receive total cash payments of $621 million, without having to sell a single share in the offering.
· Two companies that paid out large dividends prior to their respective IPOs were Zynga (NASDAQ:ZNGA) and Groupon (NASDAQ:GRPN), effectively removing large chunks of cash from the companies' balance sheets. On the other hand two companies with successful IPOs and without such special dividends are Facebook (NASDAQ:FB) and Twitter (NYSE:TWTR).
· King has paid out more in dividends than it will raise in its IPO.
· With such large payouts already in play, management and investors have already seen huge profits, how much skin do they really have left in the game?
After such large payouts, King may not generate enough money from the IPO to compete against the like of Zynga and Glu Mobile.
Glu Mobile Is Better
Glu Mobile knows the fact that keeping things fresh is very important in order to succeed in the mobile gaming industry. Deer Hunter 2014 and Eternity Warriors 3 helped Glu Mobile to surpass all expectations in a big way and the company will be making regular content updates to sustain the popularity of these franchises. Apart from the expected launch of Frontline Commando 2 and Motocross Meltdown, Glu Mobile will also be launching the next installments of the Contract Killer and Frontline Commando franchises. The company is confident the next installments have the potential to be the strongest performers in the respective series yet.
Glu is also focusing on international markets, such as Japan. It has entered into a strategic relationship with COLOPL to co-produce and publish a new game designed with market-specific content for players in Japan.
Recently, Glu, in collaboration with Moonmana, released another exciting multiplayer strategy game on the App Store and Google Play called Pirates of Everseas. In this engaging multiplayer game, players' primary objective is to construct a pirate fleet to take into a war and equip their home islands with resources which they will need to progress further. Glu is really excited about the prospects of the title and the company's President of publishing, Chris Akhavan, said:
"Glu is excited to bring Pirates of Everseas to a global market. The combination of strategic gameplay, city-building, and social competition has resulted in a game that is truly fun to play. We think players will really enjoy the pirate-themed storyline, game play style and colorful artwork."
With many game developers present across the globe, Glu is focusing on developing a distinguished gaming experience to tap the market and achieve an iconic position in the competitive environment.
Wrapping Up
King is overly dependent of one game and the company's product pipeline doesn't look strong enough to repeat Candy Crush's success. In addition, King's growth is slowing down. Glu on the other hand, has performed outstandingly well so far this year and there are solid reasons to believe that the company's positive momentum should continue. The company will continue to enjoy the success of Deer Hunter in 2014 and the upcoming games will help it to perform better in the years to come.
Disclosure: I have no positions in any stocks mentioned, and no plans to initiate any positions within the next 72 hours. I wrote this article myself, and it expresses my own opinions. I am not receiving compensation for it (other than from Seeking Alpha). I have no business relationship with any company whose stock is mentioned in this article.