The 180 day lockup period that began with the October 1, 2013 IPO of Empire State Realty Trust Inc (NYSE:ESRT) will come to a close on March 31, allowing pre-IPO shareholders in the Manhattan REIT to sell their outstanding shares.
The supply shock resulting from the sudden glut of ESRT shares available for sale on the market may likely cause ESRT share prices to fall, at least temporarily, and may create a short opportunity for aggressive investors.
After pricing at the low end of its expected range at $13 per share in its October IPO, ESRT spiked as high as $15.61 per share in December; the price has remained in the neighborhood of $15 ever since, with some small variations. ESRT closed at $15.03 on March 25.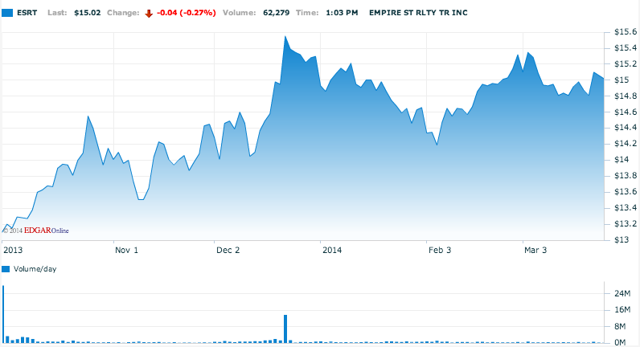 Click to enlarge
(Nasdaq.com)
Business Summary
Empire State Realty Trust is an REIT, focused on owning, operating, managing, and acquiring Manhattan retail and office properties. The trust's crown jewel is, of course, the Empire State Building, though ESRT also holds 17 additional properties. The REIT was created by Malkin Holdings in late 2011. Malkin has spent heavily to renovate its Manhattan office space in recent years, hoping to attract higher-quality tenants; from 2002 through September 30, 2011, the firm spent $296 million on renovations. The bulk of these renovations are now completed, though work on the Empire State Building will not be finished until approximately 2016.
The effort to gain more credit-worthy tenants has already paid off, to some extent, with new tenants including Noven Pharmaceuticals (NASDAQ:NOVN), LF USA, LinkedIn (NYSE:LNKD), Skanska, the Federal Deposit Insurance Corporation, Coty Inc (NYSE:COTY), People's Daily Online USA, Funaro & Co, Taylor Global, World Monuments Fund, and Turkish Airlines. See our previous article, previewing the ESRT IPO, for further information.
Competition
ESRT faces numerous, powerful competitors, attempting to draw the same high-end tenants that might occupy the Empire State Building. The One World Trade Center tower, for example, offers a similarly high-profile alternative for those tenants. ESRT has had some success in fending off potential competitors, however; in 2010, ESRT launched a campaign to delay the construction of the planned Vornado Tower at 15 Penn Plaza. The slowed approval for the tower's construction for years, and the plans for its construction were ultimately scrapped in early 2013.
Summary
Some long term shareholders may not happy with current management and may be anxious to sell on the expiration of the lock up period. The unlocking may cause a fall in the price providing aggressive investors with a shorting opportunity.
Disclosure: I am short ESRT. I wrote this article myself, and it expresses my own opinions. I am not receiving compensation for it (other than from Seeking Alpha). I have no business relationship with any company whose stock is mentioned in this article.