The Background
The popularity of exchange-traded funds is undeniable, but not all funds are created (and used) equally. I, personally, use exchange-traded funds as part of my long-term, buy-only holdings to supplement my brokerage account with some income and stability while I use the remaining portion to invest in some speculative value stocks. When it comes to my ETF holdings, I've been putting equal amounts in the SPDR S&P 500 (NYSEARCA:SPY) and the Vanguard Small Cap ETF (NYSEARCA:VB) since I opened the account. I've always known that the small caps have, historically, higher returns coupled with higher risk so I figured the balance of the two would be a strategic choice.
The "Ah-Ha" Moment
Recently it dawned on me that the "higher risk" attribute with small-cap companies and VB in particular was a bigger issue if you were an investor with liquidity constraints, to which I am not. These two holdings are, loosely, dollar-cost averaged investments every quarter in a systematic way to ensure my asset mix remains intact. Since the risk associated with the small-cap companies shouldn't be a concern to me, I started thinking about whether I should invest money in ANY ETF except the VB and similar small-cap ETFs.
The historical data that you can find on these ETFs speaks to everything stated above, from the returns to the risk.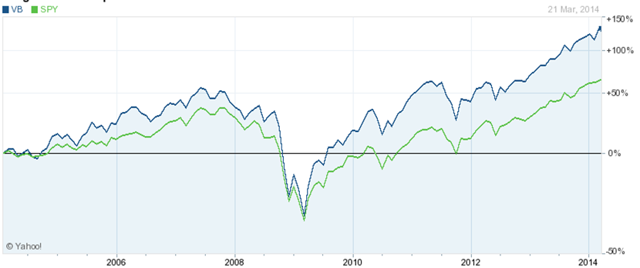 Source: Yahoo! Finance

Source: Yahoo! Finance
Although these metrics aren't surprising, they raise an interesting question for someone who's looking at using an ETF (or ETFs) as a long-term strategy in their portfolio - Does risk matter?
The short answer is no. If we lived in a perfect world, you would never need to liquidate these holdings and the overall higher yields would be all that matters. Of course, we don't live in a perfect world but it's just a matter of how likely you are to need a significant portion of your portfolio immediately for an unforeseen situation. Another thing to note is that the chart above shows the returns of both ETFs, and not once does the VB cross under the SPY, further showing that even if you were to liquidate your holdings it would have always had a better return invested solely in the small-cap ETF. A deeper dive in these two funds was clearly necessary to get a broader picture while trying to mirror my investing behavior over time.
The Dollar Cost Averaging Scenario
Taking my analysis one step further, I pulled the historical values of each fund and did a hypothetical dollar-cost averaging scenario for the past 9 years.
Assumptions
$1,000 invested in each at the end of each quarter (i.e. March 31, June 30, September 30, December 31)
Periods included December 31, 2004 to December 31, 2013.
Fees are not included; MER on both funds is 0.09% so I didn't incorporate that in for simplicity
Prices used are dividend-adjusted. The SPY historically pays a higher dividend than the VB so this has been factored in.
Transaction costs have been ignored.
Results
After the 37 periods of equal $1,000 investments in each fund, I would have a total of 607 shares of VB and 321 shares of SPY. At the time of this writing, the current prices of VB and SPY were 112.72 and 185.40 respectfully. That means the total profit of each holding would have been:
Small Cap: $31,421.04 (85%)
Large Cap: $22,513.40 (61%).
As we are all aware, a lot has happened in the markets since the end of 2004, from the sub-prime mortgage crisis to one of the greatest bull markets of our generation. The range of prices during the simulation were $35.84-108.98 for VB and $74.25-182.12 for SPY. The fundamentals of dollar-cost averaging and the long-term perspective make it a lopsided case for a small-cap ETF over a large-cap fund.
Conclusion
Of course, not everyone has the same risk tolerance and comfort with the perceived volatility that small cap companies have compared to large caps. We are all susceptible to the psychology of investing and the potential short-term and unrealized down-side of this strategy may be a little much for some people to handle. If you are like me, with your eye on the long-term horizon, this strategy is tough to turn a blind eye to.
This type of strategy is not for everyone; it requires a very robotic, emotionless investing strategy that some people don't understand very easily. I will be the first to admit that my stomach still drops on days like today when I look at a sea of red across the markets. I found it's truly important to build a strategy, trust the long-term process and vision, and just appreciate the gains and income as they roll in.
I will definitely be taking these findings into consideration as I continue my quarterly ETF investments and will start to position myself in the small-caps more so than the large- and mega-caps.
Disclosure: I am long SPY, VB. I wrote this article myself, and it expresses my own opinions. I am not receiving compensation for it (other than from Seeking Alpha). I have no business relationship with any company whose stock is mentioned in this article.