According to EIA data, in 2013, total US natural gas production increased by one percent. It was the smallest increase since the shale gas fracking revolution began. If it wasn't for one particular shale gas field, which also happens to be by far the largest one, total US production would have entered a decline. Marketed daily production in the United States is just over 70 Bcf/d, and the Marcellus shale field added about 4 Bcf/d in new production year-on-year, which means that all other sources of natural gas contributed to a decline of 3Bcf/d.
In light of this, recent EIA data on tight oil & gas drilling productivity in regard to the Marcellus should be concerning when it comes to future prospects of continued healthy gains in US natural gas production going forward (link). For the month of March, it predicted an increase in the legacy decline rate of 45 million cubic feet per day. Then the March report, which predicts April's overall performance, predicted that there will be another large leap in the legacy production decline, this time of almost 100 million cubic feet per day.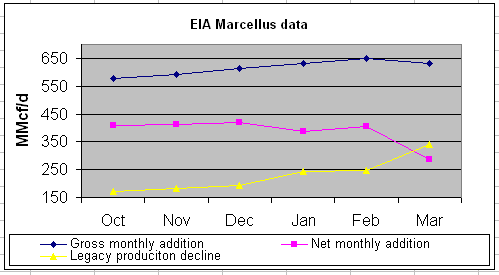 We cannot know for sure what the legacy decline rate will do for the rest of the months of 2014 and beyond, but one thing we now know for sure is that Marcellus production increase for this year will be far less than it was last year. Given that last year Marcellus production increase only barely managed to make up for declines in production elsewhere in America, I think it would be fair to assume that EIA's forecast of a 2.4% increase in US domestic natural gas production is overly optimistic for 2014. The only thing which will in fact keep total production from experiencing a slight decline is a flattening out of the production decline rate in other shale gas fields such as Haynesville, where drilling activity is showing some signs of picking up slightly. While the EIA predicts that there will be a 2.57 Bcf/d increase in production by 2015, I think there is reason to doubt that assessment.
As far as US domestic consumption of natural gas, the EIA predicts that there will be a very slight decline due to a rise in prices, which should encourage some electricity producers to switch to coal. The consumption decline for 2014 and 2015 will not be at all significant at .1 Bcf/d and .3 Bcf/d respectively. As I will explain in a moment, this looks to be a neat accounting exercise meant to keep everyone happy, rather than an objective analysis. Although it is still a flawed one, because there are a few details which put into question the happy outcome.
LNG Exports:
As of 2015, the United States is set to become a net LNG exporter. The Sabine Pass export facility built by Cheniere Energy (NYSEMKT:LNG), with an initial capacity of 1 Bcf/d, will start next year. Another portion of the project will add the rest of the planned capacity roughly one year later, which the EIA projects will come out to 3Bcf/d. At first glance, the EIA gives the impression that between the 2.57 Bcf/d increase in production and the slight 0.4 Bcf/d decline in domestic consumption, 3 Bcf/d in surplus capacity ready to fill the export capacity of the LNG terminal will be available. In fact, even if we are to put aside the fact that a 2.57 Bcf/d increase in production is in question due to the slowdown in production gains in the Marcellus field, there is still a slight gap that is not accounted for. For instance, between now and 2015, a decline of 0.34 Bcf/d in pipeline imports is also forecast. This should be expected, because Canadian natural gas production has been on a declining trend for a decade now, while domestic Canadian natural gas consumption is increasing.
Looking at the details of the EIA forecast on the consumption side, some of the assumptions do not add up. Residential use is forecast to decline, based on higher natural gas prices, which makes very little sense. The population of the United States is growing, therefore, residential demand for natural gas is also growing in theory, even if some people might be forced to turn the thermostat down in order to be able to pay their heating bills. I don't really believe that this is a reasonable expectation.
Given that Cheniere will built this facility to export LNG, fact is 3 Bcf/d will be exported once facility will be completed in 2017. The gas will have to come from somewhere, and that somewhere will have to come from the one source where the substitution effect is most likely to make the gas available without much pain and economic downside. Product substitution of natural gas is most easily achieved by replacing it in the electricity production sector with coal. As things look right now, coal will have to do quite a bit of substituting for gas for the rest of the decade in order to help make gas available for LNG.
If Dominion's (NYSE:D) Cove Point facility will go ahead according to plans, it will start exporting in 2017 as well, at a rate of 1 Bcf/d. Sempra Energy's (NYSE:SRE) Cameron LNG facility will also start exporting in 2017, with full capacity of 1.7 Bcf/d in 2019. Southern Union Company's (NYSE:SUG) 2 Bcf/d Lake Charles project will start exporting in 2018. These are the projects which are in the more advanced stages of production, and they add up to roughly 7-8 Bcf/d when Cheniere's LNG project is included, but in total, there is a capacity of roughly 20 Bcf/d being proposed. This new demand for natural gas will drive up the spot price, with two resulting market reactions.
Natural gas prices will increase, providing new supply but squeezing LNG exporters:
Basic laws of supply and demand suggest that a higher price for natural gas should serve to increase the amount of gas available compared to original lower price. In the case of natural gas, it is hard to predict just how much of an impact a higher price would have on supply increase, nor do we know how high will prices go in the event of supply having a hard time keeping up with the extra demand. One thing that is certain is that LNG exporters can suffer once prices increase, especially if current supplier contracts are of relatively short duration and at variable price, or worse, LNG projects will be built without securing fixed price long-term supplies.
It is hard to get a straight answer in regard to the total added cost of LNG in the US, but it seems, based on most estimates, that once the US spot price moves over $6, US LNG will no longer be able to compete on the European market with Russian and North Sea pipeline supplies. Gazprom charged its European customers an average price of $380 per thousand cubic meters in 2013, while the total cost of LNG based on a $6 spot price per million BTUs and adding $6 per million BTUs in total LNG production, shipping and receiving costs would raise the price to $384 per thousand cubic meters. Companies like Gazprom can easily cut the price in order to compete, because the profit margins are significant, while US LNG would have to suffer losses in order to respond.
Coal prices and production will increase:
Current US coal spot prices range between $1-$3 per million BTUs, which means that natural gas is already at a price disadvantage at current price levels, because natural gas has been trading above the $4 mark for many months now.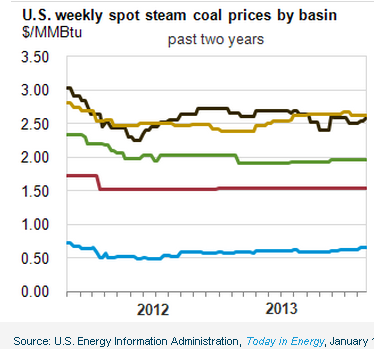 The one thing natural gas still has in advantage over coal is its cleaner burning hydrocarbon status, but aside from that, coal is a clear favorite to continue to increase its role as a provider of electricity, despite the many projections showing the opposite to be the case.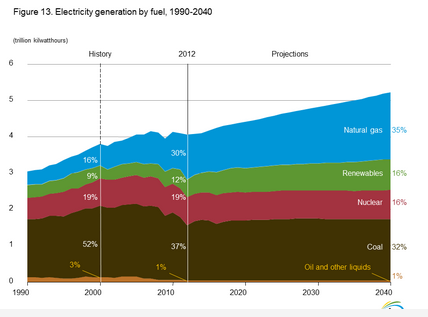 Source: EIA
The implication of this is that natural gas will not be capturing an increasing share of the electricity generation business, as predicted by EIA and others. Coal will most likely rebound in the long term, with subsidized renewable sources perhaps posing the greatest challenge (depending on government policy).
Conclusions:
Given the low price of coal relative to natural gas, in the absence of severe government policies meant to make coal-generated electricity more expensive, more and more coal will be used to generate electricity in the long term.
Given the low price of coal, substitution of gas for coal in electricity generation will not necessitate a very sharp increase in the price of natural gas. This means that LNG projects will go ahead, but the struggle to recover costs and make a profit will be intense. Of the proposed 20 Bcf/d LNG export capacity, only a fraction of it will be built. Most likely, the projects I listed are going to be the only ones which will go ahead. There simply is not enough natural gas to satisfy the entire volume of proposed LNG export capacity, even though coal will play a big role in decreasing domestic demand and shale gas will continue to provide a slight increase in total US natural gas production. Among the winners in this investment trend will be the natural gas producers, especially the shale gas industry, which desperately needs this export valve as a way to keep prices from staying too low for many of them to even break-even on their investments.
Coal miners will stand to benefit from the overall trend I described, because as its main rival (gas) in the electricity generation industry will increase in price, so will the ability of coal producers to demand a higher price for their product. The one thing to watch out for is a trend of increasing coal production cost, which should be kept under supervision if one is exposed to coal mining stocks, or considers investing. Other than that, companies like Peabody Energy (BTU) stand to benefit from the energy market trend in the United States which I described. Aside from the fact that it is a large company mainly involved in coal mining, therefore should benefit from increased demand and a better price, it seems to have its operating costs under control, based on recent data, which will be very important going forward (link).
Many people still believe in the story of the dawn of the natural gas economy which is upon us, therefore, plan and invest accordingly. This story is at this point taken for granted to such an extent that I question whether many people involved in investing capital on their own behalf or on behalf of others even stop to question whether the overall trend is real anymore. Groupthink is now setting in, and the details get overlooked. As a result, opportunities are overlooked and dangers are not detected, which can end up costing people, as we have seen in the past.
Disclosure: I have no positions in any stocks mentioned, and no plans to initiate any positions within the next 72 hours. I wrote this article myself, and it expresses my own opinions. I am not receiving compensation for it (other than from Seeking Alpha). I have no business relationship with any company whose stock is mentioned in this article.