April 2 will conclude the 180-day lockup period, following the October 3, 2013 IPO of Potbelly Corp. (NASDAQ:PBPB), allowing major pre-IPO shareholders in the sandwich restaurant chain to sell their outstanding shares.
These shareholders include venture capital and private equity firms, along with the company's executives and directors. The sudden increase in the supply of PBPB shares available for sale will likely lead to a temporary drop in price, possibly creating a short opportunity for aggressive investors.
After the firm's highly successful IPO resulted in a price of $14 per share, above the upsized range of $12-$13 per share, PBPB rocketed to a first day return of nearly 120%, much in line with the impressive results of other fast-casual restaurant IPOs in the same time frame. The stock has been in a state of gradual decline ever since, closing at $18.49 per share on March 25.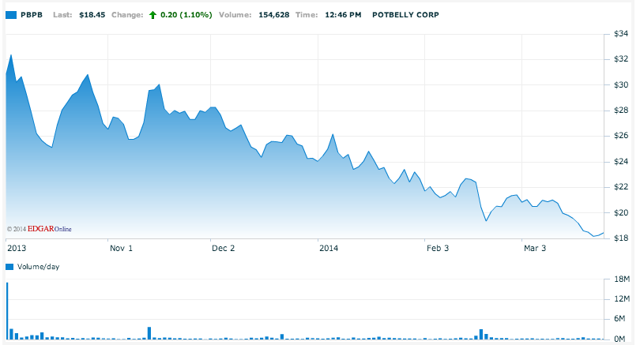 (NASDAQ.COM)
Huge Number Of Shares Unlocking
The April 2 lockup period expiration will free approximately 20.5 million shares of PBPB stock to be sold, nearly three times the 7.5 million shares offered in the firm's IPO.
The venture capital firms and private equity firms that hold large stakes will likely sell at least a portion of their shares in the interest of raising capital and returning funds to their investors; many may be eager to sell before the stock declines further.
Significant shareholders include Maveron Equity Partners, the largest PBPB shareholder with 5.8 million shares; ASP PBSW LLC, with 2.7 million shares; Oak Investment Partners, with 2.5 million shares; and Oxford Blackpoint Venture Partners VII, with 1.6 million shares.
PBPB directors and executives are also likely to take advantage of their first opportunity to sell their shares since the IPO; many will wish to diversify their portfolios and to escape PBPB's decreasing prices.
Business Summary
Potbelly Corporation is an operator and franchiser of sandwich shops that proclaim themselves as "The Best Place For Lunch."
Entrepreneur Bryant Keil acquired Potbelly in 1996 and fueled a period of aggressive expansion, during which the firm reached 100 shops in 2005 and 200 shops only three years later. As of June 30, 2013, the firm operated a total of 280 shops and franchised six additional shops in the United States, along with twelve franchised shops in the Middle East.
Potbelly offers its customers toasted sandwiches, milkshakes, salads, soups and other typical lunch fare in the increasingly popular fast-casual format.
What Should Shareholders and Short Sellers Consider?
PBPB competes directly with many other fast-casual restaurants and fast food restaurants. Major fast-casual competitors include Jimmy John's, Chipotle Mexican Grill (NYSE:CMG), Subway, and Panera Bread (NASDAQ:PNRA), while fast food competitors include Burger King (BKW), McDonald's (NYSE:MCD), Yum! Brands (NYSE:YUM), and many others. Some of these competitors have access to greater financial resources than PBPB, which could translate to superior marketing abilities and greater access to new locations.
The lock up expiration should be closely watched by existing shareholders and may present an opportunity for near term oriented aggressive short sellers.
Disclosure: I am long PBPB. I wrote this article myself, and it expresses my own opinions. I am not receiving compensation for it (other than from Seeking Alpha). I have no business relationship with any company whose stock is mentioned in this article.