My father first introduced me to BGC Partners, Inc. (NASDAQ:BGCP) about two years ago. He always goes for dividend plays, and with a yield hovering around 7%, How could I argue with him? But myself being younger and perhaps just a bit more bold, I hunt for more value, more growth, more risk, and more reward. So there was BGCP hovering in my portfolio and not getting much attention for about a year or so, up until the stock rocketed 48% last April. I did what any "lucky" investor should do - lock in gains and do some homework. Over time there have been some interesting announcements from the company, from their entrance into the commercial real estate business, to selling their electronic brokerage platform eSpeed to Nasdaq OMX Group, Inc. (NASDAQ:NDAQ), to their continued expansion through acquisitions. That led me to BGCP's most recent 10-K, and after reviewing 200+ pages about the company, I saw a good balance sheet, and plenty of opportunity for growth in both of the company's segments - financial brokerage and commercial real estate. From a macro perspective, the economy is finally entering a prime recovery period, interest rates will soon rise, and Quantitative Easing will dwindle - all of which will benefit BGC Partners. In addition, BGC's commercial real estate segment will continue to grow and contribute even more revenue to the company. Throughout the discussion, I will refer back to BGCP's 2013 10-K, which you can find here. I will highlight points on BGCP's Financial and Commercial Real Estate segments, the outlook of the company based on financial regulations and the economy, the state of some of their competitors, and stock issuance/repurchases. Even after the stock price reached a new 52-week high in the past month, I'm excited to see the results and the new highs BCGP is capable of in 2014.
Financial and Commercial Real Estate Segments
By now you should know that in June 2013, the company completed its sale of eSpeed to Nasdaq OMX (other Seeking Alpha articles describe the terms of the deal; see "BGC Partners: Buying Cash, Stock, and Growing Commercial Real Estate Exposure" by Jon Parepoynt). To summarize the deal, BGCP received $750 million, plus 14,883,705 shares of NDAQ over 15 years. In November 2013 BGCP received just under 1 million NDAQ shares which amounted to about $39 million in revenue in 2013. The 15-year stock deal is contingent upon Nasdaq OMX maintaining gross revenue of $25 million per year (you don't have to worry about that, because in Q4 2013 NDAQ grossed $520mm). That will continue to boost the company's numbers, but in 2013 those one million shares only represented about 1% of total revenue.
On first look, BGCP's financial revenues appear to hurt the company. In 2013 revenue from financial services dropped 4.7% to $1.164 billion. This is in line with some of their financial competitors whom I will touch upon later. But below the surface, revenues from the company's financial services (brokerage, forex, rates, swaps, etc) were down because of the volumes lost with the sale of eSpeed. In fact, disregarding eSpeed, the company's volumes increased:
Excluding eSpeed, fully electronic volume, including new products, was $10.0 trillion for the year ended December 31, 2013, up 25.5% from $7.9 trillion for the year ended December 31, 2012. Our combined voice-assisted and screen-assisted volume, excluding eSpeed...was $156.4 trillion, up 4.0% from $150.5 trillion for the year ended December 31, 2012 (BGCP 2013 10-k pp.129)
More volume means more revenue, and BGCP seems confident that their electronic brokerage volumes will continue to increase. The quote also tells us something about the change in economic climate, but more on that later.
What will make BGCP stand out, in addition to the revenue from financial services, is the shift into commercial real estate. The company acquired Newmark Grubb Knight Frank in April 2012 and immediately had a positive impact on the company's numbers. In 2013, real estate generated $577 million (a 27% increase from 2012 - BGCP 2013 10-K pp. 112) and represented 23% of total revenue. NGKF manages 51 offices and the commercial real estate market is expected to improve in the future:
The combination of moderate economic growth and low interest rates that has been in place since the recession ended has been a powerful stimulus for commercial real estate...Following the financial crises of 2007/2008, the U.S. commercial property market saw steep declines in activity in 2009. In 2010, the market began to revive, and by the end of 2011 there were signs that the recovery was continuing, although still not at levels seen prior to the crisis. If the U.S. economy continues to expand at the moderate pace envisioned by many economists in 2014, we would expect this to fuel the continued recovery in commercial real estate. (BGCP 2013 10-k pp. 96)
In fact, BGCP will continue to expand. The company has made nine acquisitions since October 2012, and I suspect they will continue their strategy going forward. It is worth noting that although the company has international presence, 69.6% of 2013 revenue came from business in the United States - and this country's economy is certainly on the upswing. Below, you will find revenues and expenses for the past five years (in thousands).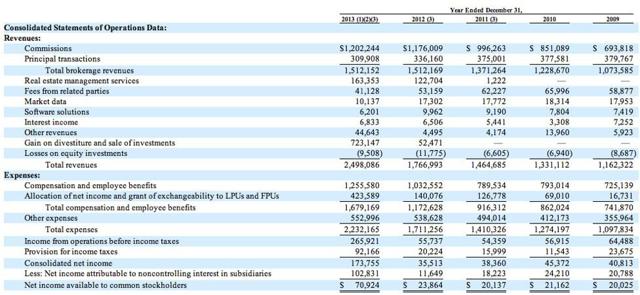 Source: BGCP 2013 10-K pp. 84.
The Economy, Dodd-Frank, and Quantitative Easing (QE)
BGCP's businesses - now finance and real estate - work cyclically. With GDP growing at 2.4% in the most recent quarter (source: The St. Louis Federal Reserve: website found here, look for compounded annual rate of change), talk of rising interest rates as well as the end of QE are spreading like wildfire. So how about a stock play for the growing, shifting economy? The company remarked that "as of January 1, 2014, the U.S. Federal Reserve held close to $3.8 trillion worth of long-dated U.S. Treasury and Federal Agency securities which are not being traded or hedged. This compares to $1.7 trillion at the beginning of 2011 and zero prior to September 2008" (BGCP 2013 10-K pp. 48) Because the Fed is holding nearly $4 trillion in bonds, trading volume for BGCP's financial services suffers. In other words, QE hurt BGCP's revenue. Ending QE would free up treasuries and bonds for trading on the open market.
Similarly, the Dodd-Frank financial regulations have negatively impacted the company. Dodd-Frank calls for greater clarity when derivatives and swaps are traded. Recently BGCP began operating a fully Dodd-Frank compliant Swap Execution Facility SEF; in January 2014 swap volumes began to increase. This will also add to the company's future revenue growth. Probably the most concerning factor for the company and its clients is the capital requirements from the law - banks and financial companies will be required to hold much more capital on hand than in previous years. But BGCP appears ready for the change. In their annual report, BGCP states that financial "volumes to date are not indicative of what we expect this business to look like a year from now" (BGGP 2013 10-k pp. 22).
Competitors
How can we value the growth of BGCP in both the financial and real estate markets? I took a look at some of the company's competitors in both segments. For financial services, we see ICAP, Plc (OTCPK:IAPLF), Tullet Prebon (OTCPK:TULLF), and GFI Group (NYSE:GFIG). For real estate, we see CBRE Group, Inc. (NYSE:CBG) and Jones Lang LaSalle, Inc. (NYSE:JLL). All revenues have been converted to U.S. Dollars (ICAP and Tullet are based in the UK):
Financial Competitors (As of March 25, 2014)

2013 Total Revenue (millions)

% change from 2012 (loss)

P/E ((ttm))

Dividend

Beta

BGC Partners

2,498

41.30%

18.14

7.20%

1.6

ICAP

2,428

(12%)

21,688

N/A

N/A

Tullet Prebon

1,326

(5.5%)

925.98

N/A

N/A

GFI Group

901

(2.5%)

N/A

5.40%

1.06
Real Estate Competitors (As of March 25, 2014)

2013 Total Revenue (millions)

% change from 2012 (loss)

P/E ((ttm))

Dividend

Beta

BGC Partners

2,498

41.30%

18.14

7.20%

1.6

CBRE Group

7,184

10.30%

337.41

N/A

2.16

Jones, Lang, LaSalle, Inc.

4,461

13.40%

20.01

0.40%

2.01
Source: Yahoo Finance.
I included the Beta as a measure of volatility v. general market movements. BGCP looks to be the cheapest stock in terms of P/E ratio, with the most valuable dividend, and the most room for growth.
Yet there is possible downside. When looking toward BGCP's future a portion of the risk stems from their financial services segment. From the table above, BGCP's total revenue jumped 41% in 2013 - that result directly relates to the $750mm cash the company received when closing the deal with Nasdaq OMX, which amounts to $187.5mm per quarter. BGCP will need to find some way to increase revenue to cover for $750mm cash that will not exist on their balance sheet in 2014. I will be keeping a close eye on their next quarterly report, specifically on volume of swaps, derivatives, forex, etc. that will drive revenue.
Another related risk lies within the Dodd-Frank capital requirements I hinted at earlier. Banks and financial institutions are required to hold onto more capital, which means they cannot leverage cash. BGCP states that "increased capital requirements for banks and other financial institutions are likely to result in increased holdings of governments securities, which holdings will be less likely to be traded or hedged, thus reducing further transaction volumes in those securities (BGCP 2013 10-K pp. 48)." In other words, the clients of BGCP (banks, financial institutions, etc) may not be trading as much as a few years ago. From my own outside perspective, I cannot be sure exactly when trading volumes will begin to increase.
Stock Facts
Lately, it seems like every good company out there is finding some way to unload cash in the form of a buyback, and BGCP is no different:
From January 1, 2013 to January 31, 2014, we repurchased an aggregate of 4,517,151 shares of Class A common stock at an aggregate purchase price of approximately $24.9 million with an average repurchase price of $5.52 per share (BGCP 2013 10-K pp. 75)

Since December 31, 2013, the Company has repurchased an aggregate of approximately 1.7 million shares of its Class A common stock at an aggregate purchase price of approximately $10.9 million for an average price of $6.45 per share (BGCP 2013 10-K pp. 200)
If BGC Partners wants to repurchase shares at a price level of $6.45, then they must value the company at a price much higher. In addition, employee compensation in the form of shares is advantageous to the business, because those shares issued are restricted for a period of five years. Partners are not able to sell the shares they receive...they must wait five years or until the company releases them. In effect, partners are paid in shares but end up having a solid stake in the success of the company. I always like it when management and compensation are tied to the stock price - the consequent 31% institutional ownership of BGCP is nothing to overlook.
Furthermore, the number of fully diluted shares outstanding has decreased by 5.5% in 2013, while the net income has increased 197% (in large part due to the $750 mm from Nasdaq OMX). Even with the share repurchases, at the end of 2013 BGCP had $716 million in cash and cash equivalents, shown below:

Source: BGCP 2013 10-K pp. 84.
Summary
BGC Partners, with an in-depth look at their annual report, as well as an overview of both the economy and competition, is in tremendous position coming out of 2013 and into 2014. Although the stock price has rallied, I believe there remains more opportunity for growth. If nothing else, I try to be prudent like my father: with a lot of cash on hand, the 7% dividend will stay strong. There is volatility out in the market, and that can be when picking the right individual company can pay off. I hope you can use some of the analysis I've presented here so that you can find value when you do your own homework. Good Luck.
Disclosure: I am long BGCP. I wrote this article myself, and it expresses my own opinions. I am not receiving compensation for it (other than from Seeking Alpha). I have no business relationship with any company whose stock is mentioned in this article.