"You make your own luck."
-Ernest Hemingway
Chipotle (NYSE:CMG) has almost single handedly created the "fast casual" concept. In a sense creating its own luck. Its health-focused business model has proven highly scalable. Granted, many would argue that the move in Chipotle shares, up over 800% in five years, fully reflects the success story. However, it's possible that by introducing new concepts in the U.S., coupled with diffusion into international markets, Chipotle could position itself as a growth stock for at least another next half decade.
How we got to $600
At some point during the middle of 2013, Chipotle and another major fast casual name Panera (NASDAQ:PNRA) took very different paths. As it turns out, Chipotle had a few growth opportunities that we're fully appreciated, and the stock is up 147% over the last three years, compared to Panera's 60%.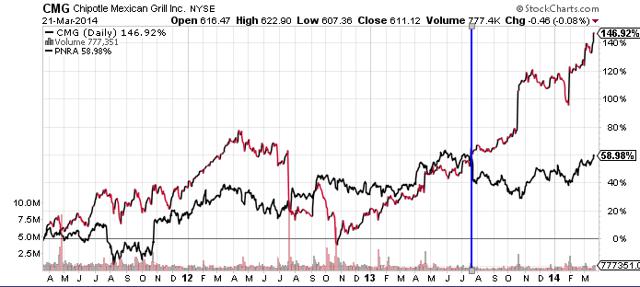 Click to enlarge
Chipotle has managed to grow its store base at a very impressive rate, but that base is still around 10% to 15% below Panera's. Chipotle's store growth was 13.5%, 14.6% and 13%, for 2011, 2012 and 2013, respectively. After opening 185 stores in 2013, Chipotle plans to open another 190 in 2014. And its stores remain at high capacity, averaging over five transactions during peak hours and lines that are out the door in some locations.
One lever that remains to be pulled is Chipotle's full on attack of international markets. It only has sixteen restaurants outside the U.S. Nine of those are in Europe and seven in Canada. Many stores in Canada and London are already seeing the similar type of long lines as in the U.S. stores. The success in the U.S. looks to be easily mirrored in Canada and Europe.
Innovation is alive and well in the restaurant space
Chipotle has found out that continued menu innovation is a quick and easy way to get customers coming back for more -- as if the food alone doesn't do it. The latest innovation is adding vegan items to the menu. The vegan menu is still only in 40% of stores, and they account for less than 3% of revenues. The add-ons and sides are contributing positively to the average check.
Then, last year, Chipotle tapped another market altogether, bringing its food to more customers via catering. The catering program only makes up about 1% of sales, yet, it remains another growth avenue that'll help boost the top line.
The "Chipotle" model is also deployable across other food groups. Hence the ShopHouse Southeast Asian Kitchen concept. ShopHouse was introduced in 2011 and based on the traditional shophouses found in Thailand and Vietnam. There's still a large opportunity to diffuse this concept, and others (i.e. pizza) across the U.S.
The road map to $1,000
Chipotle remains a momentum name. Earnings are expected to grow by 20% annually over the next half decade, but the valuation appears a bit stretched. As I look out over the long term, assuming Chipotle can just meet these earnings expectations, we're looking at $25 a share in earnings come 2018. It'd take a 40x earnings multiple for it to be trading at $1,000 in 2018. Worth noting is that 40x is a slight discount to its historical average.
Some of the biggest risks to getting up to $1,000 a share is the economy. While Chipotle has remained 'hot' over the last couple of years, it's been amidst a slightly improving economy. However, if we can't get unemployment down to a more reasonable level, it'll be tough to justify continuing to spend $8 for a burrito when you can go next door to Taco Bell and get a $2 burrito (think Einhorn's Green Light Capital short case for Chipotle). Although Einhorn's short hasn't worked out so well, the Taco Bell thesis is still a threat that might delay our trip to $1,000.
And while Chipotle has performed quite nicely in the U.S., international is still very young for the company. I have high hopes for emerging markets, but it's always hit-and-miss when entering new markets with different tastes. Then on the expense side, there's a lot that goes into Chipotle's great tasting products. Its costs are fairly exposed to some volatile input costs, including dairy products, tomatoes, corn, and avocados. 2014 is expected to bring about higher food costs due to higher avocado costs and a decline in beef supply. As well, we might see some margin compression as Chipotle moves from GMO to GMO-free products.
All in all, Chipotle remains a strong company with no debt. There's still some growth opportunities in the U.S., with success in international markets having the potential to really gas pedal earnings growth. The potential to get to $1,000 per share in less than five years remains very real.
Disclosure: I have no positions in any stocks mentioned, and no plans to initiate any positions within the next 72 hours. I wrote this article myself, and it expresses my own opinions. I am not receiving compensation for it (other than from Seeking Alpha). I have no business relationship with any company whose stock is mentioned in this article.