Right now is a great time to perform a comparison between Altria (NYSE:MO) and Lorillard (NYSE:LO) because it provides us a real-life opportunity to take a look at one of the most neglected prefatory words in finance: the "risk-adjusted" in the phrase "risk-adjusted total returns."
As of Tuesday's close, both Altria and Lorillard traded at seemingly identical valuations: Altria is trading at just a smidge over 16x profits, and Lorillard is trading at just a smidge over 16x profits. Both companies have a range of analysts predicting earnings per share growth in the neighborhood of 7-9% annually over the next five years. At this superficial level, it would appear that both tobacco companies carry the same amount of risk: When the valuations and expected growth rates are the same, how can you really argue that one company is safer than the other?
This is where, in the words of Charlie Munger, you have to put on your thinking cap because the analysts won't do it for you.
With Lorillard, you are looking at a company that does not have anything resembling a diversified earnings stream yet. Over 87% of the company's sales come from a single brand, Newport cigarettes. Calling the company Lorillard is a misnomer; if it was named appropriately to reflect where its profits come from, the company would be called, "Newport Cigarettes, Inc." Considering the fact that Newport is a menthol cigarette, and menthol cigarettes might be on the regulatory chopping block, there is a risk in Lorillard's business model that simply isn't present in Altria's.
With Altria, you don't have the exorbitant menthol exposure, and you have a stable of diversified brands that account for 75-80% of profits: Virginia Slims, Merit, Benson & Hedges, and of course, Marlboro. Menthol regulation, or changing brand tastes, would not affect Altria nearly as much as Lorillard.
And the other thing you have to take into account is that Altria has a "secret asset" on a balance sheet that Lorillard does not: a 26.9% stake in SABMiller. Because of a quirk in accounting, Altria is only allowed to report SABMiller on its balance sheet according to the brewer's book value, rather than its fair market price.
Let's put it bluntly. If you look at Altria's balance sheet, you will see that it is carrying SABMiller at $6.637 billion.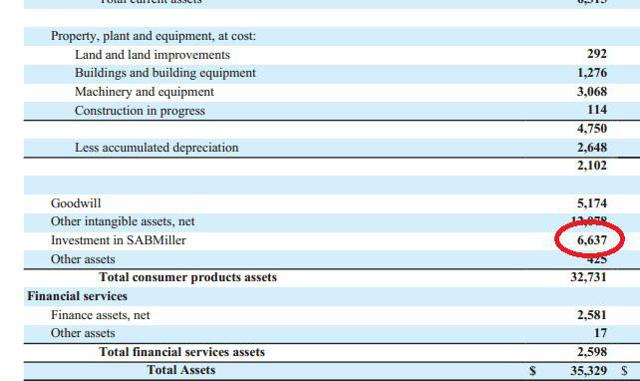 But that greatly understates the true economic value of the SABMiller stake. As of Tuesday's close, SABMiller has a $79.74 billion market capitalization. Considering that Altria owns 26.9% of SABMiller, the shares are really worth $21.45 billion. Lorillard is a $19 billion company with no hidden assets while Altria is a $73 billion company with a $21 billion stock investment that only gets reported on the balance sheet as $6.637 billion. When two companies are trading at the exact same valuation (16x earnings), you scoop up the shares of the one with the $21 billion stock investment that is only getting reported on the books for a third of that.
By the way, this isn't to say that Lorillard possesses no advantages over Altria. Lorillard has taken the early lead in the electronic cigarette market over Altria, as Lorillard's e-cigs have captured almost 50% of the American market (the problem, though, is that Newport is still accounting for 80-90% of the company's current profits). The other advantage that Lorillard has is a lower payout ratio, which has enabled Lorillard to buy back more stock than Altria does (Altria's payout ratio tends to hover in the 75-80% range, while Lorillard's tends to hover in the 65-70% range).
The point of me writing this article wasn't to "rag on" Lorillard. It is positioning itself very well for growth that could approach 10% annually. Rather, the objective is to point out that two tobacco companies can have the exact same P/E ratio and similarly projected forward growth rates, and still contain different risk profiles. Lorillard derives almost all of its profits from a single brand that is menthol, which receives extra scrutiny from the feds. Meanwhile, Altria has a much more diversified stream of profits. Additionally, Altria has a hidden asset in the form of SABMiller stock, which is only carried on the balance sheet at $6 billion despite having a market value in excess of $20 billion. Lorillard doesn't have a commensurate source of understated value. For those reasons, even though the profiles of Altria and Lorillard look quite similar, the "risk-adjusted" profile of Altria is much better than what you'd get with Lorillard.
Disclosure: I have no positions in any stocks mentioned, and no plans to initiate any positions within the next 72 hours. I wrote this article myself, and it expresses my own opinions. I am not receiving compensation for it (other than from Seeking Alpha). I have no business relationship with any company whose stock is mentioned in this article.