After making a high of $1226 earlier this month, Google (NASDAQ:GOOG) share price has retreated, losing 4.9 percent. Google currently trades at 32 times trailing twelve months earnings, at a 27 percent premium to its 5-year earnings multiple average of 25.4. In this article, I am presenting my estimate of Google's stock using fundamental growth estimates as well as growth estimates from the analysts. Also, to find out how the market is valuing Google's forward innovation we will break up the market level P/E into a no growth and growth component.
Fundamental Value Estimate
Below are the assumptions I have used in discounted cash flow valuation for Google.
Weighted average cost of capital is 9.17 percent (Equity weight: 98.3 percent, Debt weight: 1.70 percent). Market risk premium weighted by operating regions as reported in company's annual report.
Expected growth rate in Operating Income is 4.20 percent. (ROIC x Reinvestment Rate: .3117 x .1337). Analysts expect annual revenue growth of 18.30 percent for FY 2014 and 15.90 percent for 2015.
Held pretax operating margins at existing levels.
Capitalized R & D expenses reported in 10-K. Adjusted operating income, net income, book values of the assets and the book value of the shareholder's equity.
Reduced the value of options granted to arrive at the value of the equity.
The resulting annual free cash flow growth rate over the projection period is 7.5 percent.
Based on the assumptions and calculations mentioned above, discounted cash flow implied share value for Google is $915 - Nearly 21 percent below today's closing price.
Using analyst growth estimates, discounted cash flow model estimates Google's fair value at $1099.
Decomposing P/E
Earnings growth rate, the sector in which the company operates and the company size influences the earnings multiple a stock can trade at in the marketplace. The chart below highlights the earnings multiple decomposed into a no growth and growth component. Also included is market implied growth rate at end of the each year.
No growth component for Google has stayed remarkably constant since 2005, whereas the growth component contributed to the most variance in the total P/E.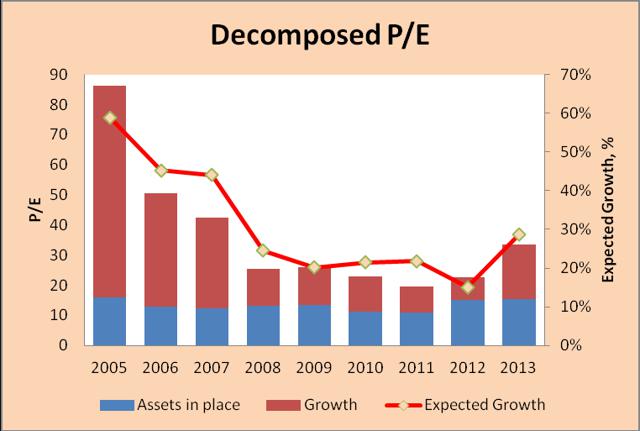 (Source - 10 K)
Despite missing the consensus sales estimates in seven of the last nine quarterly reports, market has rewarded Google on the hopes of its multiple revenue streams in future. Besides, the strong growth reported by the Internet software and services industry lifted the growth expectations for Google as well. By isolating the value of existing assets from the current market price, we can estimate the price of growth built in the stock price. Table 1 presents the total P/E decomposed into existing asset and a growth component based on existing market price as well as fair value estimates derived from discounted cash flow model. Median growth multiple for Google since 2005 has been 12.5 times trailing twelve months earnings. This multiple has risen to 18 times last twelve-month earnings, at the highest levels not seen since 2008.
| | | | |
| --- | --- | --- | --- |
| | P/E | Existing Assets | Growth Assets |
| Existing Market Price | 32.1 | 14.2 | 17.9 |
| @ 4.20 % Growth | 23.9 | 14.2 | 9.66 |
| Analyst Growth Estimates | 28.7 | 14.2 | 14.5 |
As market patiently continues to bet on Google's future revenue streams, under the surface options market has started to price higher risk in the Google's stock. Implied volatility for long-term dated contracts (360 days) has broken above the levels not seen since January of last year. This is contrary to the depression in volatility levels we are seeing for the S&P500 and stocks such as Apple (NASDAQ:AAPL).
"Is the options market implying something which we don't know yet?"
Disclosure: I have no positions in any stocks mentioned, and no plans to initiate any positions within the next 72 hours. I wrote this article myself, and it expresses my own opinions. I am not receiving compensation for it (other than from Seeking Alpha). I have no business relationship with any company whose stock is mentioned in this article.