Commercial real estate (CRE) risk premiums are now at an 18-year high, with capitalization rates nearly 7% higher than the 10-year Treasury yield. Investors are telling us that CRE is increasingly risky, but does that mean that now is the time to buy, or should we expect further declines?

The capitalization rate-treasury spread shows how investors value commercial real estate cash flows relative to "risk-free" returns, with the 10-year Treasury being the proxy for such a holy grail asset. Capitalization rates (or "cap rates") are to real estate investors what P/E ratios are to stock investors - they measure the cost of cash flows. You can calculate cap rates by dividing net operating income by the cost (or value) of a property.
The CRE risk premium is a general indicator of how investors perceive the relative merits of this asset class. Right now investors are telling us that CRE is in the dog house: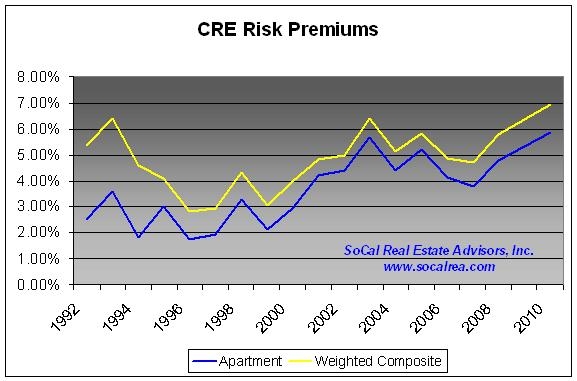 What's more telling is that the darling of CRE, apartment buildings, has seen its risk premium jump 412 basis points (bp) from its low in 1996. This is even 210 bp higher than its "near term" low in 2007. Apartments are still CRE's darling class, with cap rates lower than any of the other CRE types (click to enlarge):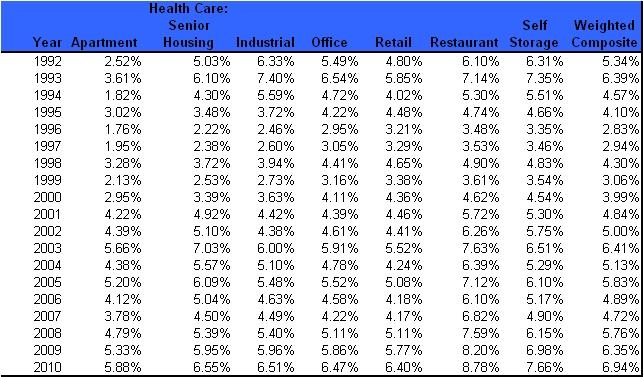 The worst performing CRE type are restaurant properties, with risk premiums jumping to 8.78% this year. The broad spectrum of CRE property types are declining quite rapidly compared to historical trends. Does this mean that now is a good time to buy into commercial real estate, or can we expect further deterioration ahead?
Cap rate data was provided by RealtyRates, and analysis can be found on our Commercial Real Estate page.
Disclosure: No positions