I'll explain the article title later so, for now, I'll just clarify that it relates to the fact that I rarely touch financial sector stocks, but there are two exceptions in which I have high conviction. I have already written about the other one so, in this article, I attempt to explain the reasons I started loading up on shares of The Blackstone Group (NYSE:BX) in early 2013. By the way, the one other financial stock I touch is Raymond James Financial (NYSE:RJF), which I have held for years and have done very well with. My first article on RJF is here and I plan to write an update fairly soon. Because one of the reasons I like both companies is the same (the leadership), in order to avoid any misinterpretation of mentioning them together, I must preemptively point out what is likely obvious to most readers -- the two are completely different types of financial firms.
Company Overview
Founded in 1985 by Steve Schwarzman (Chairman & CEO) and Peter Peterson, Blackstone has grown into one of the world's largest independent alternative asset managers, commonly known as a Private-Equity [PE] firm. BX became a public company in 2007 and its shares trade on the New York Stock Exchange.
The BX asset management businesses include investment vehicles focused on private equity, real estate, hedge fund solutions, non-investment grade credit, secondary funds, and multi asset class exposures. BX also provides financial advisory services including strategic advisory, restructuring and reorganization advisory, and fund placement services. BX provides its services to public and corporate pension funds, academic, cultural and charitable organizations; as well as manages client-focused portfolios. Affiliates include Park Hill Group, Blackstone Alternative Asset Management [BAAM] and GSO Capital Partners.
Blackstone operates in five segments: Private Equity, Real Estate, Hedge Fund Solutions, Credit Businesses and Financial Advisory. The firm is headquartered in New York City; and has offices in London, Paris, Düsseldorf, Sydney, Tokyo, Hong Kong, Beijing, Shanghai, Mumbai and Dubai.
For more information about The Blackstone Group, see the company website.
Call Performance
Blackstone 10/14/2013 call
[+27% from published call / +35% at peak / +63% from initial call/buy]
It is misleading to judge performance based upon the share price on the day a follow-up article is written, so I also include the peak performance for each of my published calls, as well as to-date performance from my first call/buy.
My original published opinion on BX in my article from October 14, 2013 was: "consider buying BX in the ~$23-24 range and I expect it will easily hit $34 by this time next year." BX was near $24 when I started writing that article, but the shares did not trade that low again, so performance is tracked from the dip below $26 that occurred shortly thereafter.
From my initial $26 recommendation in October 2013, to the current price of $32.88, BX has now returned 27% in six months, which is 54% annualized. In fact, BX previously reached a temporary peak of $35.18 on March 10, which represents a maximum gain of 35% in six months and 70% annualized. Again, BX was slightly below $26 in October, so un-rounded gains are a little higher.
On January 9, I updated my BX call with the following: "At $32, BX is already very close to my initial $34 price target from October and, based on recent developments, I'm raising my price target to $37 with a 9-12 month timeline." As of today, I am raising my price target again to $44, which is 69% above my initial $26 recommendation and 34% above the $32.88 current price. I do not, however, expect a straight line up to $44 so I emphasize that my 9-12 month timeline is a very important component of my $44 price target.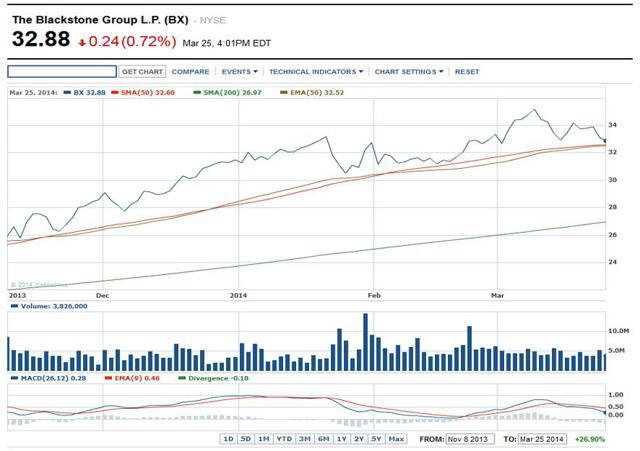 Source: Yahoo Finance
Earnings Review
Even though BX last reported earnings almost two months ago, I believe that blowout report confirmed the thesis and expected trend that led me to buy BX in the first place. So, I'll breeze through some highlights, but feel free to skip this section. The 2013Q4/FY numbers hit records levels across the board.
Assets Under Management [AUM] grew 26% in 2013 to a record $266 billion.
The $1.69 billion in 2013Q4 Performance Fees represented a 259% increase over the 2012Q4 level. Similarly, the $3.56 billion in 2013FY Performance Fees translated to a 123% increase over the 2012FY level.
The $1.5 billion for 2013Q4 Economic Net Income [ENI] represented a 130% increase compared to 2012Q4. Similarly, the ENI for 2013FY was $3.5 billion, which represented a 76% increase versus 2012FY.
The 2013Q4 ENI per unit of $1.35 translated to a 129% increase over 2012Q4, and the 2013FY ENI per unit of $3.07 represented a 73% rise over 2012FY.
The $0.82 billion in Distributable Earnings [DE] from 2013Q4 translated to a 46% increase over 2012Q4. The $1.8 billion in DE for 2013FY represented a 66% increase compared to 2012FY.
The $0.68 DE per unit for 2013Q4 represented a 51% increase over 2012Q4, and the $1.56 DE per unit for 2013FY represented a 68% rise over 2012FY.
Chairman and CEO Stephen Schwarzman commented:
"Our record results in 2013 illustrate how our long-term fund structures benefit our investors, and how our patient approach toward improving assets ultimately drive better earnings growth and fund performance."
The "patient approach" Mr. Schwarzman mentions is central to my investment thesis, and should become evident as I later explain why I waited years to buy BX. Before moving on to my valuation opinions seems a good time to mention that an old Wall Street Journal article does a good job explaining why we must be careful comparing PE firms on the usual earnings metrics like revenue and EPS. To summarize, doing so is an apples-to-oranges-to-bananas affair.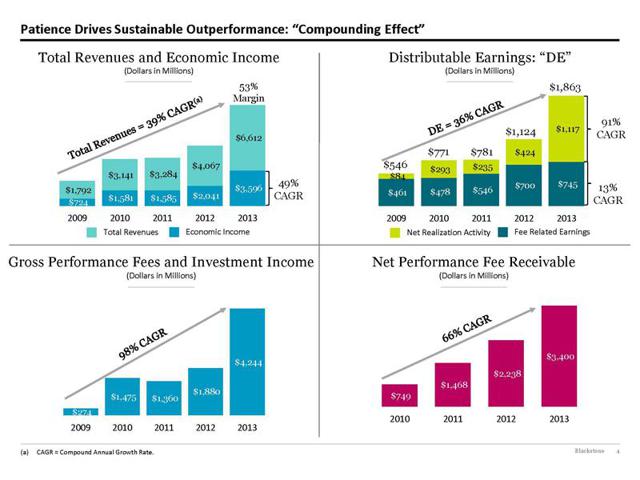 Source: company presentation
Upside Potential, Downside Risk & Time Horizon
This is where the "Black Box" part of the article title comes in. It was inspired by the debates I've had with various traders in recent years, as BX started to come back on their radars. One claimed that BX is the next Lehman Brothers, implying that BX will go bankrupt and nearly bring down the entire financial system. It seems the person didn't know that, unlike Lehman, BX is a PE firm.
Similarly, to one of my comments about buying BX, a trader chimed in to offer the insight that "Blackstone is a black box." I suppose he was trying to be cute with word play, but in the context of investments, flip comments that lack any substance can influence some people. Even so, I don't fully disagree with the black box comment, which is why I rarely invest in financials. Frankly, I don't think I'm smart enough to value banks with millions of loans on the books, or PE firms that make huge complex deals practically every day. In fact, I'm not sure that anyone is, other than people at the respective companies, and I'm not even sure that they can. In fact, that is exactly the point of my ramblings.
At the end of the day, investing in any type of financial firm is investing in its leadership, much more so than with any other type of company. Thus, valuing a PE firm from an outsider perspective is a somewhat tenuous venture. As such, my price target for BX is from a bit of a hodge-podge combining various valuation methods. I will try to explain without rambling on too much more.
PE firm unit holders are rewarded primarily based on the fees the firm earns from managing assets, rather than the underlying assets. The latter would be true of the Business Development Companies [BDCs] that PE firms are often confused with and compared to, even though BDCs are more similar to single PE funds than a multi-faceted PE firm like BX that has many funds and other businesses. There is obviously a close relationship between fees and AUM, which is the other reason I included some of the details from the last earnings report, like the record $266 billion in AUM that BX reached last quarter. This is why one way I valued BX was by looking at relative valuations comparing BX to other PE firms using a Price-To-AUM ratio [P/AUM], instead of the Price-To-Book ratio [P/B] that I would use to value most types of financial firms.
As the table below shows, BX is trading at a significant discount to peers by P/AUM. However, stellar performance lately is helping the market forgive BX for its poor IPO timing since, as we all know now, 2007 was not so much the "very favorable environment" that one analyst called it. I contend that, as the market revalues BX similar to peers, the price will ultimately be much higher.
For example, if BX were revalued at just the 0.166x next-lowest P/AUM, the share price would be $44.16. With the second highest P/AUM of 0.241x, the share price would be $64.11. It is quite possible that BX will reach that range at some point, but for now, my 9-12 month price target for BX is $44 (69% above my initial $26 call and 34% above the $32.88 current price).
| | | | | |
| --- | --- | --- | --- | --- |
| Company | Market Cap | Price | 2013 AUM | P/AUM |
| Apollo (NYSE:APO) | $4.48 billion | $30.85 | $161 billion | 0.192x |
| Blackstone | $19.47 billion | $32.88 | $266 billion | 0.124x |
| Carlyle (NASDAQ:CG) | $1.53 billion | $31.35 | $189 billion | 0.166x |
| KKR (NYSE:KKR) | $6.54 billion | $22.69 | $94 billion | 0.241x |
| Och-Ziff (NYSE:OZM) | $2.23 billion | $13.51 | $40 billion | 0.338x |
Source: FinViz & individual company filings
Similarly, as the next table shows, BX is also trading at a significant discount to all peers except one by P/ENI. In order for the share price to reach my $44 price target, BX would only need to reach a P/ENI of 12.5x, which is nearly half the P/ENI ratio for Carlyle Group. In fact, the average of the P/ENI ratios for this group of peers is 13.7x, which would put BX shares at $47.95.
| | | | | |
| --- | --- | --- | --- | --- |
| Company | Market Cap | Price | 2013 ENI | P/ENI |
| Apollo | $4.48 billion | $30.85 | $1.9 billion | 16.24x |
| Blackstone | $19.47 billion | $32.88 | $3.5 billion | 9.39x |
| Carlyle | $1.53 billion | $31.35 | $1.3 billion | 24.12x |
| KKR | $6.54 billion | $22.69 | $2.2 billion | 10.31x |
| Och-Ziff | $2.23 billion | $13.51 | $1.6 billion | 8.44x |
Source: FinViz & individual company filings
With the ratios above, it is important to note that the AUM and ENI for BX are both likely to continue rising as valuation increases, thereby further reducing the need for the BX ratios to even approach the extreme levels of some peers in order for the share price to trend substantially higher.
Since many investors base their view of PE firm performance solely on metrics like quarterly earnings per share [EPS] and revenues, PE firm share prices do react to interpretations of those measures, whether accurate or not. For that reason, I have included the chart below to show the recent trends for BX.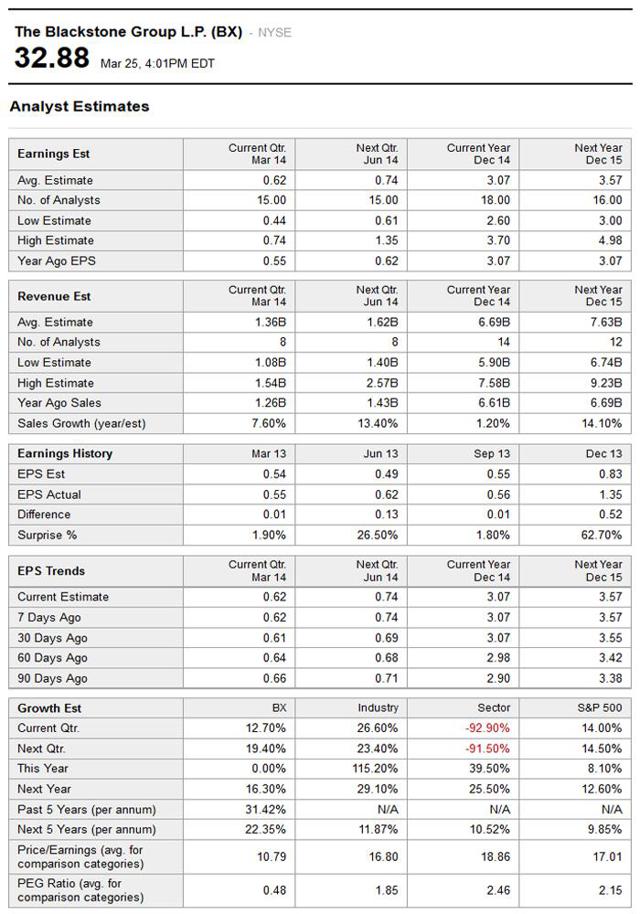 Source: Yahoo Finance
Business Drivers & Risks
To those who read all of my articles, I apologize for repeating certain things in every one, but I want to be clear that my perspective is that of an investor, not a trader. As such, I'm not necessarily focused on individual deals that may (or may not) cause a 40% pop within weeks. I am content with 40% in a year since I consider return potential inextricably tied to risks, which I much prefer to minimize. Thus, the two drivers I focus on below are items that I think will propel BX shares for quarters and years, not necessarily weeks or months.
Leadership
This is where the "Holding A Diamond" part of the article title comes in. As I mentioned at the start of the article, I rarely invest in the financial sector, but there are two exceptions and the reason they are exceptions is the same. I've invested in RJF for twelve years because I'm convinced that Tom James is one of the smartest people on Wall Street and has built a winning team. While I'm not at all comparing the men since they seem polar opposites in most ways, I am also convinced that Steve Schwarzman is another of the smartest people on Wall Street and has also built a winning team. Perhaps it is not coincidence that both men are Harvard Business School alumni. The point is that, for the reasons touched on earlier, an investment in any type of financial firm is really an investment in its leadership. And, in my view, BX has among the best.
When I started buying BX in early 2013, I had been waiting for the right time ever since the untimely IPO in 2007. Why would someone do that when they usually don't buy financial or recent IPO stocks at all, let alone a combination of both? There are three reasons: [1] I knew a little about BX, but don't buy IPOs for at least a year, and by 2008, a retired investor friend very strongly suggested that I "keep an eye on that one for when things turn around," [2] I later read the book King of Capital about Steve Schwarzman, and [3] I believe Private Equity is one of the best places to invest during an upswing from an extreme economic low (I'll come back to the third point in the next section).
There is a lot of ground I want to cover so, rather than detail the reasons I developed such respect for Mr. Schwarzman, I'll suggest that investors who are considering BX read the book about him. The risk side of this same coin is that, at 67, Mr. Schwarzman may decide to retire within a few years. If I had the kind of money he has, I certainly would. However, I must also emphasize that it's not about one person. Investing in or doing business with particularly smart people has never failed me, and that's partly because they tend to build very strong teams. For example, Tony James, Tom Hill, et al. are no slouches either. And, Byron Wien, now Vice Chairman of Blackstone Advisory Partners, happens to be the subject of my single favorite investing quote of all time:
"The trouble with you, Byron [Byron Wien, then of Morgan Stanley], is that you go to work every day and think you should do something. I don't. I only go to work on the days that make sense to go to work. And I really do something on that day. But you go to work and you do something every day and you don't realize when it's a special day."

-- George Soros
That may seem a negative reference, but I prefer the more positive takeaway of noting the value of executives who keep company with and get advice from the likes of George Soros. And, especially because the quote is from at least thirteen years ago, my guess would be that Mr. Wien has learned a few things in his years. Or, perhaps Private Equity is a more constant type of business that is more suitable for people who simply prefer to "go to work every day."
Timing
As mentioned above, I think Private Equity is one of the best places to invest during an upswing from an extreme economic low like that of the 2008/2009 economic crisis. PE firms are basically investors on steroids, meaning that they invest with dollar amounts that rival the GDPs of small nations. Thus, despite the vast scale, PE firms are much like individual investors in that they basically buy low and sell high. And, just like individual investors, PE firms generally do not make as much (and spend a lot) when doing more buying than selling.
That's the state BX was in 2008-2012, as world economies struggled to come out of the depths of the "Great Recession" and there was not much of an IPO market at all. The other side of that coin is that PE firms tend to really rake in the cash when doing more selling than buying. However, there is also lag time since acquired assets usually require some reinvestment and restructuring in order to rebuild value. That is why I waited to buy BX a couple years after I was fully convinced that an economic rebound was underway. At this point, there is no doubt that 2013 saw an economic rebound surge. The remaining question is how many more years a healthy recovery might continue.
At the same time, I don't want to overstate the point about buying BX at the right time since the best PE firms also make money in a normal economy. The concentrated buying opportunities that PE firms seek in order to make their most profitable deals can occur in specific sectors or markets, rather than the entire global economy. In other words, to a degree, there are always bargains to be found. An example that made me comfortable investing in BX for the long term, rather than just as a medium-term play on the housing rebound, is that the firm has been investing in natural gas exporting. Due to the amounts of time to gain regulatory approvals and build facilities, natural gas exporting will take years to become a highly-profitable boom business. That's okay since it means there will be something else to hold BX up when the things like real estate, which has been bringing in big profits for a while now, start to fade.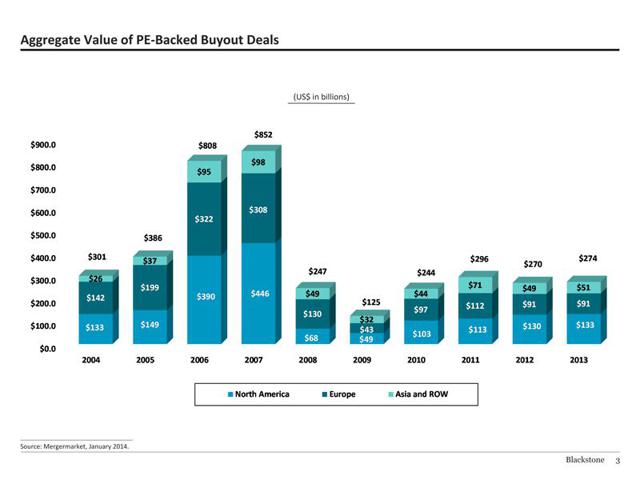 Source: company presentation
Company & Industry Updates
This list of updates does not by any means include every development that is relevant to BX as there are simply too many to cover in one article.
2013: BX acquired Strategic Partners, Credit Suisse's dedicated secondary Private-Equity business with $10 billion in assets under management [AUM].
2013: BX completed equity capital markets activity near $20 billion, including initial public offerings [IPOs] of Hilton Worldwide (NYSE:HLT), Pinnacle Foods (NYSE:PF), SeaWorld (NYSE:SEAS), Merlin Entertainment (London: MERL), Extended Stay (NYSE:STAY) and Brixmor (NYSE:BRX); as well as real estate sales like Broadgate. As an aside since many Americans are not familiar with the company name, Merlin Entertainment owns the famous Madame Tussauds. As an American myself, I had never heard of Madame Tussauds until I visited the original London locale, which is apparently a hugely popular tourist destination.
2013: Standard & Poor's Ratings Services raised its issuer credit ratings for Blackstone to A+, as the firm maintained its position as the highest-rated alternative asset manager [pdf].
January 30: BX reported 2013Q4/FY earnings results [pdf], beating consensus estimates by very wide margins (see Earnings Review section). The firm also raised its quarterly distribution to $0.58, which translates to a 7.06% yield. Over the past six years, the average annualized dividend growth was 12.16%, which means the dividend distribution doubles roughly every seven years.
January 31: Fellow SA contributor Brad Thomas published a good article about Blackstone Mortgage Trust (NYSE:BXMT). I believe BXMT is important to the overall BX story, but attempting to cover it here would have made this article even more unreadably long and it is much better covered by a REIT expert anyway.
February 10: La Quinta Holdings, a budget hotel chain owned by BX, filed for an IPO, which is expected to raise up to $100 million. BX acquired La Quinta in 2006 for $3.4 billion and originally planned to sell the chain, but has decided that an IPO will yield a higher return.
February 10: BX presented at the Credit Suisse Financial Services Forum [pdf]
February 10: Forbes published its annual list that includes Steve Schwarzman among "The Americans Who Gave Away The Most Money In 2013."
February 18: BX bought a minority stake in hedge fund Senator Investment Group. This is clearly a step toward the BX goal to dominate the $2.6 trillion hedge-fund industry, which BX has made clear for years (see the 2010 article "Blackstone Sees Buyer's Market For Hedge Funds"). BX hedge funds-of-funds group has grown to $56 billion since 2000, which, according to Credit Suisse, makes the firm "almost three times bigger than the next largest player."
February 21: Representative Dave Camp [R-MI], chairman of the House Ways and Means Committee, released a draft of tax legislation that would impact all publicly-traded PE firms. A New York Times DealBook article explains very well that the draft resurrects the so-called "Blackstone Bill." Opinions on how the issue might play out can only be speculation at this point so I will refrain. With that said, as law professor Victor Fleischer concludes at the end of his article, "The draft legislation has a long road ahead," so it isn't an immediate concern, but shareholders of any publicly-traded PE firm should be aware. Similarly, the people who run the PE firms are acutely aware of the issue and likely have a plan. That does not mean shareholders could not be negatively impacted if the bill does traverse all hurdles. Rather, it means that we must pay attention.
February 27: BX bought a twenty percent stake in fashion house Versace.
February 28: BX filed its 2013 Annual Report via SEC Form 10-K.
March 6: Medical devices maker Biomet (Pending:BMET) filed for an IPO to raise up to $100 million. The company was taken private for $11.4 billion in 2007 by a consortium comprised of Goldman Sachs, Blackstone, KKR and TPG Capital.
March 11: BX announced that it will acquire Accuvant, a leader in IT security solutions and services.
March 24: BX filed to sell another fifteen million shares of SEAS, which would raise about $500M at current prices, and take the BX stake in SEAS down to about 25% of the company (currently about 43%). SEAS is also in talks with BX to buy another 1.75M shares back directly from the PE firm.
March 24: BX announced that it will host its 2014Q1 earnings conference call on April 17, 2014 at 11 a.m. ET, and release data before the market opens.
Analyst Opinions
Twelve analysts rate BX a Buy, three rate it a Hold, zero rate it a Sell and the consensus rating is now Buy. When I posted my initial $34 price target while BX was $26 last October, all analyst price targets were in a $24-30 range. My current 9-12 month price target is $44 and here are recent analyst changes:
1/28/2014 Deutsche Bank resumed Buy rating with price target at $39
1/31/2014 RBC Capital raised price target for Outperform rating to $38
1/31/2014 Jefferies raised price target for Buy rating to $37
1/31/2014 Citigroup raised price target for Buy rating to $42
1/31/2014 Deutsche Bank raised price target for Buy rating to $40
2/27/2014 Argus raised price target for Buy rating to $40
3/18/2014 JMP Securities raised price target for Buy rating to $42
3/19/2014 Morgan Stanley reiterated Buy rating, price target not available
Final Thoughts
I like BX a lot, but I do not consider it an appropriate holding for all investors since Private Equity can be risky business. For example, I do not recommend BX for small portfolios that aren't well diversified across market caps, sectors, etc. My actively-managed portfolio has about twenty five positions at all times, which I don't recommend for most people since it's a ton of work to manage, but a portfolio with so many holdings also tolerates more risk. I also would not recommend Private-Equity stocks for investors in retirement, or investors who otherwise have a particularly low risk tolerance. I consider there to be very many such factors that each investor should consider for his or her self, or as Peter Lynch puts it "Know what you own, and know why you own it."
With that said, I also think BX is significantly undervalued and a great holding for the right types of investors. And, the high yield provides a decent cushion against any short-term weakness there may be. I believe BX will continue on an overall upward trajectory, especially since I think the U.S. economy and most of the world will continue improving for at least another year or three. I discussed that topic more in a couple of my general outlook articles including "Corrections Come, Corrections Go" and I will again in my mid-year update.
Thank you for reading. I researched and wrote this article 3/21-3/25.
Disclosure: I am long BX. I wrote this article myself, and it expresses my own opinions. I am not receiving compensation for it (other than from Seeking Alpha). I have no business relationship with any company whose stock is mentioned in this article.
Additional disclosure: I may buy additional BX shares at any time.