Gold prices have risen sharply since the end of 2013. Back in mid-January, I wrote an article in which I indicated that it was not a good time to buy gold despite a very bearish analyst landscape.
From January 22 (the precise date of the publication of my article) to March 17, gold prices have increased sharply by 11% from $1,240/toz to $1,382/toz. Consequently, I was proven wrong to believe that the sentiment was not sufficiently over-bearish to create a real bottom. The upside room has been undeniable.
How to explain the recent rally?
First of all, on February 19, FOMC Minutes revealed that tapering was confirmed. Even though the Fed's stance was more hawkish than expected, gold prices have not declined significantly thereafter. This was an indication that gold market participants had already expected the Fed's taper.
Second, as the bullish trend had become reinforced in gold, growing tensions between the West and Russia starting in mid-February on Crimea drove up buying on safe-haven such as gold. Interestingly, there has been a greater interest in gold investment. According to an article from Reuters, the world's largest gold-backed ETF, SPDR Gold Shares (NYSEARCA:GLD), has seen inflows by 10.5 tons in February for the first time in more than a year after it saw it its holdings drop by more than 550 tons last year as gold prices fell by 28%.
In sum, the sharp reversal to the upside since December 2013 is mainly due to the fact that bearish news had been already priced in in the price and safe-haven bids occur on rising geopolitical tensions, pushing prices much higher.
What's next?
From an empirical perspective, it is important to note that when the gold price rises due to geopolitical tensions, the rise is only temporary and geopolitical concerns are not sufficient to create a sustainable rally. As a reminder, the period July 2013-September 2013 demonstrates this specific point. As seen in Exhibit 1, during that period, gold prices rose by more than 15% from $1,240/ toz to nearly $1,430 due to geopolitical tensions between the United States and Syria. However, in September, gold prices declined eventually from their peak until the end of the year to reach a bottom at the famous $1,180 level.
Exhibit 1: Gold Spot $/toz

Click to enlarge
Source: Bloomberg
As a result, I continue to be bearish on gold and to believe that the recent rally starting in December 2013 is not likely to be sustainable.
My thesis has been reinforced since the March FOMC Meeting on March 18-19, 2014. Even though the decision in the Press Release (March 19) to "make a further measured reduction in the pace of its asset purchases" was broadly expected by the market, the Chair Yellen's Press Conference caught gold market participants by surprise when a journalist asked Janet Yellen the following question:
Could you tell us how long of a gap we might expect before the rate hikes do begin?
The Chair replied:
So, the language that we use in the statement is "considerable period." So, I, you know, this is the kind of term it's hard to define. But, you know, probably means something on the order of around six months or that type of thing.
Her answer was more hawkish than the market expected and gold market participants reacted accordingly. From March 18 to present, gold prices declined by more than 5% from $1,382/toz to $1,308/toz. The March FOMC Meeting was the catalyst that confirmed that the recent rally in gold was not sustainable.
From a technical perspective, my thesis, according to which that gold prices are likely to trade lower in the next two months, has been reinforced as well. As seen in exhibit 2, last week, the sharp sell-off in gold prices created a bearish engulfing pattern, suggesting a reversal to the downside.
Exhibit 2: Gold Spot $/toz - Bearish Engulfing Pattern identified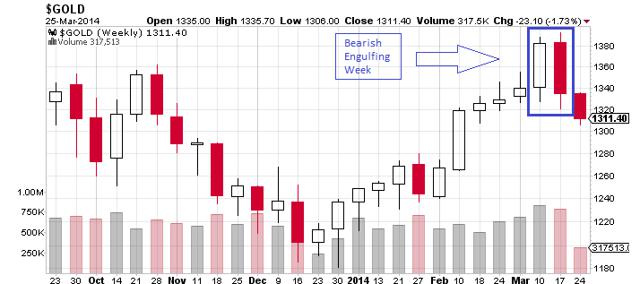 Click to enlarge
Source: Stock Charts
If the bearish engulfing pattern is proven right, it means that the red candle in the purple rectangle is the reversal signal. As a result, I am convinced that the strong downward pressures last week and this week will result in a continued fall in gold prices.
In sum, the recent rise in gold prices has been fueled by growing geopolitical tensions in Ukraine that cannot create a sustainable rally. The March FOMC Meeting was a confirmation that the increase would come to an end. The bearish engulfing pattern is another confirmation that gold prices will trend lower over the year.
Disclosure: I have no positions in any stocks mentioned, and no plans to initiate any positions within the next 72 hours. I wrote this article myself, and it expresses my own opinions. I am not receiving compensation for it (other than from Seeking Alpha). I have no business relationship with any company whose stock is mentioned in this article.