As investors are appearing to flee from certain sectors of the market, we think that some buying opportunities are emerging for long-term investors. We have been bulls of the biotech names for some time, with our focus on the big names in the sector as opposed to the smaller names that lack big drugs. We think that the valuations there have once again moved into the 'Buy' territory, but our focus today is upon the technology names and the news in the last 24 hours in that sector of the Nasdaq.
Chart of the Day:
We continue to be range bound in trading of the US 10 Year Treasury, and right now that is probably not a bad thing. We continue to watch the benchmark for a move one way or another, but right now the calm is welcome with the equity market's gyrations.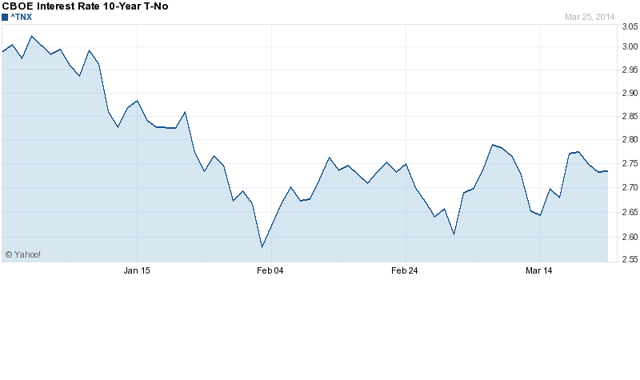 Click to enlarge
Source: Yahoo Finance
We have economic news today, and it is as follows:
MBA Mortgage Index (7:00 a.m. EST): Est: N/A Act: -3.5%
Durable Orders (8:30 a.m. EST): Est: 1.0% Act: 2.2%
Durable Goods-Ex Trans (8:30 a.m. EST): Est: 0.3% Act: 0.2%
Crude Inventories (10:30 a.m. EST): Est: N/A Act: 6.619 M
Asian markets finished mixed today:
All Ordinaries -- up 0.75%
Shanghai Composite -- down 0.18%
Nikkei 225 -- up 0.37%
NZSE 50 -- down 0.11%
Seoul Composite -- up 1.19%
In Europe, markets are trading higher this morning:
CAC 40 -- up 1.12%
DAX -- up 1.31%
FTSE 100 -- up 0.46%
OSE -- up 0.53%
A Candy Crush
With King Digital Entertainment's (BATS:KING) IPO turning out a dud, expect capital to begin flowing out of other names as well; namely Zynga (NASDAQ:ZNGA). A lot of times investors search out similar names in related industries (the same industry in this case) to use as a proxy for a new IPO when share allocations are hard to come by. Some readers will probably remember back during the Facebook (NASDAQ:FB) IPO that many, including ourselves, were using Zynga as a proxy on the Facebook IPO. When Facebook fell on its face that first day there was a rush out of Zynga and the stock was even halted a few times that day for extended periods.
Be careful over the next few days with King and Zynga, but certainly look to King to lead the way.
Facebook Friends Oculus
Outside of the King IPO today, the big news is that Facebook announced after the market close yesterday that they would be purchasing privately held Oculus, a maker of virtual reality headsets, for around $2 billion. This puts Facebook in a race with Google (NASDAQ:GOOG) now that both companies appear to be focused on the wearable tech gear for vision. Although the Oculus headset is not practical for wearing outside of the living room, it does open the door for Facebook to enter into Google Glass's territory.
On a side note, Oculus was started with funds from Kickstarter, a social funding site where inventors can ask for capital to fund their ideas.
Apple Rising
This two year chart highlights how important the $550/share level is for Apple shareholders. If the resistance can be broken, the stock could enter an uptrend.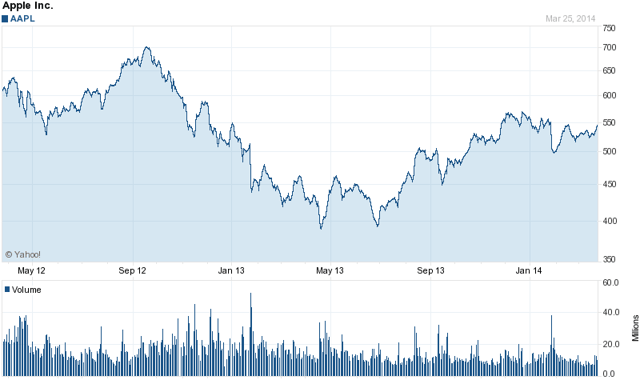 Click to enlarge
Source: Yahoo Finance
For the last year or so we have been bulls on Apple (NASDAQ:AAPL) due to the value we believe to be present. The way we look at the company right now is that it is cheap, and that is looking at what the company currently has, not what it may have in the future. We have recommended buying the stock on dips and as we approach the $550/share level it does appear that excitement is building and a breakout might be possible. For those who have taken Apple off of their watch lists, it is time to add the name back as the next 12-18 months might see a new product launch cycle across different categories with new products being released that could move the needle.
Disclosure: I have no positions in any stocks mentioned, and no plans to initiate any positions within the next 72 hours. I wrote this article myself, and it expresses my own opinions. I am not receiving compensation for it (other than from Seeking Alpha). I have no business relationship with any company whose stock is mentioned in this article.
Additional disclosure: AAPL has previously been recommended.