Transocean (NYSE:RIG) has been one of the more frustrating positions in my portfolio over the past year and one of the few that has posted losses over that period. It is a frustration I share with Carl Icahn who is also currently underwater on his Transocean stake. I recently added to this position as the stars seem to be aligning for the shares to move higher over the medium term.
Technicals:
I was watching closely to see if the stock would bounce off long-term support levels which it recently did (see chart). This support level should continue to provide resistance to any further declines and I feel confident holding my shares as long as the stock does not broach this level significantly.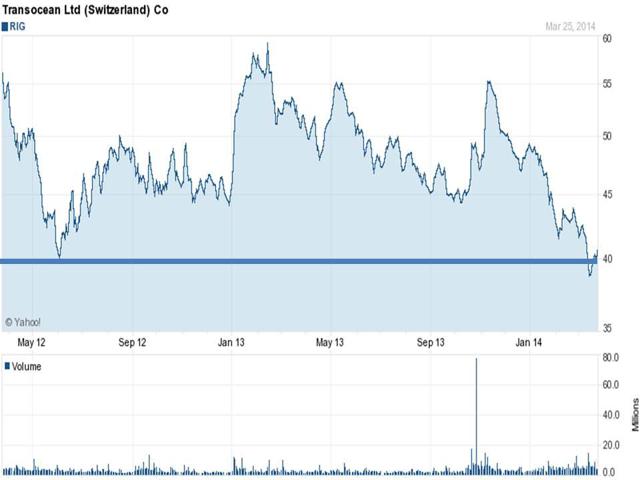 Dividends:
Another floor for the stock is its large dividend yield (5.5%). This is twice the yield of the 10-year Treasury bond. The payout is less than half of this year's expected earnings so the company should be in no danger to cutting the dividend anytime soon. In fact, last year Carl Icahn pushed for and got a special dividend of $3 a share announced last year. I would not put it past the noted activist to push some like-minded efforts at some point in the future if the performance of the stock does not improve.
Valuation:
The shares are cheap at these levels. The stock trades at less than 10x trailing earnings and just over 8.5x this year's consensus earnings estimates. Earnings should also increase at a 10% to 15% Y/Y pace this fiscal year.
Although revenues should show little gains over the next two years, the stock's five-year projected PEG is significantly below 1 (.46). Finally, sentiment on the offshore space seems to be turning around over the last few weeks. The stocks of competitors Diamond Offshore (NYSE:DO) and Ensco (NYSE:ESV) have also built support levels and have started to bounce off them recently.
Citigroup put out a report last week calling for a bottom for offshore drillers while upgrading Transocean. I think the call will turn out to be prescient. The stock is down more than 25% from recent highs, has technical support at current levels and is cheap. A large dividend provides succor to income investors while they wait for sentiment to continue to improve on the sector and the stock. Accumulate.
Disclosure: I am long RIG. I wrote this article myself, and it expresses my own opinions. I am not receiving compensation for it (other than from Seeking Alpha). I have no business relationship with any company whose stock is mentioned in this article.