Life Technologies Corporation (NASDAQ:LIFE) is aiming big in the field of stem cell research. The company presented its offering of stem cell research at the annual meeting of the International Society for Stem Cell Research (ISSCR).

Over the past 5 years, Life has invested in various collaborations and partnership programs to strengthen its offer of stem cell products. The company recently launched GIBCO Cell Therapy Systems (CTS) to support cell therapy applications.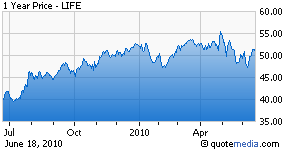 We are pleased to note that The Salk Institute for Biological Studies, University of California , San Diego and Life initiated studies to develop cell transplant therapy for amyotrophic lateral sclerosis (ALS), also known as Lou Gehrig's disease. Successful development of a therapy is significant as current treatment option available for the disease, which affects 30,000 people in the US , is limited.

As of the end of 2009, Life operated four divisions - Molecular Biology Systems (MBS), Genetic Systems (GS), Cell Systems (CS) and Mass Spectrometry (MS).

The CS division includes all product lines used in the study of cell function, including cell culture media and sera, stem cells and related tools, cellular imaging products, antibodies, drug discovery
services, and cell therapy related products. Life derived 24% of its total revenue from the CS division ($213.8 million) during the first quarter of 2010.

The MS division consists of a 50% interest in a joint venture that the company acquired as part of its merger with Applied Biosystems. However, Life, in order to be more focused on the high growth
molecular and genomics markets, sold its ownership stake in its MS business earlier this year to Danaher Corporation (NYSE:DHR).

Life enjoys a strong position in the life sciences market and we believe robust performance of the core business and new product launches will help drive revenue going forward. Meanwhile, lower expenses and cost cutting along with increased revenue should help drive the bottom line.

We have a Neutral recommendation on the stock.