When a potential investor looks to establish a long-term position in the railroad sector, a company's ability to put the safety and stability of its equipment first is certainly something to consider. With that said, I not only wanted to examine Canadian National Railway's (NYSE:CNI) most recent initiative to phase out its older tank cars, but also note a number of reasons behind my decision to remain fairly bullish on the company's stock.
Company Overview
Based in Montreal, Quebec, Canada, Canadian National Railway engages in rail and related transportation business in North America and operates a network of approximately 20,100 route miles of track that spans Canada and mid-America, connecting three coasts: the Atlantic, the Pacific, and the Gulf of Mexico. It also serves the ports of Vancouver, Prince Rupert (British Columbia), Montreal, Halifax, New Orleans, and Mobile (Alabama), as well as the metropolitan areas of Toronto, Buffalo, Chicago, Detroit, Duluth (Minnesota)/Superior (Wisconsin), Green Bay (Wisconsin), Minneapolis/St. Paul, Memphis and Jackson (Mississippi), with connections to all points in North America.
Latest Rail Car Initiatives
On Tuesday March 25, Canadian National Railway announced that it would gradually phase out its older tank cars used to transport diesel fuel in an effort to improve safety in the wake of several fiery derailments, following a similar move last month from BNSF Railway.
Today's recently announced initiative can be broken down into two separate phases and may very well reduce the probability of a rail car-related disaster (similar to the previously noted fiery derailments) actually occurring.
The first of these phases' calls for CNI to spend C$7M in an effort to remove from service, the 183 DOT-111 rail cars that transport diesel fuel for its locomotives, and replace those particular cars with 40 new ones, that were built to meet the latest safety specifications.
The second these two phases includes the removal of numerous DOT-111 railcars that ship crude oil across its rail network, and are owned by oil shippers and leasing agencies, rather than CNI itself. CNI will then provide unspecified incentives to these customers in an effort to replace the older tank cars and acquire newer cars that meet higher safety standards.
If CNI is successful in the replacing the older DOT-111 railcars with new and improved models by year end, not only do I believe that the probability of a potential spill and/or larger-scale disaster is reduced, I also believe that CNI could see a jump in its long-term revenue growth.
Recent Performance & Trend Behavior
On Tuesday, shares of CNI, which currently possess a market cap of $46.44 billion, a forward P/E ratio of 14.21, and an annual distribution yield of 1.63% ($0.91), settled at a price of $55.70/share.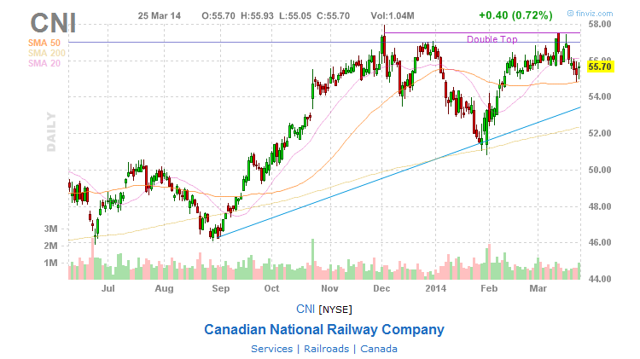 Based on their closing price of $55.70/share, shares of CNI are trading 0.77% below their 20-day simple moving average, 1.53% above their 50-day simple moving average, and 6.43% above their 200-day simple moving average. It should be noted that these numbers indicate a moderate short-term downtrend and a solid mid-to-long term uptrend for the stock, which generally translates into a holding pattern for most near-term traders and a buying mode for most long-term investors.
Comparative Forward P/E Ratios Set Canadian National Railway Apart From Its Peers
Although the above referenced numbers indicate a long-term uptrend for the company's stock, I actually think its share price of $55.70/share offers investors a considerable point of entry. Why? Well, I think that shares are trading at a much better forward P/E ratio than a few of its sector-based peers which could translate into a great buying opportunity for many investors.
As of Tuesday's close, CNI's forward P/E ratio of 14.21 was much lower than the forward P/E ratio of both Genesee & Wyoming (NYSE:GWR) (forward P/E ratio of 17.72 as of 3/25) and American Railcar Industries (NASDAQ:ARII) (forward P/E ratio of 16.36 as of 3/25) which were both considerably higher. A stronger forward P/E ratio clearly signals a greater level of affordability for Canadian National Railway, especially when compared to the forward P/E ratio of both Genesee & Wyoming and American Railcar Industries.
Conclusion
For those of you who may be considering a position in Canadian National Railway, I strongly recommend keeping a close eye on the firm's recent trend performance, any further developments with regard to safety-related initiatives that pertain to the DOT-111 model railcar and its ability to continue to enhance shareholder value over the next 12-24 months, as each of these factors could play a role in the company's long-term growth.
Disclosure: I have no positions in any stocks mentioned, and no plans to initiate any positions within the next 72 hours. I wrote this article myself, and it expresses my own opinions. I am not receiving compensation for it (other than from Seeking Alpha). I have no business relationship with any company whose stock is mentioned in this article.