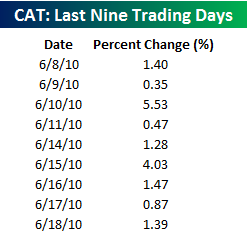 Maybe it isn't nine lives, but shares of Caterpillar (CAT) are definitely on a roll lately. Friday's 1.4% rally in the stock capped off a nine-day winning streak in shares of the company. In the span of less than two weeks, CAT has now rallied by nearly 18% since its last down day on June 8th.
You have to go back nearly five years (September 2005) to find a period where the stock had a similar winning streak.
Over a period where investors have been debating whether or not the bull is dead, several other Russell 1000 stocks have been in similar nine-day stealth rallies (HSP, MJN, NOC, SPR, SRCL), and two stocks are even riding a ten day winning streak (EGN and PRE).