In keeping with the theme of geopolitics throwing wrenches in perfectly good corporate strategies, Occidental Petroleum (NYSE:OXY) has joined the club. At the Howard Weil Energy Conference in New Orleans yesterday, Oxy's CEO Chazen disclosed to investors that the company's $8 billion MENA-region asset sale is being held up by political dissention over Qatar's support of the Muslim Brotherhood from a consortium of Oman, UAE and Qatar.
Bloomberg showed how Oxy's stock has been faring from a series of events as Oxy changes course to split the company. When Chazen took over Oxy's leadership role in early May 2013, Oxy began an upward ascent. In late October, the announcement to split Oxy into a California company and Houston-based company, and then the recent drilling ban announced by California lawmakers shook things up a bit. The price of Oxy strengthened after the split-off announcement in October, but not remarkably so, as expectations were already priced into the stock from earlier foreshadowing, as Bloomberg points out in the article linked above.
Oxy present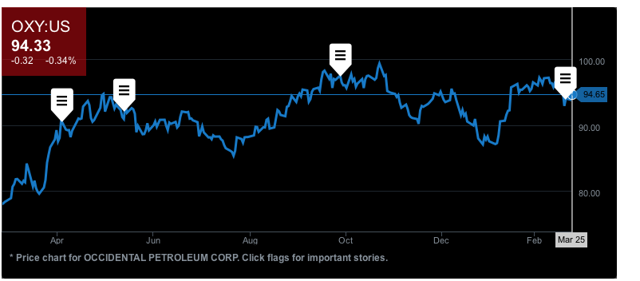 (Source: Bloomberg, March 26, ~1:30 a.m. CST)
Occidental may keep some properties, such as the Dolphin Gas project in Qatar, Chazen said yesterday. Bloomberg notes "the company has assets in the U.A.E, Qatar, Oman, Bahrain, Iraq, Yemen and Libya." The $8 billion comprises a 40% stake in $20 billion of Oxy Middle East assets.
About the geopolitical dynamics
Via an exclusive email interview, Mr. Charles Kestenbaum, a top Middle East expert and former U.S. Trade Specialist, offers color:
In the best of times, agreement between Qatar, UAE and Oman on almost any subject would have been problematic. Like any three neighbors, many competing interests get exaggerated the closer they are to each other. [Think Korea, Japan, China.]


They also have divisions along religious sectarian lines. Qatar is Wahabi Muslim (closer to the Saudis) while UAE is fighting desperately to keep religion out of government and politics. Oman is its own unique and distinct sect of Sunni Islam; Oman, for example, has pursued its own very independent course for decades.


The Project Dolphin, the natural gas pipeline from Qatar to Abu Dhabi (NASDAQ:UAE) was supposed to go to Oman in the early designs and negotiations stage, but was dropped for the more simple (?) Qatar-Abu Dhabi negotiations that were coordinated by Oxy. Those negotiations took years and years. Many were skeptical it would ever happen, but the UAE need for gas trumped all political concerns and obstacles, eventually.


The present strategy for Oxy to sell a large share of its assets in the region to the governments (or government-controlled proxy commercial entities) was treated with skepticism. Selling a share of the gas field in Qatar to the Abu Dhabi government-owned Mubadala [Development Co.] demonstrated the value of such regional integration efforts but also some of the limits.


... Selling major domestic natural resource assets back to three governments at once jointly is always a challenge, much less in the Middle East, where old antagonisms and rivalries are coming unglued and even violent.

Kestenbaum affirms that the strategy to disaggregate the assets is right. He further suggests breaking up assets into "local pieces" with smaller transaction sizes and fewer political elements involved. The oil and gas sector represents "national wealth and patrimony" to these countries, he adds.
One begins to see why the announcement was a necessary market communication to keep the bigger picture of Oxy in investors' mindsets.
Oxy future
As of midday trading, Oxy declined over one-half percent, but nothing of consequence. The language of CEO Chazen has appeared to reassure investors that Oxy is proceeding as they should for now, given geopolitics. They have choices about how to sell stakes in their projects.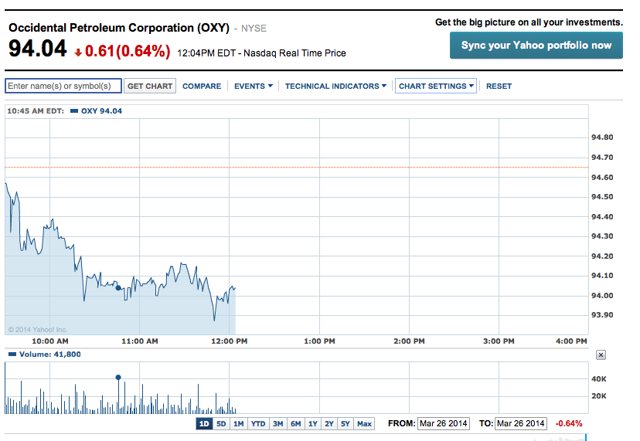 Moving forward, in earlier articles, the new approach for the upcoming Oxy Houston-based firm includes focusing more efforts in Texas' Permian Basin. They have a deep and well-diversified portfolio of conventional and unconventional assets. (See split impact article and Texas/Permian-specific article.)
"In summary, in the Permian Basin, Oxy projects more than 2.5 billion boe in reserves and potential resources, making up 15-plus years of development and growth opportunities. Specifically, they have 1.4 billion net barrels of oil equivalent and reserves and potential resources remaining to be developed in the Permian EOR business." from "Texas Top Oil Producer..." (cited above)

Oxy will continue to use a scalpel-like approach toward its portfolio and leverage its diversified asset base across MENA, North America, midstream and chemical lines. Apache (NYSE:APA) is doing the same maneuvers with a slightly different result today, anyway. Their North America story is slightly tighter at present. Oxy, however, has a good dividend yield, an expected 3.10%.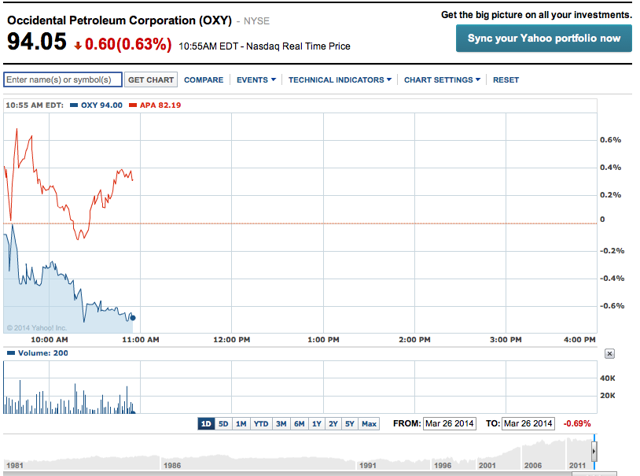 The emphasis on the importance of U.S. energy production has never been greater, while the challenges of geopolitics offer reflections on energy investing choices.
Oxy past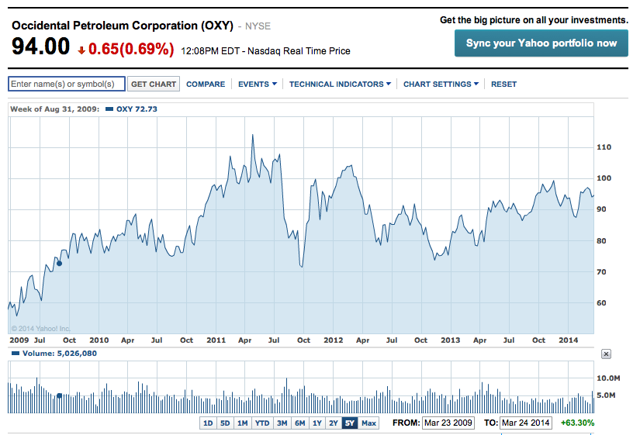 Disclosure: I am long APA. I wrote this article myself, and it expresses my own opinions. I am not receiving compensation for it (other than from Seeking Alpha). I have no business relationship with any company whose stock is mentioned in this article.