Alcatel-Lucent (ALU) shares have been on a steady downslide since blowing out the fourth-quarter earnings result. So what gives, and why do I view the weakness as an opportunity?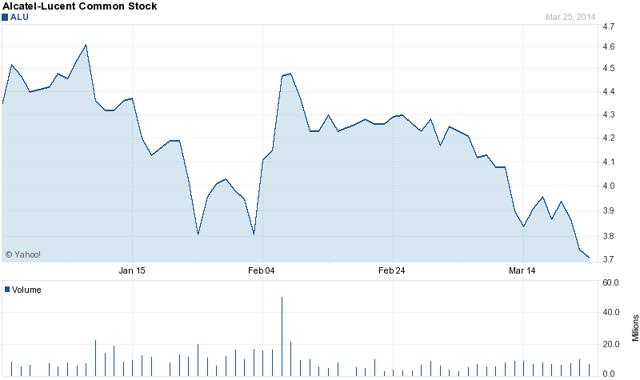 Click to enlarge
3-Month Chart for ALU at Yahoo Finance
Alcatel-Lucent's fourth-quarter EPS report was stellar, and it sent the shares higher after cautious trading took the stock lower into the earnings news. The company produced EPS of $0.08, which was twice as much as Wall Street expected. The 7.7% spike in the stock on February 6th came on the news, but since that blockbuster day, the shares have hardly excited their holders. Of late, they have gotten downright gloomy even.
The catalysts seem simple enough, in my view, though one of the catalysts was ironically a dearth of positive short-term catalysts. The first factor against the stock, though, was an analyst's downgrade just after the EPS report. On February 11, a Morgan Stanley analyst lowered his rating on the stock from Overweight to Equal Weight view. It turned out to be prescient too, and as strange as it seemed, it made short-term sense at the time as well. After all, the stock had run up with the market in 2013, and like the rest of the market, tax-delayed capital gains in it were hefty and ready to be taken in the early part of the new year. So the downgrade matched with a lack of new catalysts and an opportunity for some profit-taking to make a pretty good argument against ALU short-term.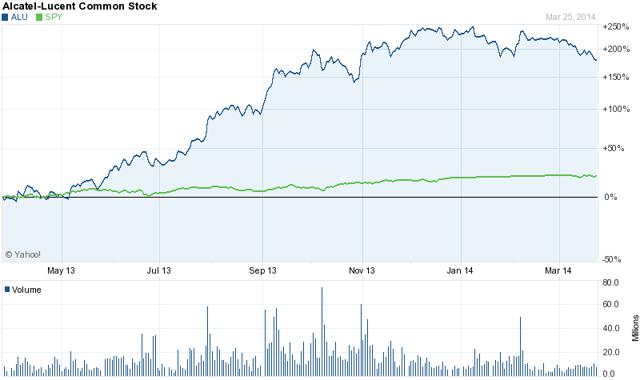 Click to enlarge
1-Year Chart of ALU vs. SPY at Yahoo
Another important factor that came to play was the weaker EPS expectation for the first quarter. According to Yahoo Finance, the analysts' consensus estimate is for a loss per share of $0.06 for the first quarter. Estimize agrees, but we cannot find a whisper number for ALU. The six-cent loss matches poorly against last quarter's solid EPS figure. So, perhaps, it's making even more sense now why ALU has slipped since the EPS spike higher. But, good news friends, the loss per share estimate for Q1 has been improving, and is better by three cents than it was 90 days ago.
I've come around on this stock already, after first expressing caution about the latest of many efforts to turn the company around. I agree with the path the new CEO has the company on, with a focus on faster, higher value-added growth. I'm impressed with the progress of the company thus far in its execution on the Shift Plan, though I am concerned about its ability to get value for its planned divestitures considering the world knows it's a desperate seller.
It will be interesting to see what result the company produces for Q1. Other than last quarter, the company has had a recent history of disappointment, and the stock remains vulnerable to disappointments. But all the estimates are on the incline, from Q1 to Q2 and into 2015. I expect another strong result would further solidify the turnaround for the stock and send it back toward its 52-week high, but how strong can an earnings result be if it is a loss.
These question marks are weighing on the stock now, but I view that weight like sandbags on a hot air balloon, keeping it grounded before its eventual lift off to new heights. The next EPS report is about a month off, using history as our guide, so the stock could weaken even further still. Yet, I would be a long-term buyer into that weakness. The stock trades at less than half of its expected sales for 2014 (and 2015), though some of the assets that will generate sales will be sold off. The stock trades at 17.7X the Street forecast EPS estimate of $0.21 for 2015. Analysts believe this stock can grow at an exceptional pace over the next five years (82%) though, so the valuation even a year out seems to offer some margin of safety for long-term interests. Obviously, this depends on continued execution of the company's turnaround plan. I believe in it, and so I remain on board with ALU for the long term, and recommend it for purchase on recent weakness.
Disclosure: I have no positions in any stocks mentioned, and no plans to initiate any positions within the next 72 hours. I wrote this article myself, and it expresses my own opinions. I am not receiving compensation for it (other than from Seeking Alpha). I have no business relationship with any company whose stock is mentioned in this article.