Jive Software, Inc. (NASDAQ:JIVE) is a leading software developer which focuses on providing solutions for the social networking sector. With many well-known social networking stocks like Facebook (NASDAQ:FB), Twitter (NYSE:TWTR), and LinkedIn (NYSE:LNKD) trading at rich valuations, you might think the same would be true for Jive Software. However, that is not the case, and this "left for dead" stock looks too cheap to ignore right now.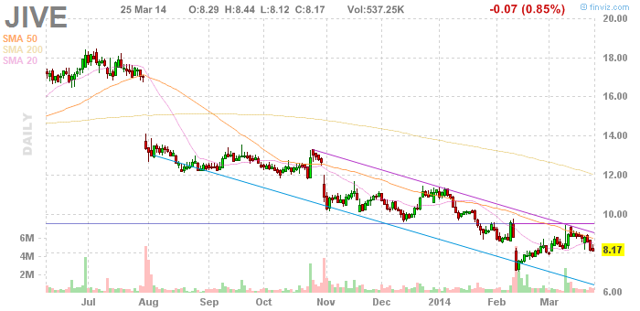 As the chart above shows, this stock was trading for about $18 per share last July, and has since been cut nearly in half due to slower than expected growth and delayed profitability. While these are legitimate concerns, they appear to be overblown for a number of reasons, which we will go through in detail below. Buying beaten down tech stocks on the cheap from disgruntled and disappointed shareholders can be very rewarding. That seems to be the opportunity with this stock now. Furthermore, the chart above also indicates that this stock has already bottomed-out and it has recently started to build a base in the $8 to $9.50 range.
In order to further understand what this company does, it is best to refer to a Jive Software release which states:
"We provide a social business software platform that we believe improves business results by enabling a more productive and effective workforce through enhanced communication and collaboration both inside and outside the enterprise. We believe our platform is intuitive, easy to use, flexible and scalable, and can be provided as a public cloud service or as a private cloud solution. We are focused on unlocking the power of the enterprise social graph-the extended social network of an enterprise, encompassing relationships among its employees, customers and partners, as well as their interactions with people and content. Organizations deploy our platform to improve strategic decision making and employee productivity, enhance revenue opportunities, lower operational costs and increase customer retention."
If you look at Jive Software and only consider the more traditional metrics such as earnings, it might be easy to pass on this stock. However, that would be short-sighted because there are many positives at this company including a very strong balance sheet, takeover potential, the value of its technology platform, and considerable upside potential according to analysts. There is also strong potential for a short-covering rally. Let's go through these points now:
1. A strong balance sheet reduces risks for shareholders and makes Jive Software an even more attractive takeover target. This company has about $108 million in cash and just around $8.4 million in debt. While the company is expected to post losses in the coming quarter of about 11 cents per share, this is not a significant concern due to the cash hoard. That is why the limited losses this company is currently posting are not a major potential downside risk.
2. Jive Software has takeover potential and it could be attractive for a number of companies in the social networking sector. We have seen several deals being announced by companies like Facebook, some of which were at seemingly rich valuations and for billions of dollars. WhatsApp was recently acquired for a mind-boggling $19 billion and there have been other recent deals for billions of dollars even when some of the target companies have only a few employees and limited revenues. Jive Software has an enterprise value of just about $500 million which is pocket change for many social networking giants. It could also be a strategically important acquisition target since an acquirer could "shut-out" rival companies from using its technology platform. A buyout deal could be coming sooner rather than later as Jive Software has hired Qatalyst Partners (a top investment banking firm), to pursue a potential takeover of the company. A recent article detailing this news also states a few other interesting points that investors should consider, it says:
"Sequoia Capital is the company's largest shareholder with a stake of about 20 percent, while Chief Technology Officer and co-founder Matt Tucker owns 9 percent. Jive's rivals include Salesforce.com's Chatter, Microsoft Corp's Yammer and VMWare Inc's Socialcast."
As some investors know, Sequoia Capital is one of the most successful venture capital firms in Silicon Valley. This should increase investor confidence that a deal for Jive Software could be for significantly more than the current share price. The fact that a co-founder still owns about 9% also indicates that management is aligned with the interest of other shareholders. Finally, the mention of rivals such as Salesforce.com (NYSE:CRM), Microsoft (NASDAQ:MSFT) and VMWare (NYSE:VMW) could also be considered as a list of potential suitors that may want to buy Jive Software for its technology platform and customer base. A major research firm, Gartner, Inc. recently placed Jive Software in the top quadrant for social software in the workplace. The only other companies to be included in the top quadrant (out of about 20 firms), were Salesforce.com, Microsoft, and IBM (NYSE:IBM). This high placement shows the leadership position Jive Software is in. It's also worth noting that all the other companies in the top quadrant have huge multi-billion dollar market capitalizations, and that is one more reason why Jive Software looks like an incredibly cheap takeover target with the current enterprise value of just over $500 million.
IBM and other companies have been considered to be top suitors to takeover Jive Software. A few months ago, investors were paying more than $17 per share for the stock. With the recent hiring of an investment banking firm to formalize a potential deal, it could be more likely than ever and yet Jive Software shares can be bought for less than half the 52-week high. A Bloomberg article details why multiple analysts think Jive Software is a ripe target, and points out that Microsoft paid $1.2 billion for Yammer (a rival for Jive Software), it states:
"Jive is really one of the very few players that's independent with a really great product platform that can fit neatly into any larger company," Michael Nemeroff, an analyst with Credit Suisse in New York, said in a phone interview. "The two natural suitors that come to mind are IBM and Oracle."
Kirk Adams, founder and director of equity analysis at Denver-based Wedge Partners Corp., also sees IBM and Oracle as potential suitors for Jive.
Salesforce.com Inc., which like IBM and Oracle offers a product similar to Jive, could also benefit from an acquisition of the company, Nemeroff said.
3. Jive Software shares are cheap now and little value seems to be currently given to its technology platform or for the takeover potential. However, investors selling at just between $8 to $9 per share today could be making a big mistake. Even without a takeover, this stock could be worth more than double the current share price. On March 13, 2014, analysts at B. Riley put out a buy rating and set a $17 price target for Jive Software. While that is more than double the current share price, it would only put the stock back to where it was a few months ago.
4. Shorts have been focused on the potential downside risks and they have been right about the price direction for the past few months. However, with a strong balance sheet, limited losses in recent quarters, significant takeover potential, and the possibility of a short-covering rally, the risks now appear limited for longs and very high for the shorts. This especially seems true since the stock has shown signs of having bottomed-out on the chart. According to Shortsqueeze.com, over 4.3 million shares are currently short. This is equivalent to more than 5.4 days worth of average trading volume or nearly 14% of the float. That is enough to create a potential short-covering rally which is just one more upside catalyst that could push this stock higher.
Conclusion: Jive Software shares appear ripe for investment now as the stock looks very cheap. The takeover potential also appears significant, and the recent sell off in momentum stocks and rotation into value plays and left for dead stocks like IBM and Microsoft could soon start to include lesser-known stocks like Jive Software. With plenty of cash on the balance sheet, the potential downside risks seem limited at this time. Short-term investors should consider a trade with a potential target of at least $8.79 per share, which is the 50-day moving average. After that, the next target would be around $12 per share which is the 200-day moving average. Longer-term investors should look for much larger gains as the analyst price target of $17 appears very realistic in a takeover, or as investor sentiment shifts to a more positive level.
Here are some key points for Jive Software:
Current share price: $8.25
The 52 week range is $7.11 to $18.48
Earnings estimates for 2014: a loss of 44 cents per share
Annual dividend: not applicable
Data is sourced from Yahoo Finance. No guarantees or representations
are made. Hawkinvest is not a registered investment advisor and does
not provide specific investment advice. The information is for
informational purposes only. You should always consult a financial
advisor.
Disclosure: I am long JIVE. I wrote this article myself, and it expresses my own opinions. I am not receiving compensation for it (other than from Seeking Alpha). I have no business relationship with any company whose stock is mentioned in this article.