If you have held a General Electric Co. (NYSE:GE) share for a period of five years you know how investment-worthy the stock is. GE gave a price return of 10% in the last year and if you held it for the period I stated above you would have earned a five year return of nearly 150%! At the moment GE's share value is temporarily down 8.5% year to date so that leaves us with a pretty good margin if you want to grab the stock. Why do I think it will rise back?
In this article, we will be discussing all the reasons for share price growth. I will also take you through the company's latest performance to understand how strong it is going. We will then shift our focus towards what the future holds for GE and consequently, investors.
The Quarter
During its last quarter, GE's revenue grew 3% to $40.4 billion with oil and gas and aviation bringing the highest growth (revenue: 17% and 13%; profit: 24% and 20%, respectively) in both revenue and segmental profit. Increasing power turbine and aircraft engine shipments were behind the growth that was partially hindered by lower revenues from GE Capital due to its shrinking size. Only healthcare revenues declined and were flat if we exclude the currency effect. Nonetheless, profit grew 4% to $1.1 billion as the benefits of simplification more than offset the impact of lower price and foreign exchange on the segment.
Cost structure optimization remained core with efforts being put on reducing headcount and ERP systems along with consolidating production facilities to pool resources together and move out unnecessary structural expenses in Europe where the business has been impacted due to the economy slowdown. The overall result was structural cost savings that amounted to $1.6 billion for 2013 in total.
Net result saw profits rising to $4.2 billion or $0.41 per share this quarter compared to $4.01 billion or $0.38 per share last year with the margin widening 100 bps to 18.3% through cost cutting initiatives. The company ended the year with $89 billion in cash and equivalents and returned $18.2 billion to investors as dividends and buyback.
Overall, the quarter and the year was nothing short of remarkable as revenue from major areas remained healthy, backlog was at an all-time high, and cost cutting improved margins. We will now look at how GE is optimizing its business to ensure even smoother returns in the future.
The Future
Diversification
To understand the strong positioning of GE investors need to realize that GE is diversified into so many sectors that it is truly representative of the economy. Its growth is exceedingly dependent on the global economy and a strong US economy. This positioning is similar to 3M (NYSE:MMM) or Berkshire Hathaway (NYSE:BRK.A) (NYSE:BRK.B). A little example could be seen in the fact that while Europe saw some stagnant growth of 3% in orders lately it was offset through growth market orders rising 13% and the US giving 8%.
Diversifying both product and market wise is a very safe plan that allows a balance in shrinking and growing markets. This contributes to smoothing results in the long run.
Backlogs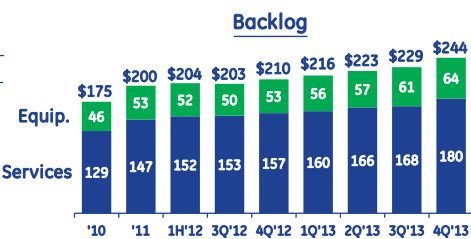 Source: Presentation
Last quarter, orders grew 8% to a new record of $224 billion (see graph above). This totals to more 1.5 years of sales revenue for the company. Last year, there was material strength in power and water. GE ended the year with 125 orders for heavy duty gas turbines. Power generation services grew by 9% which was actually 16% excluding Europe. The recent shift has been more broad-based with the US growing 8%.
Although this is just one part of order growth my point is to explain how the backlogs are expanding as a result of the diversification benefit I talked about above. With these orders the good results of the near term are going nowhere.
Business Optimization
GE is spinning off its credit card business despite it being profitable. While some believe it is a bad move since the North American retail finance business brings in over $2 billion annually for GE as profits, I will explain why this is a good move. GE Capital affected the company materially in 2008 due to its exposure to the credit markets. The company was lumped together with large banks just because of its risky holdings and issuance of commercial paper. It was named a systemically risky financial institution by the US Financial Stability Oversight Council.
GE Capital will still exist and focus more on specialty lending now for middle market customers such as aircraft lending and leasing, equipment finance, and commercial real estate lending. Removing the credit card business will help the company to refrain from being negatively affected due to the financial crisis on Wall Street. Since the industrial segment is already too profitable I think of this move as removing risk while keeping the healthy returns.
Conclusion
GE plans to take out over $1 billion from its cost structures during 2014. Industrial market trends are also in the company's favor. With restructuring driving margin expansion, this is profit growth from anywhere you look. The company's operating margin has been higher than the industry at 18% despite 3 year average revenue being lower. All this translates into a very safe investment that is destined to deliver superior returns to investors. Therefore, I recommend buying the stock.
Disclosure: I have no positions in any stocks mentioned, and no plans to initiate any positions within the next 72 hours. I wrote this article myself, and it expresses my own opinions. I am not receiving compensation for it (other than from Seeking Alpha). I have no business relationship with any company whose stock is mentioned in this article.