Profits are up at Chinese automaker BYD Co. (OTC: OTCPK:BYDDY). The company reported that its 2013 net income was 553 million yuan -- about $89 million in U.S. dollars. Earnings were much higher than the previous year's result of 81 million yuan.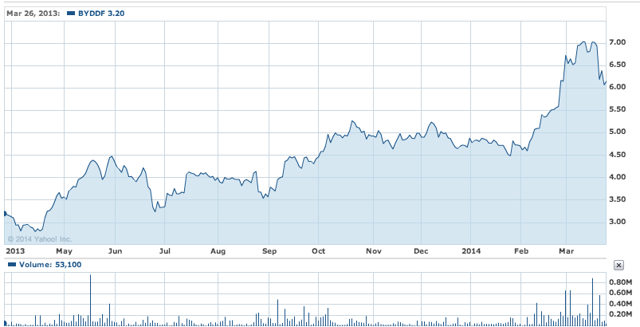 (Yahoo! Finance)
BYD said that revenues by business segment improved as follows: (1) autos up 9.6%, (2) communications components and assembly revenues up 13.7%, and (3) battery revenues up 12.4%. We think that these developments bode well for BYD's stock. Continued progress at BYD could boost Berkshire Hathaway (NYSE:BRK.B) as well.
Buffett Has an Interest
In 2008, Warren Buffett's Berkshire Hathaway (NYSE:BRK.A) took a 10% stake in the Chinese manufacturer. Berkshire Hathaway owns its share of BYD through MidAmerican Energy. The trend towards green energy contributed to MidAmerican's investment.
Just last month, BYD won regulatory approval to begin selling all-electric vehicles in Shanghai and Beijing. BYD grew into one of Asia's largest manufacturers by making batteries. Subsequently, the company entered automobile production. The company expects strong sales growth in second-tier markets outside the major Chinese cities.
BYD recently established a joint venture with Daimler to develop an all-electric model, named Denza, for the Chinese market. In a corporate statement, Daimler said: "BYD is providing its expertise in battery technology and e-drive systems. … Daimler is contributing its know-how in vehicle architecture, safety, and quality."
The Demand for Electric Cars
Due to rapid industrialization, China has become one of the world's largest producers of greenhouse gases. Electric vehicles will help to clean up China's smog situation. BYD claims to be the largest supplier of rechargeable batteries in the world.
U.S. electric-car maker Tesla (NASDAQ:TSLA) is entering the Chinese market. Tesla is marketing its all-electric Model S sedan, starting in Beijing and then expanding to other Chinese cities. The Model S is currently on display in Beijing, and the automaker is taking orders for delivery later this year. Meanwhile, BYD has plans to enter the U.S. market.
BYD intends to start marketing as many as four car models to U.S. consumers by the end of 2015. BYD is a private company, not owned or controlled by the Chinese government. Since 2010, BYD has undergone a major corporate restructuring under billionaire Chairman Wang Chuanfu. The company says it's better prepared than it was in 2010, when earlier plans to enter the U.S. failed to materialize.
Disclosure: I have no positions in any stocks mentioned, and no plans to initiate any positions within the next 72 hours. I wrote this article myself, and it expresses my own opinions. I am not receiving compensation for it (other than from Seeking Alpha). I have no business relationship with any company whose stock is mentioned in this article.