Pier 1 Imports Inc. (NYSE:PIR) recently reported fiscal 2011 first-quarter net income of $7.7 million, compared to $29.3 million in the prior-year quarter. Earnings per share came in at 7 cents, topping the Zacks Consensus Estimate at a loss of 2 cents, but well below the year-ago earnings of 32 cents per share. The year-over-year decline was primarily caused by a $47.8 million gain on debt repayment in the year-ago period.
During the quarter, Pier 1 recorded an 8.9% growth in net sales to $306.3 million from $281.1 million in the year-ago period. The increase was mainly attributable to a 14.3% growth in comparable store sales, partially offset by the net closure of 23 stores over the past year. The company exited the quarter with 1,050 stores, including 971 stores in the U.S. and 79 stores in Canada.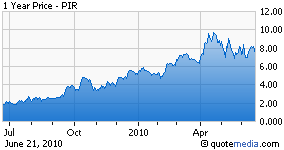 Gross profit in the quarter rose by 34.9% year-over-year to $114.4 million, while gross margin expanded 720 basis points (bps) to 37.4%. The strong expansion was primarily driven by reduced clearance activity and vendor and supply chain costs, as well as lower occupancy costs due to reduced store count and rentals in existing stores.
Selling, general and administrative expenses in the quarter fell 4.3% year-over-year to $101.1 million, primarily as a result of reduced lease termination costs. However, higher top-line and robust growth in gross margin more than offset the increase in operating expenses. Consequently, Pier 1 swung to an operating income of $8.3 million, compared to an operating loss of $26.7 million in the prior year quarter.
Pier 1 ended the quarter with cash and cash equivalents of $204.8 million, compared to $135.8 million in the year-ago quarter. During the quarter, the company generated $10.3 million from operating activities, received $10.6 million from disposal of properties and deployed $6.3 million towards capital expenditure.
Looking ahead, Pier 1 continues to expect opening 3 to 5 stores and shuttering 10 to 15 underperforming stores in fiscal 2011. Moreover, the company plans to utilize $25 million towards capital expenditure in the fiscal year, which would largely be funded from operating cash.
The Zacks Consensus Estimate for Pier 1's fiscal year ending February 2011 is currently 52 cents per share, which has moved up 7 cents over the past month as 5 of 6 covering analysts raised expectations. For the next fiscal year, the Zacks Consensus Estimate has jumped 7 cents over the past month to 68 cents per share, as 3 of 6 covering analysts lifted projections.