By Todd Shriber & Tom Lydon
Companies and investors alike enjoy share repurchases and increased dividends. Last year, Russell 3000 constituents repurchased nearly $568 billion of their own shares.
Add to that, 2013 was the first time that on a combined basis, global dividends topped $1 trillion, with members of the S&P 500 chipping almost $312 billion of the global total. In unison with the dividend and buyback totals, inflows to exchange traded funds emphasizing those concepts have surged.
On that note, imagine the utility of an ETF that simultaneously emphasizes with cash dividends and share repurchases with the qualifying kicker of mandating that constituent companies must also be reducing their debt burdens. Investors need not imagine that concept because it is the reality provided by the Cambria Shareholder Yield ETF (NYSEARCA:SYLD).
While there is ongoing debate regarding the superior method of shareholder compensation - buybacks or dividends - there is no denying dividend growth stocks have been less volatile while offering superior returns than those that do not grow dividends over the previous three decades.
Additionally, there is also no denying that companies are usually quite poor at timing their share repurchases. For example, share buybacks soared last year, but dwindled during the financial crisis. Morningstar analyst, Alex Bryan, notes:
A more cynical view suggests companies use share-repurchase programs to manage earnings per share to meet analyst expectations. While some managers may try to game analyst estimates, intelligent investors should be able to see right through these maneuvers.
Indeed, buybacks can be viewed as shifty accounting, but an explicit focus on dividends misses the buyback and debt reduction components, according to Cambria, indicating the concept of blending the three virtues as espoused by SYLD can be rewarding.
While SYLD is not a dividend growth ETF, the fund's three largest sector weights - financial services, consumer discretionary and technology - have been among the largest contributors to S&P 500 dividend growth since the financial crisis. Those sectors combine for 52% of the ETF's weight.
SYLD should also prove useful if interest rates rise because of the ETF's combined 41% weight to the discretionary, technology and industrial sectors - three of the best groups to own in rising rate environments. As it is, this year SYLD has outpaced some of its larger rivals that focus on just dividends or buybacks, not both.
Cambria Shareholder Yield ETF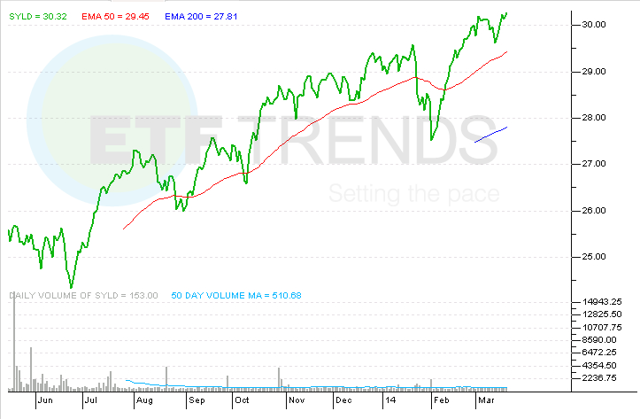 Disclosure: I have no positions in any stocks mentioned, and no plans to initiate any positions within the next 72 hours. I wrote this article myself, and it expresses my own opinions. I am not receiving compensation for it. I have no business relationship with any company whose stock is mentioned in this article.