This is the first-quarter update of the Incomers Portfolio, a real-life income-oriented portfolio I officially began in December 2013. It is currently made up of a Dividend Growth Portfolio and a Lending Club Portfolio. I plan to add bonds to the mix when yields get higher. My intention for this series is to show how one young investor can go about building an income-oriented portfolio instead of taking on the higher-risk stocks.
It should be noted that I don't think there is anything wrong with investing in riskier or growth stocks; it just doesn't fit in with my low risk tolerance and goals. I believe that for those with a similar goal and risk tolerance, a combination of dividend growth investing and other income-generating investments, like Lending Club, can be a safer and still lucrative investment strategy that anyone can use -- even young and beginning investors.
Goals
My personal goal is to retire, or semi-retire, early and live off of my passive income. For this reason, I do not want to take on the higher risk that is advised for a typical young investor. This type of advice would work for someone who is willing to work 30-40 years of their lives before they retire, but not me. I don't see myself as having that much time to "make back my losses." I hope to become financially independent by age 40, which would give me about 16 years or less. Give that timeline, I have every intention to begin compounding my returns as early as I can. Sure, I could potentially be "missing out" on higher returns with riskier investments, but I believe the power of compounding will make up for it.
For those who don't care to retire early, then the younger they are, the more time they have. The more time they have, the more powerful compounding will work for them -- sort of like a snowball rolling down a hill picking up more snow the farther it rolls.
Dividend Growth Portfolio Update
Since my introduction article, I have only made purchases. As I mentioned, since I felt that stocks were quite expensive, I started my Dividend Growth Portfolio as a smaller portion of my entire Incomers Portfolio and my plan is to build it up over time (hopefully buying my core DG stocks at lower prices). After that dip in January, I'm very glad I made that decision. Building my core dividend growth portfolio in corrections like that is exactly what I was hoping to do.
My biggest accomplishment is that I've already contributed $6,000 to my DGP this year. Although I had a $0 contribution goal for this year, it is good to know that I am able to get a head start on my 2015 goal. I'd like to stay as far ahead as I can on this contribution plan. A mental goal of mine is to have $20,000 invested in my DGP by year-end.
Here is a snapshot of my current DGP:
| | | | | | | | | |
| --- | --- | --- | --- | --- | --- | --- | --- | --- |
| Ticker | Shares | Price | Yield | Div/Share | Div/yr | 5-yr DGR | Mkt Value | Weight |
| KMI | 56.31 | 31.15 | 5.26% | 1.64 | 92.35 | 6.20% | 1,754.15 | 16.27% |
| KMR* | 27.00 | 70.24 | 7.44% | 5.22 | 141.04 | 6.20% | 1,896.48 | 17.59% |
| KO* | 40.00 | 38.44 | 3.17% | 1.22 | 48.80 | 8.10% | 1,537.60 | 14.26% |
| MO | 54.70 | 36.45 | 5.27% | 1.92 | 105.02 | 9.20% | 1,993.67 | 18.49% |
| OHI | 16.26 | 32.96 | 5.95% | 1.96 | 31.86 | 9.30% | 535.83 | 4.97% |
| O* | 26.11 | 41.10 | 5.33% | 2.19 | 57.18 | 4.80% | 1,073.12 | 9.95% |
| HCP | 25.16 | 36.87 | 5.91% | 2.18 | 54.85 | 2.90% | 927.61 | 8.60% |
| T* | 31.00 | 34.30 | 5.36% | 1.84 | 57.04 | 2.40% | 1,063.30 | 9.86% |
| Total/Avg | | | 5.45% | | 588.14 | 6.38% | 10,781.76 | 100.00% |
| Roth | Cash Bal: | $589 | IRA | Cash Bal: | $1,039 | Tax | Cash Bal: | $576 |
*New positions since my last article.
My weighted average yield is 5.45% and expected annual dividend income is $588.14. My conservative goal was $175, so I am clearly ahead of schedule.
My Purchases
Kinder Morgan Management, LLC
Kinder Morgan is the largest midstream company in North America. They transport natural gas, refined petroleum, crude oil, etc. The business does not have direct commodity price risk since it charges for its transportation services similar to a toll road, regardless of commodity prices. This company has a huge moat and I believe all the recent "news" is overblown.
By now, any KM investor has probably heard about the Barron's article bashing Kinder Morgan. What the article really did was scare away the investors who didn't understand what they were investing in before they bought the stocks. Guess what else isn't news: KM is doing the same things now that it was before the article came out, so let's move on everyone.
I added to my Kinder Morgan investment. I took the advice from comments and purchased KMR to avoid a taxable event on dividend payments until I sell the investment. Also, now I have exposure to both the General Partner as well as the Limited Partner. I will use KMP's F.A.S.T. graph to represent KMR (as I see them as pretty much the same the stock but with different taxation rules). The dividend justified valuation line is shown in pink. It is showing that the stock is at the very least, fairly valued, and probably undervalued vs. its dividend justified valuation after its recent drop.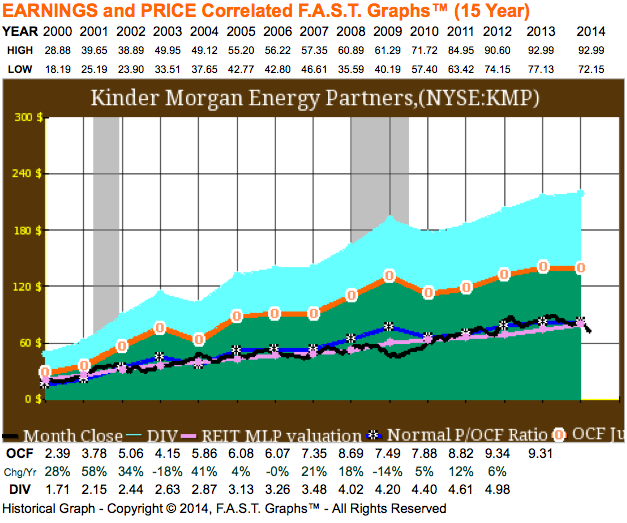 Below is the graph of the KMR stock price overlaid with the 200-week simple moving average (SMA). This is a technical indicator I like to use as support or resistance. It is currently trading right around the 200-week SMA. Given the valuation and the technical price support, this is a good entry point in my books.
Click to enlarge images.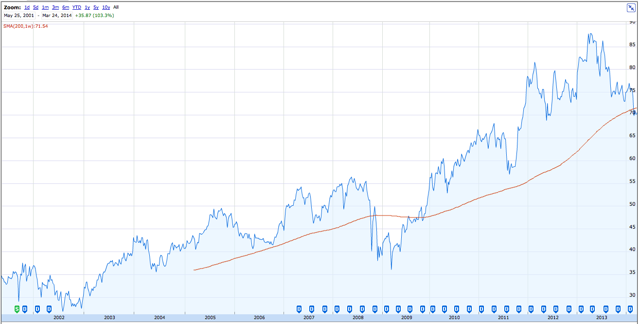 Source: Google Finance.
I don't intend to add more to my Kinder Morgan position for a while since it has such a large weight, but you never know.
I don't believe Coca-Cola needs an introduction. But for those who don't know, Coca-Cola is the largest beverage company in the world with over 500 beverage brands, the largest being Coca-Cola, of course.
KO has been taking a beating, but in the midst of that it rose its dividend by 9%. So I bought it during this perfect alignment of the stars. A falling price + rising dividend payment = awesome dividend yield! Below is a chart of the historical dividend yield of Coca-Cola. Historically, there have not been many opportunities to pick up KO at a 3% yield. That's a good "support" for me. I locked in about 3.30% yield at my purchase price.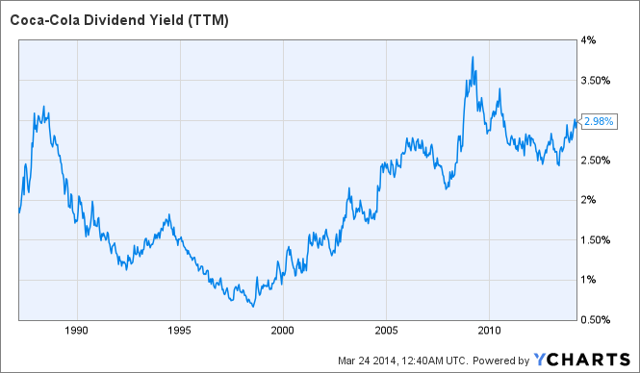 KO Dividend Yield TTM data by YCharts
The price is also very close to its 200-week SMA. With any other stock, I would have probably waited for the price to hit the 200-week SMA, but at this yield for this stock I couldn't pass it up.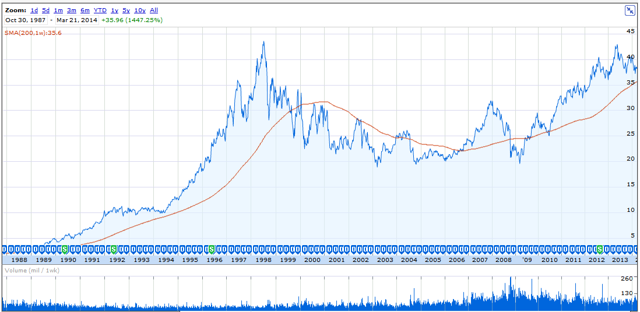 Source: Google Finance.
KO is not overvalued in relation to its normal P/E ratio. I've invested a good amount in KO so far, but if it drops even more, to around $30 (P/E = 15), I will double down. KO has only traded twice at a 15 P/E (orange line) over at least the past 20 years. It has historically traded at a premium, with a "normal" P/E ratio closer to 20.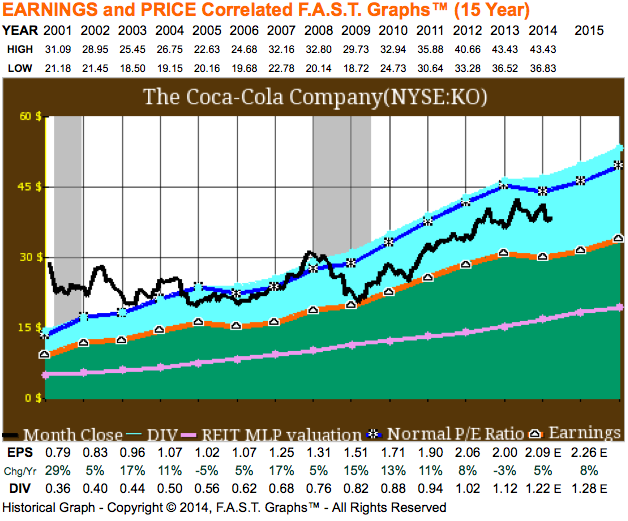 Realty Income Corp. is a triple net REIT that owns over 3,800 properties across 47 industries and 205 companies in almost every state of the U.S. Its diversification, monthly dividend payments, and track record of growth even through the market crash of 2008 makes this a REIT that I had wanted to own since it got on my radar in 2013, but never had a chance to with its overvalued price last year. Recently, my window of opportunity came. It had taken a huge beating since summer of 2013, falling from a high of $54 to around $38 (which, you guessed it, is also the 200-week SMA support). Guess where I bought it?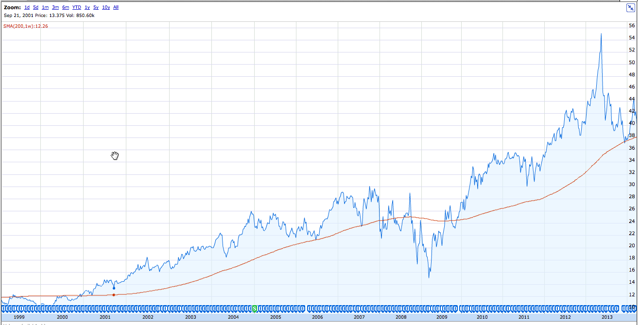 Source: Google Finance.
If we had looked at its valuation history, the sell-off was not a complete surprise as it was overvalued at $54, but I didn't think I'd be lucky enough to get it at around $38. Needless to say, I am happy with this entry.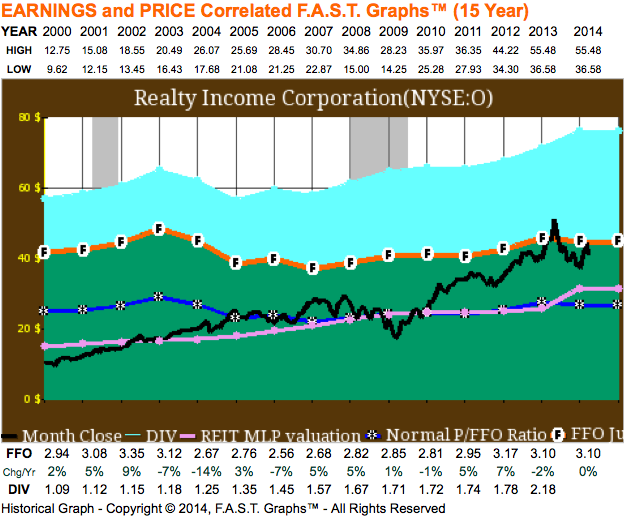 AT&T is one of the leading worldwide providers of IP-based communications services. Many of you probably know it as the cell phone, Internet, and cable provider. This was my latest acquisition since my introduction article. I bought this at around its 200-week SMA of around $33. Boring champion stock at 5.7% yield? Yes, please.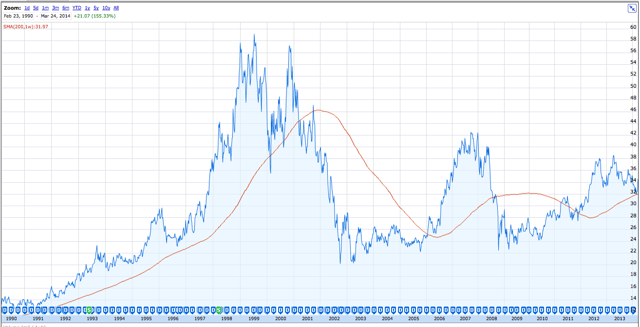 Source: Google Finance.
Lending Club Portfolio Update
For those who have never heard of Lending Club, I recently wrote an Instablog describing what Lending Club is and why I believe it is the real deal. For this and future updates, instead of posting my LCP numbers in a table (which I don't think helps anybody), I will just show the screenshots of my return summary.
When the Adjustment toggle is OFF, it shows my actual annual return. When it is switched ON, it reflects my worst-case scenario annual return. "Worst-case" means if all of my late notes defaulted on me today.
Roth IRA LC Account


Taxable LC Account


Source: Lending Club.
In total, my forward annual income for my LCP is about $1,438 in interest. This is definitely ahead of my conservative original goal of $1,050 for this year.
Why I Invest in DG Stocks At All
Some new investors have asked me why I bother with stocks when LC does so well with so much less time commitment. It is a combination of a few things:
Asset diversification. After all, Lending Club has been around for only six years, while stocks have been around for a little while longer. Although I am a strong believer in Lending Club, its future, and its returns (oh, the returns), it is still a fairly new investment vehicle, which doesn't deserve all of my eggs in its basket. (In fact, no asset class will ever deserve all of my hard-earned money.)
Tax benefits and liquidity. Dividends and long-term capital gains are taxed much lower than my highest tax bracket, which is what my interest income from LC gets taxed at. Plus, if I need to liquidate my account for any reason, I can easily sell stocks, but not Lending Club notes. These are, however, minor reasons since most of my LC is in retirement accounts, and I have deductions that lower my tax bracket.
Dividend Growth: With DG stocks, your dividend per share will continue to rise as the years go by. This benefits investors in one of two ways. When dividends rise consistently every year, investors will see either stock appreciation or a higher dividend yield. Either way, the payment per share goes up, which is a win.

Because the increase of the dividend payments results in the increase of the dividend yield, the increase of the yield will theoretically generate higher demand for the stock and appreciate the stock over time. For example, since KO has historically traded at under 3% yield. If KO raises its dividend payments to a point where its yield is 3.5% or even 4% at its current price, then investors will buy on the opportunity to lock in a 4% yield. This demand would in turn raise the stock price to a point where the yield equilibrates to under 3%, giving investors some nice unrealized capital gains. If the price doesn't increase, well it doesn't matter much to a someone seeking income, because he/she will still receive the same dividend payment increase per share.
Conclusions and Looking Ahead
My current total expected annual income from this Incomers Portfolio is around $2,000. With continued contributions, maybe I'll be able to hit $2,500 to $3,000 by the end of 2014. In a future article, I will need to update my goals. My goals from my intro article were way too conservative, and I think a recalibration is in order.
My DGP accumulation phase is going much better than expected. I was originally worried that I would not find enough quality stocks to buy at a bargain in this "high" market, but I picked up some quality companies at some good entry points. Just goes to prove that it really is a market of stocks, not a stock market. I have learned from this experience to stop caring about where the market is at, and I do not intend to make guesses on where it will be in the future.
Going forward, I will continue to contribute monthly as much as I can and dollar cost average my way into more individual stocks. If all prices do fall in a market correction, but dividends keep growing for the individual stocks, I will keep buying like clockwork.
I expect Lending Club to keep returning 10%-plus, and slowly dropping to around 8%-9% over the course of this year since I have recently been investing in mostly A-rated notes (6%-8%). I reinvest all of my earnings back into new notes so this portfolio compounds like nobody's business. I won't be contributing to it until I reach a 65% DGP to 35% LCP ratio.
After these past four months, I am further convinced that dividend growth investing and buying great DG stocks at decent values is the best strategy for me. I have no doubt in my mind that this type of portfolio can be reproduced by others who are young with plenty of time to take advantage of compounding. In the coming months, I plan to begin to sell calls and puts for additional income and better entry prices.
I welcome any questions, critiques, discussions, and suggestions.
Disclosure: I am long MO, HCP, T, O, KMR, KMI, OHI, and KO. I wrote this article myself, and it expresses my own opinions. I am not receiving compensation for it (other than from Seeking Alpha). I have no business relationship with any company whose stock is mentioned in this article.