This article supplements, and should be read in conjunction with, my preliminary review of 4Q13 results reported by Magellan Midstream Partners, L.P. (NYSE:MMP). It evaluates the sustainability of MMP's Distributable Cash Flow ("DCF") and assesses whether MMP is financing its distributions via issuance of new units or debt. MMP's definition of DCF is presented in an article titled "Distributable Cash Flow". The article also provides definitions used by other master limited partnerships ("MLPs").
MMP's reported DCF for 2013 was $670 million ($2.95 per unit), up $30 million from management's guidance for 2013 and up from $540 million ($2.38 per unit) in 2012. Growth in DCF per unit has exceeded growth in distributions, as shown in Table 1 below:

Click to enlargeTable 1: Figures in $ Millions (except per unit amounts and % change). Source: company 10-K, 10-Q and 8-K filings, author estimates
However, reported DCF may differ from sustainable DCF for a variety of reasons. These are reviewed in an article titled "Estimating sustainable DCF-why and how". Applying the method described there to MMP's results generates the comparison between reported and sustainable DCF presented in Table 2 below:

Click to enlarge Table 2: Figures in $ Millions. Source: company 10-K, 10-Q and 8-K filings, author estimates
Table 2 indicates the differences between reported and sustainable DCF in the periods under review are not material.
MMP's strong coverage ratios are shown in Table 3:

Click to enlarge Table 3: Figures in $ Millions, except ratios. Source: company 10-K, 10-Q and 8-K filings, author estimates
MMP's 4Q13 DCF and coverage ratios were boosted by significant butane blending on which MMP enjoys strong margins, and by the ramp up of the Longhorn crude oil pipeline.
Table 4 below presents a simplified cash flow statement that nets certain items (e.g., acquisitions against dispositions, debt incurred vs. repaid) and separates cash generation from cash consumption in order to get a clear picture of how distributions have been funded.
Simplified Sources and Uses of Funds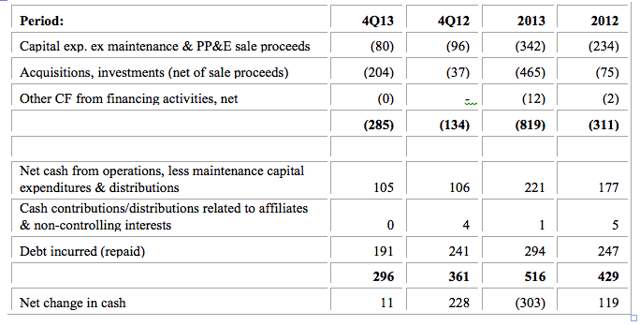 Click to enlarge Table 4: Figures in $ Millions. Source: company 10-K, 10-Q and 8-K filings, author estimates
Net cash from operations, less maintenance capital expenditures, exceeded distributions by $221 million in 2013 and by $177 million in 2012. In the periods under review MMP did not issue equity and clearly is not using cash raised from issuance of debt to fund distributions. On the contrary, the excess cash generated constitutes a significant source of capital for MMP and enables it to reduce reliance on the issuance of additional partnership units that dilute existing holders, or issuance of debt to fund expansion projects.
Of these expansion projects, Longhorn (the conversion of a large portion of the partnership's Houston-to-El Paso pipeline to crude oil service) is of particular note. At $375 million, it is the largest organic growth project ever undertaken by MMP. The reversed pipeline system transports crude oil from Crane, Texas, to refiners or third-party pipelines in Houston and Texas City, Texas. Deliveries of crude oil began in mid-April 2013 and averaged 185,000 barrels per day in 4Q13. Overall, Longhorn generated ~$73 million of incremental revenues in 2013. Its capacity is 90% subscribed (10% of capacity is set aside for spot shippers). MMP plans to expand the capacity of the Longhorn pipeline by 50,000 barrels per day, all fully subscribed. Subject to regulatory approval, the operating capacity of the Longhorn pipeline is expected to reach 275,000 barrels per day by mid-2014.
Another major project is the BridgeTex Pipeline Company, LLC ("BridgeTex"), a joint venture formed in November 2012 by MMP and affiliates of Occidental Petroleum Corporation for the purpose of constructing and operating a 400-mile pipeline capable of transporting 300,000 barrels per day of Permian Basin crude oil from Colorado City, Texas for delivery to MMP's East Houston, Texas terminal; a 50-mile pipeline between East Houston and Texas City, Texas; and approximately 2.6 million barrels of storage. Completion is expected in mid-2014 and MMP expects to spend a total of ~$600 million for its 50% stake in BridgeTex (of which $250 million had been spent as of 12/31/13). Contracts already at hand are sufficient to generate an 8x EBITDA multiple on this investment, with a significant upside.
In 2013 MMP spent ~$773 million on growth projects, acquisitions and investments in non-controlled entities vs. $365 million in 2012. Management anticipates an additional $550 million will be spent during 2014 to complete current projects. The $192 million purchase of the New Mexico and Rocky Mountain pipelines from PAA was MMP's major acquisition in 2013. BridgeTex is MMP's major investment in a non-controlled entity.
MMP's current yield is lower and its multiple of enterprise value to EBITDA is higher, relative to other MLPs. Table 5 below presents a comparison based on the latest available trailing twelve months ("TTM") results:
As of 03/25/14:

Price

Enterprise Value (EV)

TTM

EBITDA

EV / TTM EBITDA

EBITDA Guidance

Buckeye Partners (NYSE:BPL)

$73.20

5.94%

627

18.2

710

Boardwalk Pipeline Partners (NYSE:BWP)

$13.08

3.06%

689

9.5

650

El Paso Pipeline Partners (NYSE:EPB)

$29.19

8.91%

1,113

9.5

1,200

Enterprise Products Partners (NYSE:EPD)

$68.52

4.09%

4,685

17.3

-

Energy Transfer Partners (NYSE:ETP)

$53.28

6.91%

2,746

12.7

-

Kinder Morgan Energy Partners (NYSE:KMP)

$73.20

7.43%

5,165

10.0

5,900

Magellan Midstream Partners

$68.22

3.43%

845

21.6

936

Targa Resources Partners (NYSE:NGLS)

$54.44

5.49%

661

13.4

750

Plains All American Pipeline (NYSE:PAA)

$53.48

4.60%

2,168

11.9

2,150

Regency Energy Partners (NYSE:RGP)

$26.30

7.22%

477

18.6

-

Suburban Propane Partners (NYSE:SPH)

$40.61

8.62%

307

11.9

-

Williams Partners (NYSE:WPZ)

$49.88

7.16%

2,215

13.9

-
Table 5: EV and TTM EBITDA figures in $ Millions. Source: company 10-K, 10-Q and 8-K filings, author estimates
It would be more meaningful to use 2014 EBITDA estimates rather than TTM numbers, but not all MLPs provide guidance for this year. Of those I follow, the ones that I have seen do so are included in the table.
It is perhaps not surprising to see MLPs that do not pay their general partner incentive distributions ("IDRs"), such as MMP, EPD and BPL, trade at higher multiples. This is because IDRs siphon off a significant portion of cash available for distribution to limited partners (typically 48%). In addition to a favorable structure, MMP has a management team that is disciplined and unwilling to pay the premiums that other MLPs have been paying for acquisitions, an impressive portfolio of growth projects, an ability to generate significant excess cash from operations, and a proven performance track record. On top of all that, MMP has been able to minimize limited partner dilution.
In over three years (since 3Q 2010), MMP has not issued additional partnership units (excluding units issued in connection with compensation arrangements), a significant accomplishment and rare achievement in the MLP universe. This is all the more so given that MMP has done this while keeping its leverage much lower than most MLPs (currently 3.15x EBITDA on a TTM basis). Another impressive performance metric is MMP's net income per unit. It exceeded distributions per unit in 2013 ($2.56 vs. $2.18 per unit). That too is unusual for an MLP.
Given these factors, I consider MMP to be a high quality MLP and would continue to accumulate on weakness.
Disclosure: I am long EPB, EPD, ETP, MMP, PAA. I wrote this article myself, and it expresses my own opinions. I am not receiving compensation for it (other than from Seeking Alpha). I have no business relationship with any company whose stock is mentioned in this article.