This is part 11 in a continuing series of articles discussing building a portfolio of dividend income equities. The strategy seeks to use value investing principles and apply them to stable companies offering reliable dividends. Further safety is sought by diversifying thorough a wide range of industry segments and often using multiple tickers in each of those segments.
Series parts 1, 2, and 3 lay out the philosophy, strategy, and methods of the Tortoise Strategy and use of Covered Option Writing to boost performance. I recommend readers review each of these first 3 Subsequent parts. Beginning with part 4, each subsequent installment reviews and analyzes one of the 16 tickers identified in the preliminary screen (listed in part 4).
Reynolds American, Inc.
| | | | |
| --- | --- | --- | --- |
| Reynolds American (NYSE:RAI) | $ 53.86 | $ 2.68 | 5.0 % |
Reynolds American, Inc. roots go back to 1875 and it is now the 2nd largest Tobacco company in the United States, accounting for 28% of all sales there. It is headquartered in Winston-Salem, North Carolina. Institutional holders account for close to 90% of all shareholders with Brown & Williamson, a British American Tobacco (BAT) subsidiary, holding over 42%.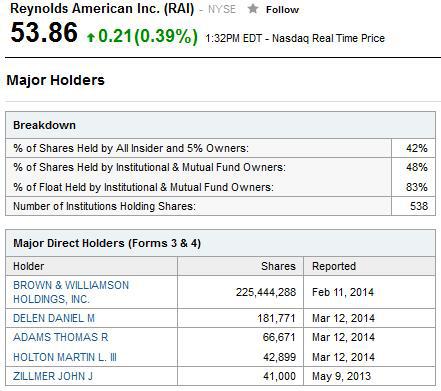 The company has provided a strong record of growth from its inception that reached a peak at $56.77 during a recent breakout (up 12.3%), the week of March 3rd, 2013. Since then, the shares have retraced to the current $53.81 trading price. Despite some extreme flash crashes that have exceeded 25% and some major upside breakouts, Reynolds has an extremely low beta, currently 0.25.
(click to enlarge) (source: yahoo.com)

Reynolds has a strong history of dividend growth, raising dividends yearly, 57.65% in just the last 5 years to a current $2.68. The YDP chart shows the company is valued for its dividends, exhibiting a strong correlation between price, distribution, and steady yield rate holding these two other variables in balance. Recent history shows a trend of about 5.2%, slowly declining to the present 5.0%. The smooth and steady yield rate trend in spite of the recent 13.5% breakout to the upside in share price is a surprise. Stories of interest by Reynolds in taking over Lorillard (NYSE:LO) and counter rumor of a takeover of Reynolds by majority holder British American Tobacco (BAT) have been thought to be the cause of the breakout. However, the steady YDP yield rate curve indicates that the recent dividend hike is largely responsible for this price jump which only keeps distribution and price in balance at historical yield rates. For those not familiar yet with YPD charts, I refer you to my introductory article on YPD chart analysis and its precursor article with several YPD chart interpretation examples.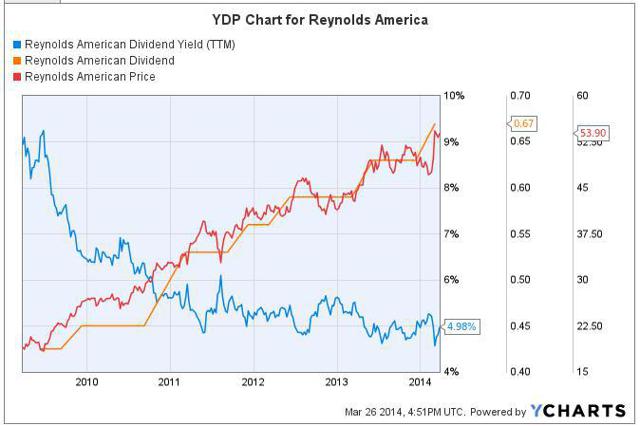 Trends in the payout ratio are worrisome. Both cash dividend payout ratio (based on FCF) and conventional payout ratio on income have risen to levels that are unsustainable. Historical payout levels have risen from 50% to an uncomfortable 77% and more. Worse yet, cash payout ratios have repeatedly exceeded 100% in each of the past 5 years. Management reports that it currently has a plan to trim capital expenditures beginning this year to improve the ability to directly compensate shareholders. A nasty surprise may be in for RAI income investors in coming months and years if this plan is not executed flawlessly in walking a balance between needed capital investment to sustain growth and shareholder participation in revenues.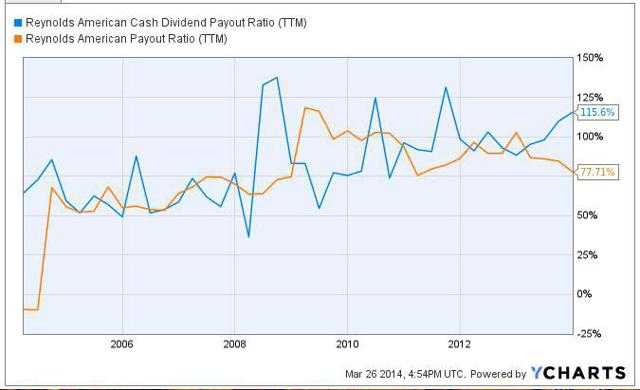 A look to the technical chart analysis highlights the upside breakout that began March 3rd. Since that time, shares have been consolidating, forming a classic pennant pattern, converging on both the top and lower trade range sides. Pennant formation should be complete within one more week and suggests another large break is likely. Most classic pennants breakout to the upside with substantial moves. This unstable technical situation is great news for speculators, who can use options in a strangle strategy. However, for value income investors, the current near-term uncertainty makes establishing an entry price or picking a covered Call Strike price difficult at best.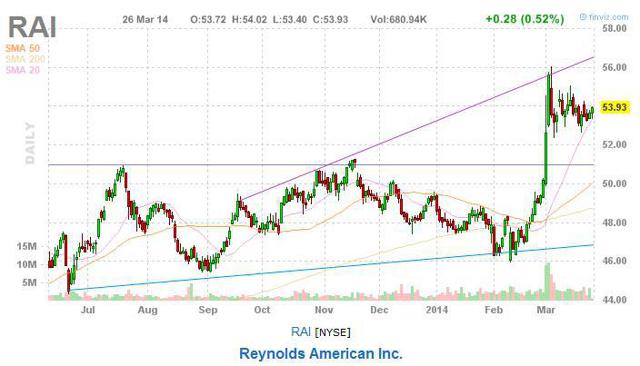 Financial news has been full of stories suggesting a possible buyout by Reynolds (RAI) of smaller Lorillard (LO). Counter stories suggest Reynolds may be targeted for takeover by its major holder, Brown and Williamson. Either way, these special situation speculations are adding volatility to the trading and more noise that makes reliable prediction of the size and direction of the next move more difficult.
Traditional valuation metrics for Reynolds are strong and compare well with their competitors. These metrics include P/E of 17.02, Price/Sales of 3.5, Price/Book of 5.59, Profit Margin of 20.86% and Operating Margin of 40.36%. Management effectiveness scores high with a return on assets of 13.00% and return on equity of 32.96%.
(click to enlarge) (source: yahoo.com)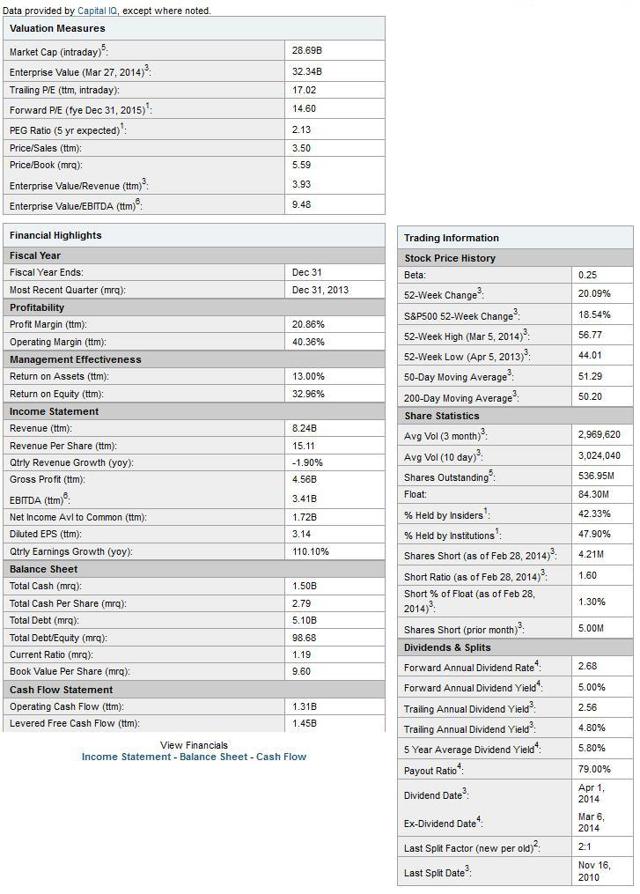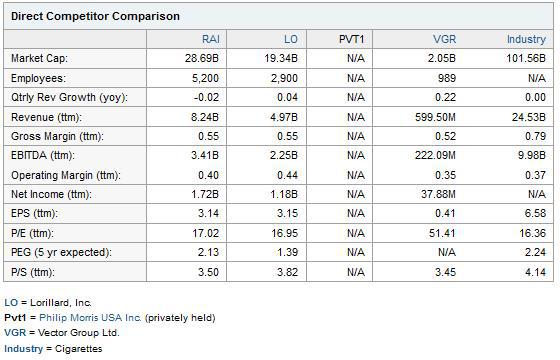 Reynolds Price/Book ratio at 5.55 is particularly attractive compared to competitors Altria (NYSE:MO) and Lorillard. This may reflect the fact of BAT's 42% stake and the likelihood Reynolds will be the suitor rather than sought in the inevitable future consolidation of this industry.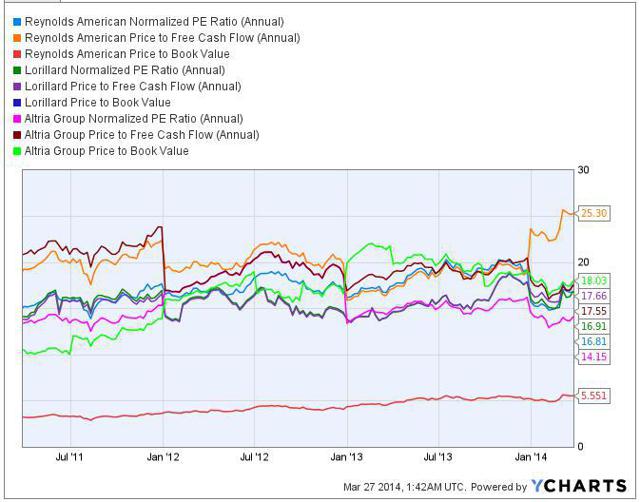 Value Summary :
Reynolds is a cash cow grazing in regulatory minefield, one it has proven it can successfully navigate.
Despite its recent breakout of the week of March 3rd, with prices advancing $6.22 from $50.54 to $56.76 (12.31%), key metrics and the all important effective yield rate on dividend distribution has remained fairly constant at 5.0%, well within historical rates.
Whether M&A speculation or the recent dividend increase triggered this breakout, the perception that it was based on the possible Lorillard deal effectively masked the fact it has merely aligned the shares from previously undervalued to fair value based on the income stream.
Continuation of the breakout with a classic Pennant formation which is nearing completion is signaling the likelihood of another major movement, most likely to the upside.
Payout trends for the past several years are disturbing and unsustainable. Management has a plan to address the issue but has not proven its effectiveness yet.
The YDP chart for RAI indicates it is classed by investors as a dividend income equity. Yield trends indicate the shares are currently at reasonable value, balancing price advances with rising distributions to hold yield rate near 5.0%.
Making the buy or wait decision is a tough call at the moment. The many positives are constrained by the recent 12.3% breakout and technical indications of more volatility to come. With the high volatility and weak support and resistance levels, trading range cannot be reasonably estimated. A lower boundary of $47.00 and an upper of about $58.00 are broadly indicated by technical patterns. Because of this wide range, I will look at the Covered Option opportunities before making any conclusions and recommendations.
Covered Options to boost performance:
Call Options (left side)
The 4/19/2014 $55.00 Call with $1.15 premium is one of the best I have seen in the past year. Buy the shares at market for about $53.50 and concurrently sell this Covered Call. The annualized yield is 33.41% (I calculated it 3 times to be sure of no error). Even given the possible high volatility, this reward will adequately offset it. The short-term option also will allow you to readjust your strategy soon after the expected volatile moves have happened.
(click to enlarge) (source: schwab.com)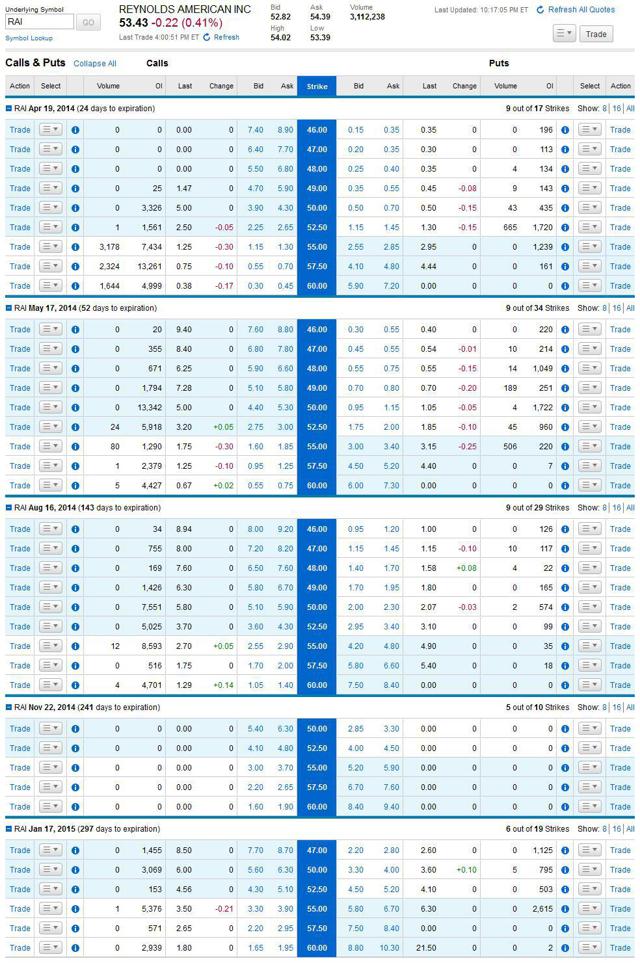 Put Options (right side)
Do you prefer an ultra-conservative approach that locks in over double the dividend yield, generating an immediate $4.80/share income and establishing a basis price about $1.00 below the current market retail $53.50 we have determined is a good value now?
Then use your cash to sell the 1/17/2015 $52.50 Cash Covered Put with a premium of $4.80 (currently 1/2 way between bid/ask). This generates an annualized yield rate on your cash of 11.97% for the 297 days you will delay your decision on how you want to play RAI. All of the current uncertainty issues should be resolved by then and your basis if shares are presented is extremely attractive. The current high volatility should allow you to close out your position with a profit by buying to cover at an earlier date should unfolding results in the shares make you want to change your strategy.
Conclusions and Recommendations:
Reynolds is an excellent dividend income equity investment at current price of $53.50.
A very wide technical range makes entry risky at this time.
Use of Covered options removes this risk and compensates investors with returns of 11.97% to 33.41% immediately.
Buy the shares at market (approx. $53.50) and concurrently sell the 4/19/2014 $55.00 Call with $1.15 premium. This 24 day contract returns an annualized yield rate of 33.41% on top of the dividend yield.
Alternatively use your cash to sell the 1/17/2015 $52.50 Cash Covered Put with a premium of $4.80. This provides an 11.97% yield on your cash, locking the rate in for 10 months and generates an immediate $480 income per contract.

Always be aware of ex-dividend dates and the potential for call, dividend capture, and Strike price adjustments by the option clearing house when writing contracts across dividend months.
In part 12, I will discuss Entergy (NYSE:ETR). Each subsequent part of the series will discuss and evaluate one more of the original 16 tickers identified in the preliminary screen for building your Tortoise on Steroids portfolio.
I hope you will join me as I detail the use of covered option writing on quality dividend income equities to develop a model portfolio for the Super Tortoise. Simply click on the bold link labeled FOLLOW above the title at the top of this article to get an email notice of my new articles when they are published.
Disclaimer: I am not a licensed securities dealer or advisor. The views here are solely my own and should not be considered or used for investment advice. As always, individuals should determine the suitability for their own situation and perform their own due diligence before making any investment.
Disclosure: I have no positions in any stocks mentioned, but may initiate a long position in RAI over the next 72 hours. I wrote this article myself, and it expresses my own opinions. I am not receiving compensation for it (other than from Seeking Alpha). I have no business relationship with any company whose stock is mentioned in this article.