Sin stocks are the delicacies of an investor's portfolio. They're usually dividend generating, recession-proof, staple stocks that balance out cyclical investments. 85% of beer volume growth has come from BRIC economies. Sector growth in these economies is expected to be 3.8% in 2014.
Globally, beer consumption is on the rise with increased demand in China, Mexico and in Brazil due to the World Cup there this year. Domestically, craft beers are on the rise. Over 2,500 breweries are currently in operation, and 1,500 more are planned. They currently make up over 10% of the market share. New products are hitting the market like AB In-Bev's (BUD) Cran-Brr-Rita and MillerCoors's (a joint venture between SABMiller (SBMRF) and Molson Coors Brewing Company (TAP)) Miller Fortune. On the craft side, IPA's and IPL's are in high demand.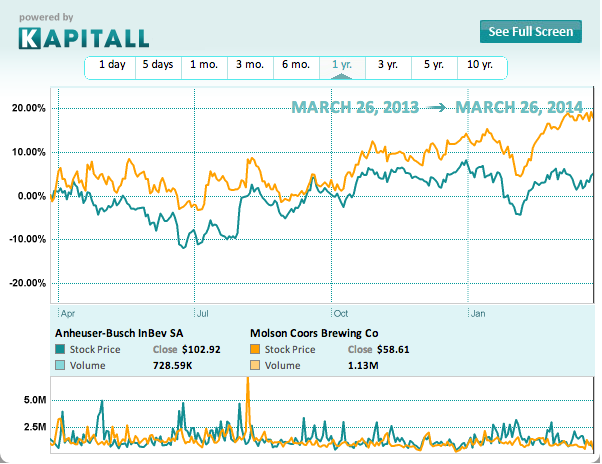 Click here to see more information on BUD and TAP.
Healthier lifestyles are more and more popular, and the industry is reinventing itself to capitalize on this trend. Average alcohol by volume (ABV) is set to drop below 5%, meeting the growing demand for session beers as people look to drink more than one beer without getting intoxicated. Alternatives to beer like cider are also growing in popularity driving sales for brands like Angry Orchard (Boston Beer Company (SAM)). Gluten-free beers have also entered the marketplace giving health-conscious consumers more choices.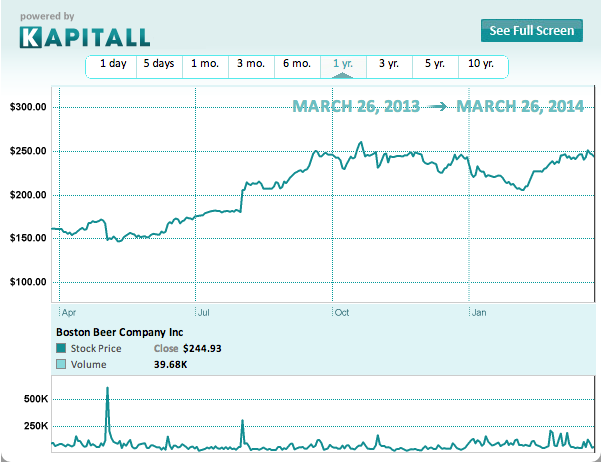 Click here for more information on Boston Beer Company.
For investors looking to cash in on the beer trend, here are the top 2 brewer stocks with wide selections and growing market share: Anheuser-Busch InBev, and Craft Brew Alliance (NASDAQ:BREW).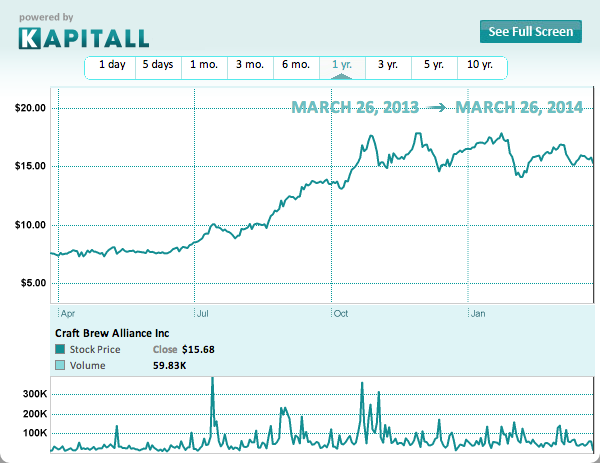 Click here to get more information on Craft Brew Alliance.
King of the beers
The largest brewer with a market cap of $166 billion, Anheuser-Busch InBev, manages over 200 brands of beer and employs over 150,000 people. The company reported stellar numbers for FY2013 with EPS growth of 9.1% and total revenue growth of 3.3%. Budweiser and Corona were the top global brands that led growth for the year with gains of 6.4% and 3.9%, respectively. Management also announced that it was raising the dividend by 21% with one final payout for the year.
Anheuser-Busch operates in both developed and emerging markets where revenues are split evenly at 50%. The company holds the number one spot in the U.S., Brazil, and Mexico, but the fastest growing segment is in China.
The stock trades cheaply at just 12 times earnings and has high operating margins of over 32%. The company recently agreed to buy back South Korea's Oriental Brewery for $5.8 billion giving investors a clue as to management's bullishness.
Local flavor
The growing appeal of local and craft beers has helped propel Craft Brew Alliance to gains of 109% in the last 12 months. The result of a collaboration of 3 different craft brewers, CBA has been able to take advantage of the double-digit growth in the craft beer sector when mainstream beers saw a decrease, but now faces growing pains.
Margins dropped in 2013 and the stock has seen volatile trading so far for 2014. However, the company could be poised for a breakout. Plans to increase margin by 500 to 700 basis points over the next 3 to 5 years are in the works. Kona, the company's fastest-growing segment, saw sales growth of 23 last year with bold plans to expand the label for 2014. The addition of gluten-free labels like Omission and partnership with Buffalo Wild Wings (NASDAQ:BWLD) for Redhook's brand gives CBA plenty of opportunities for expansion.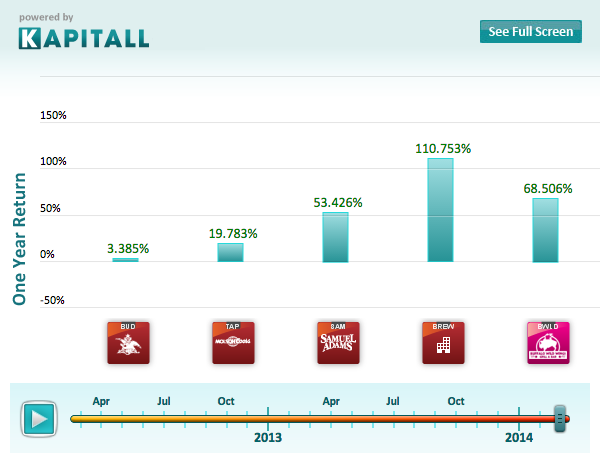 The stock has soared in the last year and the relatively high P/E ratio of 35 reflects that. However, forward P/E is more reasonable at 25 and EPS growth estimates over the next 5 years are 20% giving it a PEG of 1.25. One particularly bright spot in the fundamental is the company's balance sheet. CBA has relatively little long-term debt at $11 million while total equity is $111 million giving it a long term debt-to-equity ratio of under 0.10.
Disclosure: I have no positions in any stocks mentioned, and no plans to initiate any positions within the next 72 hours.
Business relationship disclosure: Kapitall is a team of analysts. This article was written by Daniel Cross, one of our writers. We did not receive compensation for this article (other than from Seeking Alpha), and we have no business relationship with any company whose stock is mentioned in this article.