LinkedIn Corporation (NYSE:LNKD) is a business networking website for people in professional occupations and since its launch back in 2003 LinkedIn has seen tremendous growth. The Verge StartUps blog listed LinkedIn amongst the 20 most successful startup companies by market capitalization, revenue, growth and cultural impact. Up until now the business model worked fine and LinkedIn generated revenues from three segments: talent solutions, marketing solutions, and premium subscriptions. LinkedIn's sponsored updates and ad service was launched in 2013. Individuals and companies can now pay a fee to have LinkedIn sponsor their content and spread it to their user base. This is a common way for social media sites such as LinkedIn to generate revenue. LinkedIn's advertisers pay for pay per click-through targeted ads and the premium subscribers pay for LinkedIn business for business users, talent for recruiters, and job seekers for unemployed LinkedIn users looking for a job.
Revenues are Increasing but the Growth Trend is Slipping
The revenue and net income are increasing which may indicate the fact that the company is performing well. In terms of growth, the situation seems to be opposite and the growth trend has been declining over the past few quarters. For the recent fourth quarter, LinkedIn generated $447.2 million in revenues. In the third quarter the growth was 56% then the growth declined to 47% in the fourth quarter. This decline in revenues is logical because the growth in new members also declined from 38.5% to 37% in the fourth quarter. Going forward, in the first quarter of 2014, LinkedIn expects revenues of $460 million with a growth of 41.5% which is a decrease of 5.5% from the fourth quarter.
For the fourth quarter the net income of $3.8 million declined significantly from $11.5 million in the same quarter of 2012. However for the fiscal year the net income did not decline but merely increased by $5 million or around 23%. The reduced earnings and lesser growth adversely hit the earnings per share and GAAP diluted EPS of $0.03 was way down from $0.10 in the fourth quarter of 2012. However, compared to the third quarter of 2013 the EPS position improved when the company's EPS fell to -$0.03.
The talent solution segment is the core business activity and generated more than 56% of total revenues for fiscal year 2013. Revenue from talent solutions totaled $245.6 million which is an increase of 53% compared to the fourth quarter of 2012. Talent solutions revenue represented 55% of total revenue in the fourth quarter of 2013 compared to 53% in the fourth quarter of 2012. The new 18 million accounts during the quarter boosted the revenues. From these figures it is clear that this segment will continue to grow in the future.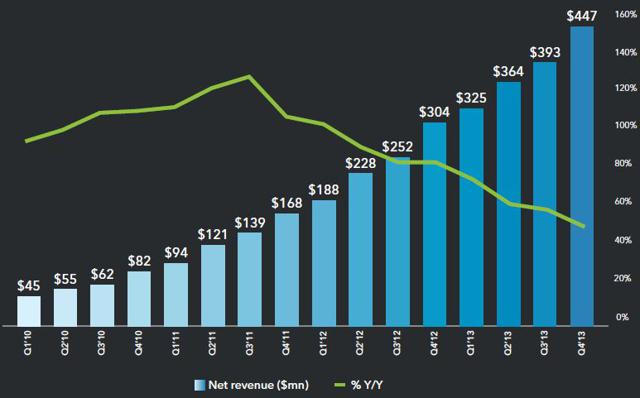 Source: Earnings presentation
LinkedIn's other two segments are lagging and their growth is decelerating. The marketing solution revenues of $113.5 million grew by 36% compared to 2012's results. However, marketing solutions revenue represented 25% of total revenue in the fourth quarter of 2013 compared to 27% in the fourth quarter of 2012. This portion decline can be justified because in the internet marketing segment LinkedIn faces intense competition from Facebook (NASDAQ:FB) and Google (NASDAQ:GOOG). LinkedIn's marketing solution revenues will remain restricted due to the fact that its business model differs from Facebook and Google. According to a report by eMarketer, in 2013 Linked had 0.31% of global digital ads revenue compared to 0.25% in 2012. LinkedIn will grow steadily and by the end of 2018 LinkedIn will hold 0.8% or $0.43 billion of the U.S. digital ads market.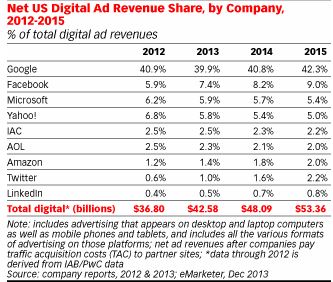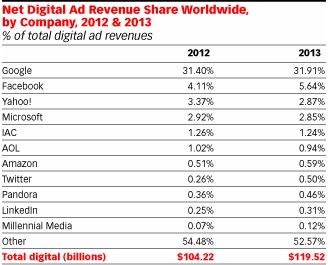 Source: eMarketer
Revenue from premium subscriptions products totaled $88.1 million with an increase of 48% compared to the fourth quarter of 2012. This increase of 48% in the fourth quarter is smaller than the 56% increase in the third quarter. Premium subscriptions represented 20% of total revenue in the last twelve quarters. Clearly LinkedIn has not been successful in converting users into premium members. The other reason is that the members from the emerging markets with low incomes are less willing to pay for premium accounts and this is a major hurdle in increasing revenue growth for this segment. However the future growth for this segment would come from the developed markets like the U.S. and the U.K. where members are willing to pay for premium subscriptions.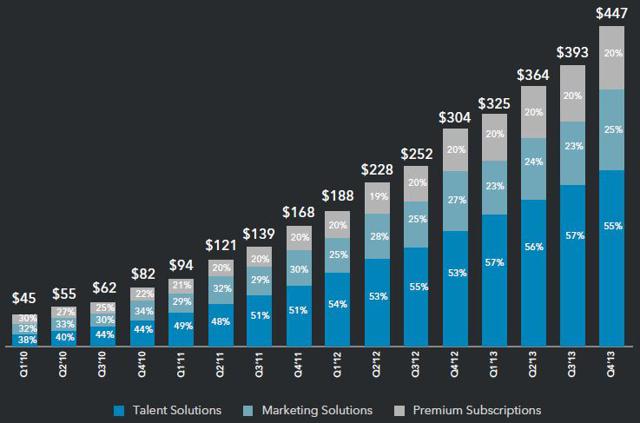 Source: Earnings presentation
Acquisition of Bright Media
Back in February 2014 LinkedIn acquired the job matching service Bright media for $120 million. Bright uses a scoring mechanism that quickly shows employers and job seekers how well they match. Bright has traditionally competed more with the old denizens of the job search space like CareerBuilder and Monster allowing users and job seekers to search for jobs that match their interests. The technology used by Bright will enable LinkedIn to update its applicant suggestions for employers seeking to hire employees and also make the jobs suggested for prospective applicants more relevant to its users. LinkedIn may also be able to take advantage of Bright's matching feature called the "Bright Score," that takes several variables into account and saves precious time for employers. Bright claims that there are over 2.5 million jobs indexed on its website that are being searched by more than 7 million people each month. Bright's addition will manage to add more growth for the talent solutions segment.
The Users Base is Improving for LinkedIn in 2014
In February 2014 the Asia Pacific region crossed 50 million members. India crossed 24 million, Australia crossed 5 million and China crossed 4 million members. The growth rate in this region is very significant. In the Asia Pacific region Indian market members increased by 7 million followed by 2 million in Australia and the same numbers in New Zealand.
In the February 2014 the Norway region of LinkedIn reached over one million users. Norwegians are amongst the most active and engaged LinkedIn members in all of Europe. Norway is also ranked as one of the top 10 countries with the highest mobile usage of LinkedIn with more than 50% of members now accessing the site purely using mobile devices.
According to recent data there are 4.65 million LinkedIn users in China. LinkedIn has launched a beta version of its new simplified-Chinese website. The expansion in China is a good move if the company correctly executes its strategy to compete with local competitors and offer rich enough content to attract users in China. LinkedIn does offer mobile and iPad apps in Chinese. Prioritizing the mobile interface over the desktop interface could be a smart move since 4 out of 5 of China's 591 million internet users go online using smartphones. However, the point to consider is that even if LinkedIn succeeds in China it may not be sufficient enough to revive its previous growth pace. The U.S. and Indian markets offer very good potential where the user bases have increased to 102 million and 26 million respectively. These regions are major sources of LinkedIn's growth for all three business segments.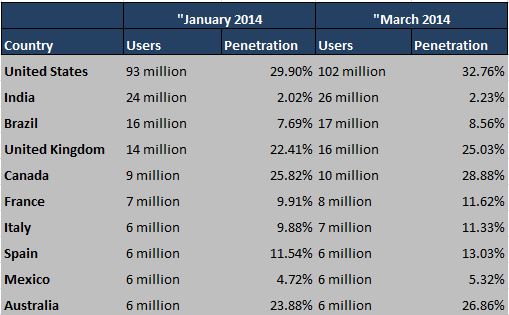 Source: Socialbakers and Wikipedia
The share price of LinkedIn has dropped by 22% during the last seven months and currently it is overvalued. The stock is trading at a forward P/E of 78.51X with an expected growth of 58.9%. According to analysts' estimates, LinkedIn's next 5 years' annual growth will be 37.92% compared to the industry and the S&P growth of 17.84% and 9.91%, respectively. LinkedIn expects weak performance and revenue guidance for the first quarter and for the full 2014 year both missed analysts' expectations. The company estimates 2014's revenue will be in the range of $2.02 billion to $2.05 billion compared to the average analysts' expectation of $2.16 billion. For the first quarter the company's forecasted revenue range of $455 million to $460 million was below the $470 million expected by analysts.
Investors must evaluate all necessary facts before adding LinkedIn to their long-term stock portfolio.
Disclosure: I have no positions in any stocks mentioned, and no plans to initiate any positions within the next 72 hours.
Business relationship disclosure: The article has been written by a Gemstone Equity Research research analyst. Gemstone Equity Research is not receiving compensation for it (other than from Seeking Alpha). Gemstone Equity Research has no business relationship with any company whose stock is mentioned in this article.