Ford Motor (NYSE:F) should be steaming ahead. Encouraging news from the difficult European car market and an improving market share position in the promising Chinese auto market should have actually lifted the stock price of Ford Motor over the last month. Specifically, Ford Motor outpaced European industry sales growth of 8% by 360 bps based on February sales numbers released in March -- a strong signal to the market and competitors that Ford is pursuing an aggressive strategy and is determined to increase its European market share -- which, by now, is about half compared to its market share in the United States (7.8% in Europe vs. 15.7% in the US).
Despite good sales figures from its European business, Ford Motor's share price has not accurately reflected the crucial progress Ford has been making in penetrating key growth markets. Shares are trading weakly for some time now and are about 15% below its 52-week high at $18.02.
(Source: Yahoo)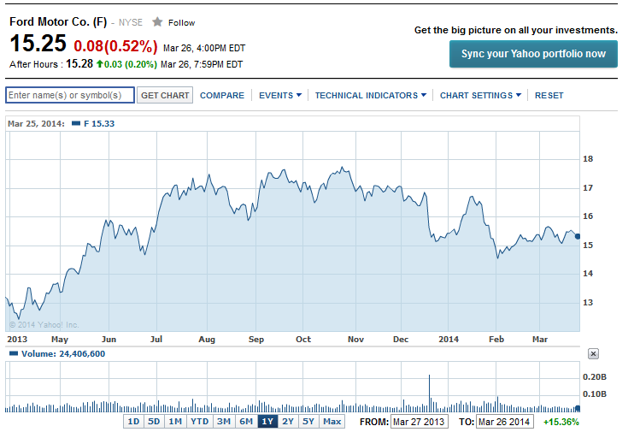 Considering Ford's ongoing recovery in Europe, which has caused many headaches for the company over the last few years due to highly negative margins, record market share in China, and what I expect to be a slightly weakening home market in the US, I have updated my free cash flow to equity valuation model below.
Intrinsic value estimate
The first table below contains Ford Motor's historical operating-, core investing- (capital expenditures and sale proceeds, no inclusion of security purchases and sales) and debt cash flows from Ford Motor's cash flow statements for the years 2010-2013 (Source: Ford Motor 10-K SEC filing) as well as my updated estimates for fiscal year 2014.
As the basis for my valuation model I derive the free cash flow to equity which sums up operating-, core investing- and debt cash flows. Correspondingly, I estimate that Ford Motor can achieve a free cash flow to equity of $9.9 billion in 2014 which translates into a free cash flow to equity of $2.42 per share (about 4.3% higher than my previous estimate of $2.32 per share).
An estimated FCFE of $2.42 per share reflects a high implied free cash flow yield of 15.87% (see below) and a very low forward P/FCFE ratio of 6.30.
Ford Motor presently trades at less than eight times earnings -- another indication of Ford Motor's grave undervaluation -- which substantiates the low free cash flow multiple derived below.
(Source: Achilles Research, Company Financials)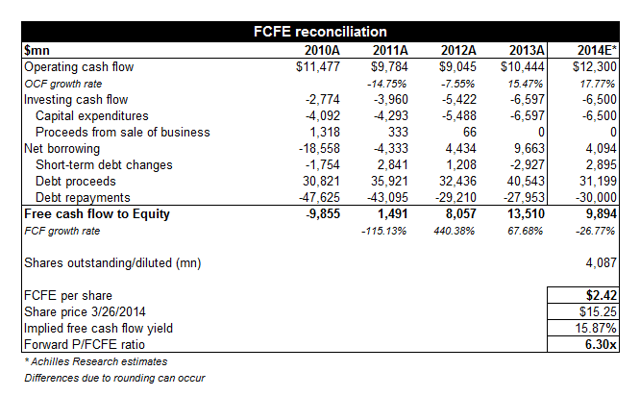 The free cash flow discount model (see below) incorporates FCFE growth rates of 2.89% in 2015 and 3.21% in 2016 (both of which I believe are conservative), a terminal growth rate of 3% and equity cost of capital of 10%. Adding together the present value of the terminal value of $31.29 and the sum of present values of free cash flows over the planning horizon, yields an intrinsic value of approximately $36 per share. Considering that Ford Motor presently trades at $15.25, this represents upside potential of roughly 134%.
(Source: Achilles Research)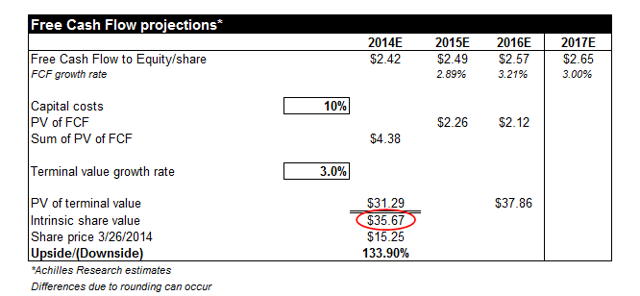 Conclusion
The Chinese auto market is booming and Europe is slowly recovering as it seems. Nonetheless, Ford Motor is still largely dependent on the US market which generates the majority of its revenues, earnings and cash flow.
The valuation model above suggests, that Ford Motor has an intrinsic value of around $36 per share, and, consequently, is extremely undervalued. This isn't too surprising considering that the car manufacturer trades at only eight times earnings and has a treasure trove full of cash available to finance growth and product development.
Ford Motor remains my favorite investment in the large-cap auto manufacturing sector. Though I expect the US auto market to take a breather in the coming quarters, the demonstrated upside potential implies a significant margin of safety for long-term oriented investors. Long-term BUY.
Disclosure: I am long F. I wrote this article myself, and it expresses my own opinions. I am not receiving compensation for it (other than from Seeking Alpha). I have no business relationship with any company whose stock is mentioned in this article.