Microsoft (NASDAQ:MSFT) has had a couple of good trading days after rumors spread that the software maker will endorse a cross-platform strategy for its flagship Office product. Microsoft was said to make its highly successful Office suite available on Apple's (NASDAQ:AAPL) iPads which could lead to meaningful revenue streams.
Microsoft shares have crushed the $40 mark after news about a cross-platform strategy erupted last week. I think Microsoft will now enter into a short-term consolidation phase, that could drive the stock below the $40 level. The recent increase in share price was accompanied by a strong increase in volume and led the stock into overbought territory.
(Source: StockCharts.com)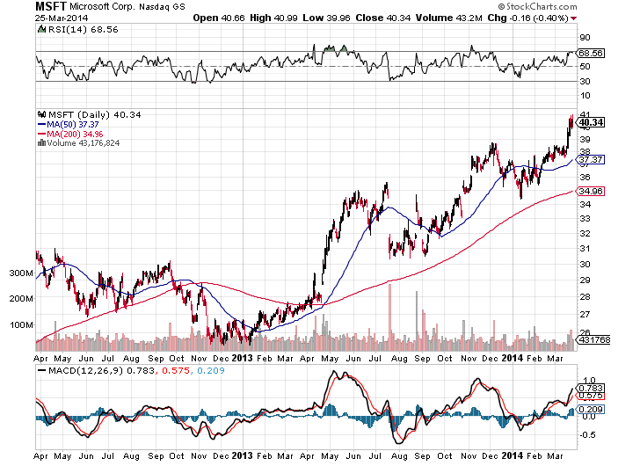 I have been endorsing Microsoft for a long-time, most notably because I think the company offers investors a great long-term risk/reward ratio. Microsoft's strong balance sheet and outstanding free cash flow generation are actually what attracted me to the company in the first place.
Intrinsic value estimate
The first table below contains a summary of Microsoft's historical operating-, core investing- (that is, property, plant and equipment expenditures as well as acquisition-related cash flows) and debt cash flows based on Microsoft's most recent 10-K filing. In addition, a reconciliation to the free cash flow to equity is provided, which sums up the three previous cash flows.
No doubt, Microsoft is one of the free cash flow strongest companies I have ever come across. In 2011 alone, the software company achieved more than $30 billion in free cash flow to equity. Even in 2012 when Microsoft shelled out more than $10 billion in cash for acquisitions, the company still delivered a whopping $19 billion in free cash flow to equity, which, theoretically, is available to shareholders.
The table below also contains my estimates for Microsoft's current fiscal year -- for reasons of prudence I have not included any revenue- and cash flow streams that would result from a full-blown endorsement of a cross-platform strategy with respect to Microsoft's Office suite.
In any case, I project that Microsoft achieves approximately $25 billion in free cash flow to equity in the current fiscal year which translates into an estimated free cash flow to equity per share of $3.03. At a current share price of $40.34, this equates to an initial (and very solid) free cash flow yield of 7.51% and a forward P/FCFE ratio of 13.3x. This clearly isn't too expensive given Microsoft's cash flow strength.
(Source: Achilles Research)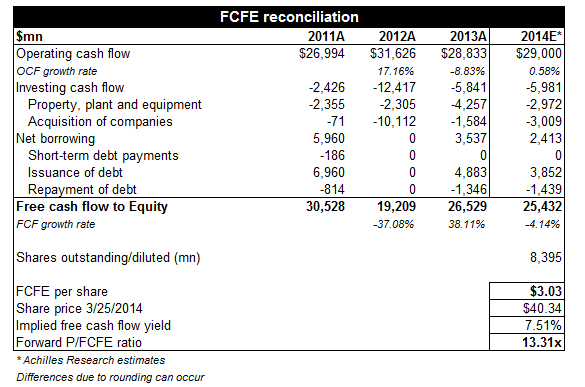 Applying a discounted free cash flow model (growth rates ranging from 4.29% in 2015 to 5.70% in 2016, a terminal growth rate of 4% and equity cost of capital of 10%) yields an intrinsic value of $53.42 per share. I think the free cash flow growth rates, especially the terminal growth rate, are fairly conservative allowing Microsoft to surprise to the upside. Since Microsoft presently trades at $40.34 per share, investors are looking at a potential upside of 32.42%.
(Source: Achilles Research)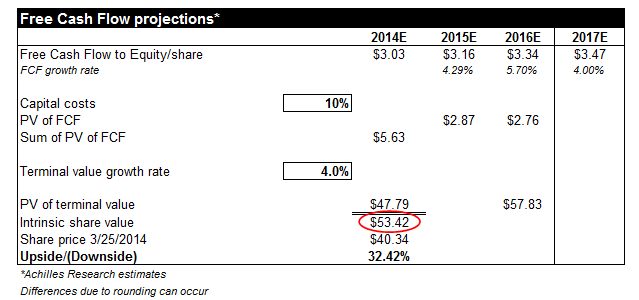 Conclusion
Investors who are on the lookout for a free cash flow strong software enterprise with interesting growth prospects could consider Microsoft. Even though I believe I have incorporated relatively conservative assumptions in my valuation model, I believe Microsoft still has potential to surprise to the upside. This specifically relates to additional cash flow streams coming from a cross-platform strategy as well as from a successful integration of Nokia's (NYSE:NOK) Devices and Services business that Microsoft is currently in the process of acquiring.
The valuation model above suggests that Microsoft has an intrinsic value of $53 per share which gives investors exposure to a potential upside of 32%. Long-term BUY.
Disclosure: I am long MSFT, NOK. I wrote this article myself, and it expresses my own opinions. I am not receiving compensation for it (other than from Seeking Alpha). I have no business relationship with any company whose stock is mentioned in this article.