Recently, I've written several Seeking Alpha articles about strategically positioned companies that will greatly profit from strong growth in the commercial aviation industry. My first article about Boeing (NYSE:BA) highlighted their potential to significantly increase earnings from the delivery of an estimated $5 trillion of global airplane orders over the next two decades.
My second article about AerCap (NYSE:AER) shifted away from airline manufacturing to a new leader in the airline leasing sector. Last December AerCap bought International Lease Finance Corporation, the former crown jewel of American International Group (NYSE:AIG). The new combined company creates an airplane leasing powerhouse that will greatly benefit as growing passenger traffic fuels demand for more airplanes.
With today's article I plan to shift my focus to a third way to profit from this overall growth trend. As I've conducted my research on the aerospace industry I often thought:
What if there was one company that profits from every airplane built by either Boeing or Airbus? And, what if there was one company that profits from every airplane engine built by either GE Aviation, Pratt & Whitney, UTC/Goodrich or Rolls Royce?
Guess what? There is!
Precision Castparts Corp. (NYSE:PCP) is a worldwide manufacturer of complex metal and forged components for airplane and jet engine manufactures. Precision Castparts is a best of breed company with a top notch management team with an impressive track record. The company has been aggressively making a large number of high-value acquisitions. In fact, Precision Castparts completed twelve acquisitions in 2013 following eight acquisitions in 2012. I especially like the 2013 acquisition of Timet, the largest titanium manufacturer in the United States.
Precision Castparts has demonstrated the ability to continually expand its product lines that will significantly enable future growth into new markets. I commend the management team's aggressive growth plans and the acquisitions haven't slowed down. Just last week Precision Castparts announced another amazing strategic acquisition of Aerospace Dynamics International. I think this is another brilliant move.
Solid Sales Growth and Record Earnings
For the quarter ended December 31, 2013, Precision Castparts reported earnings of $432 million or $2.97 per share compared to $339 million or $2.33 per share for the same quarter one year ago. Revenues were $2.4 billion for the quarter compared with $2.0 billion for the same quarter one year ago.
The performance last quarter continues Precision Castparts' long-term trend of steadily rising EPS. The company has reported an impressive annualized EPS growth rate of 18.7% over the last decade.
The average analyst estimate is for an EPS of $11.96 in 2014 and an EPS of $13.92 in 2015. I think those numbers are conservative and EPS could easily reach $16 by 2016. A multiple of 20X on future earnings is not unreasonable.
The chart below demonstrates the strong EPS growth over the last three years.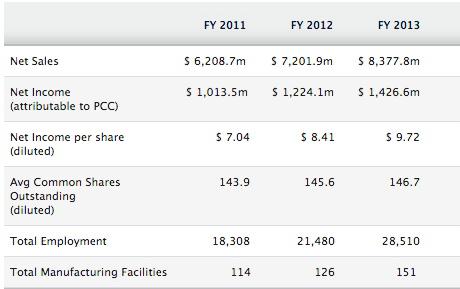 Precision Castparts' sales to the aerospace industry constituted 65% of total sales in 2013. Not shown below is that sales to the aerospace industry in 2013 increased 22 percent from 2012 reflecting the growth rate I expect to continue.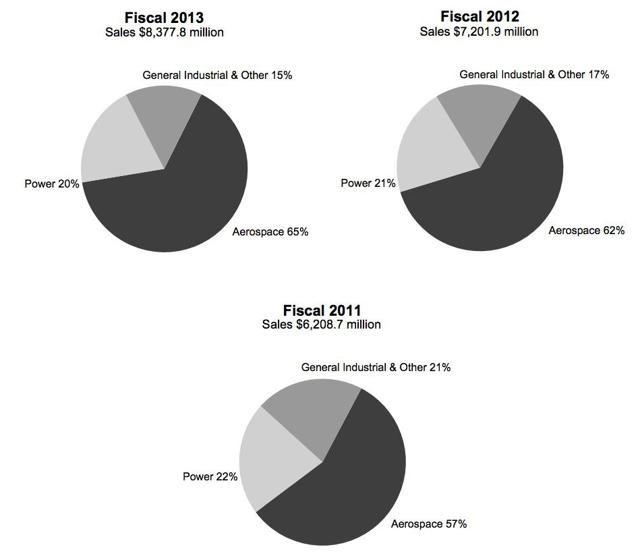 Final Thought
Precision Castparts has been experiencing significant growth from the aerospace industry. The long-term growth forecasts for the aerospace market continue to look very promising. I believe Precision Castparts offers a compelling long-term investment opportunity as a way to profit from this major growth trend. The management team has demonstrated a strong ability to incorporate acquisitions and Precision Castparts will continue to deliver precision growth for several decades.
Sources: Precision Castparts' financial filings and investor materials.
Disclosure: I am long PCP, BA. I wrote this article myself, and it expresses my own opinions. I am not receiving compensation for it (other than from Seeking Alpha). I have no business relationship with any company whose stock is mentioned in this article.
Additional disclosure: This article is intended to provide information to interested individuals. As I have no knowledge of individual investor circumstances, goals, and/or portfolio concentration or diversification, readers are expected to complete their own due diligence before purchasing any stocks mentioned or recommended.