International Business Corporation (NYSE:IBM) used to be one of the darlings of Wall Street, loved for its consistent earnings growth (12%+ double-digit EPS growth) at an attractive price (12x P/E). In the past few years, IBM has fallen off the radar of investors and the media, replaced by the excitement and momentum of new tech companies, such as FB, YELP, and TWTR. Perhaps it's time for investors to turn their attention back to tried and true tech bellwethers like IBM. This article will remind investors of 3 key attributes of IBM that may explain why Wall Street is beginning to love IBM again.
Consistent EPS Growth of 13%-14% per year:
The table below shows that IBM historically, from 2004 to 2013, has delivered on average 13.4% EPS growth per year.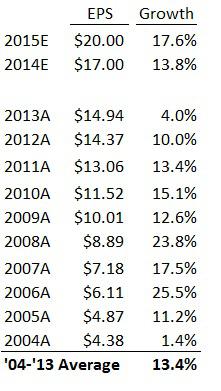 Source: Company SEC filings and press release
2013 EPS growth of just 4.0% was one factor that drove down IBM share prices recently, but as of the latest Q413 earnings release, management guided to 2014 EPS of at least $17.00, or 13.8% annual growth, and remains on track to deliver 2015 EPS of $20.00, or 17.6% annual growth.
Consistent double-digit EPS growth is rare to find in a $200-billion market cap company such as IBM. In addition, at a current stock price of $195.00 and 2014 EPS of at least $17.00 per share, this implied a 11.5x P/E multiple, which GARP (growth at reasonable price) investors may view as a bargain given EPS growth of 13%-14%. Growth investors typically pay up to 2x P/E/G for quality growth stocks (i.e.: pay 28x P/E for a stock with 14% EPS growth).
Shift from Hardware to Software (Software now 50% of pre-tax profits)
Over the years, IBM has exited commodity-like areas of hardware to focus on the higher value-added software business. Most recently on January 23, 2014, IBM announced the sale of its x86 server business to Lenovo for $2.3 billion. This shift from hardware to software has resulted in software profits now comprising of nearly 50% of total company pre-tax profits.

Click to enlarge
Source: Company SEC filings and press release
The large majority of IBM's software-related revenue is from database, operating systems, middleware, and systems management. Clients run mission-critical applications on top of IBM's software, which helps stickiness to software sales due to high switching costs.
Shareholder-Friendly
There's a reason why as of 12/31/2013, Warren Buffett of BRK.A still owns 6.3% of IBM stock. Management of IBM is extremely shareholder-friendly, returning almost all of the $15-$17 billion of annual free cash flow to shareholders every year through share repurchases ($13.9 billion in 2013) and dividends ($4.1 billion in 2013).

Click to enlarge
Source: Company SEC filings and press release
The share repurchases have helped to decrease diluted shares outstanding by 4%-5% a year, which has helped to increase EPS growth. Current dividend of $3.80 per share implies a respectable 2% dividend yield.
Risks
The top risk of IBM, in my opinion, is the flat revenue growth. Revenues have essentially stayed flat in the past 10 years, growing from $96.3 billion in 2004 to $99.8 billion in 2013. The double-digit EPS growth achieved during the same 10-year period came from a) shift from hardware to software, which increased gross margins and net margins, and b) shareholder-friendly share repurchases, which decreased shares outstanding from 1.7 billion in 2004 to 1.1 billion in 2013.
The advent of cloud computing and the option to rent computing services on demand affects customers' demand for multi-million dollar IT systems and software provided by companies such as IBM. However, IBM offers a breadth of products and services, including cloud computing, which helps make the firm an attractive one-stop vendor for IT departments. The ability of IBM to maintain its share of the wallet against both large IT service providers (ORCL, MSFT) and pure-play cloud service providers (NYSE:CRM) will be the primary factor of how well IBM's stock performs in the future.
Conclusion
Historically, IBM's double-digit annual EPS growth has been driven by increased margins (software focus) and share buybacks. Revenue has stayed more or less flat for the past 10 years. As a result, Wall Street has put IBM in a penalty box, valuing it at just 11-12x forward P/E, or PEG ratio of just 1.0x. However, if IBM was able to grow EPS at 10%-12% in the past year with flat revenues, imagine what the EPS growth would do if IBM does figure out the cloud concern and actually grows revenues in the future? Credibility would be given to IBM again, and the P/E valuation multiple could easily go to 14-15x, or 1.5x PEG, implying a 35%-40% upside to current share price. IT services competitors, such as ACN, INFY, WIT, and CTSH all trade at 15-18x forward P/E, so 15x is not unreasonable at all.
In the mean time, investors get paid a 2% dividend yield at a comfortable entry price point of just 11-12x P/E to wait. If Buffett can sleep at night with that margin of error cushion (especially even given his admitted lack of tech understanding), so can I.
Disclosure: I am long IBM. I wrote this article myself, and it expresses my own opinions. I am not receiving compensation for it (other than from Seeking Alpha). I have no business relationship with any company whose stock is mentioned in this article.