The share price of Goldcorp (NYSE:GG) has dropped by 10% month to date, compared to just a 3% loss in gold price over the same period. In my view, investors wanting gold exposure should accumulate the shares on this price weakness.
Goldcorp has a leading growth profile among senior gold miners in North America. The company's annual gold production is forecasted (by management) to grow from 2.7 moz in 2013 to almost 4.0 moz in 2016, representing a CAGR of 14% which is superior to the growth prospects of many senior miners. It is believed that the strong growth trend will be substantiated by full ramp-up of the Pueblo Viejo project from Q3 2014 and the start-up of a few major projects including Cerro Negro, Eleonore, and Cochenour from late 2014 and 2015.
Goldcorp is also committed to maintaining a low cost base through continued cost containment. Since early 2013, the company has managed to reduce its all-in sustaining cost ("AISC") from $1.2K per oz in Q2 2013 to $0.8K per oz in Q4 2013. Going forward, I expect the declining trend to continue due to the start-up of Cerro Negro, Eleonore, and Cochenour projects given that the these projects' estimated AISC would likely range from $0.5K to $0.8K per oz. Further, the trend should also be bolstered by management's effort to continue divesting assets/projects with above-average AISC such as the Wharf project which has an estimated AISC of approximately $1.1K per oz.
Other merits that distinguish Goldcorp from other senior miners are the company's strong balance sheet and financial flexibility. At the end of Q4 2013, Goldcorp has $0.7B cash, $2B undrawn credit facility, and $1.25B acquisition facility that is for the potential acquisition of Osisko Mining (OSKFF) (will be discussed later). On the leverage front, Goldcorp currently carries $2.5B debt, representing a total debt-to-capital ratio of 11.3%. As shown in the table below, the company's leverage ratio is almost the lowest among its peers and just half of the peer average, meaning that Goldcorp would have higher borrowing capacity to pursue growth opportunities or weather headwinds for gold price (see chart below).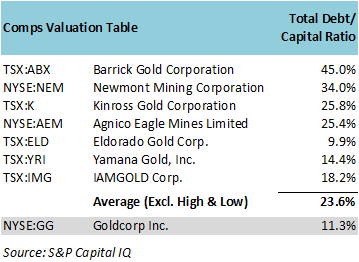 Early this month, management announced its intent to divest its stake in Primero Mining (NYSE:PPP) for total proceeds of $0.2B, which further strengthens the balance sheet and will help the company funding its capex plan of approximately $2.5B in 2014. Over a longer term, estimates from sell-side analysts generally predict that operating cash flow would be at around $1.5B in 2014 and increase to above $2.0B in 2015 and 2016 owing to a few new projects. Given that future capex is expected to decline modestly from the 2014 level at about $2.5B as management has not disclosed any longer-term capex plan, Goldcorp would have no near to medium term liquidity issue (assuming no severe decline in gold price).
One key topic for Goldcorp is the potential acquisition of Osisko. The hostile offer was first announced in January 2014 with a price of 0.146 Goldcorp shares plus $2.3 cash for each share of Osisko. At Goldcorp's current share price of ~$24, the offer price totals at $5.8 per Osisko's share. Since the initial announcement, Osisko shares traded as high as $7.15 in mid-March and now has gone down to $6.22, which still represents a premium of 8% over Goldcorp's offer price. This is because 1) gold price has risen by almost 5% since January; 2) management of Osisko has asked for shareholders' patience as the company does not view Goldcorp's offer is reflective of the business' full value and is thus evaluating other strategic alternatives; and 3) Goldcorp's offer was extended to April 15, 2014, leaving more time for Osisko management to search for other opportunities or higher bids. As a result, the market believes Goldcorp would need to raise its offer. Why is Osisko important to Goldcorp? It is expected that the addition of Osisko would increase Goldcorp's annual production CAGR from 14% to 17% from 2013 to 2016 and bring in free cash flow accretion of about $100M to $150M per year. Despite the resistance from Osisko management, I believe there remains a fair chance for the deal to be closed given that 1) Goldcorp management recently reaffirmed their confidence in the deal and 2) the strong balance sheet should allow the company to comfortably increase its bid given the $1.25B acquisition facility, $2B undrawn revolver (although I believe $1B will be needed to fund capex in 2014), recent sale of the Primero Stake, and room for additional borrowing.
Goldcorp now trades at 21.6x consensus 2015 EPS estimate, which is at slightly premium over peer average at 19.9x. Given the company's superior production growth prospects, above-average return on equity, and above-average dividend yield at 2.1%, a buy rating is warranted.
All charts are created by the author, and data used in the article and the charts is sourced from S&P Capital IQ, unless otherwise specified.
Disclosure: I am long GG. I wrote this article myself, and it expresses my own opinions. I am not receiving compensation for it (other than from Seeking Alpha). I have no business relationship with any company whose stock is mentioned in this article.