Every couple of weeks, we get an update from NASDAQ on short interest. Over the past couple of years, I've extensively tracked short interest in a number of stocks and I've reported on notable changes and trends. Since we just got the mid-March numbers, I'm here today to discuss some notable short interest moves. Not all of these are major changes at one update. Some of these names have an important trend worth discussing, while others have other items that investors need to be aware of. This time around, I've found seven names I feel investors need to think about.
Apple (NASDAQ:AAPL):
Two years in a row, we've seen a large spike in short interest for Apple early in the year. You can see that in the chart below. Just like in early 2013, short interest came back down a bit right after the spike. Nearly 5.8 million shares, or about 22% of shares short have been covered since the mid-February high.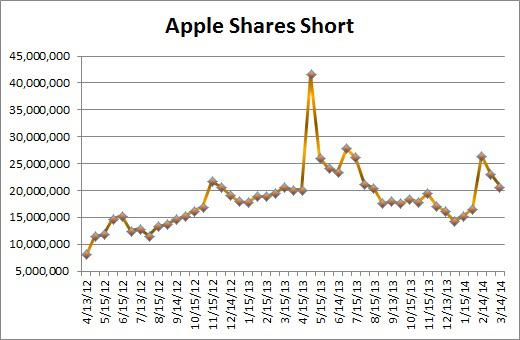 But this recent dip in short interest is not what really got my attention. Apple's days to cover ratio, which measures the number of days it would take all shares short to be covered, hit another new high at the latest update. This is tough to do, considering just 20.62 million shares were short at the mid-March update. Last year's peak was almost 41.6 million shares short, so you would think that would have been the days to cover peak. As you can see in the chart below, that theory would be wrong.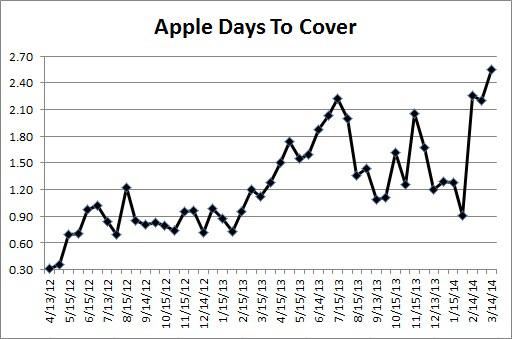 A days to cover ratio of 2.54 isn't normally high, but about two years ago, the number was just 0.31. Obviously, short interest rising as you saw above is one part of it. However, the other major issue worth discussing is Apple's volume, which has taken a dive lately. If you look at the average volume statistics NASDAQ provides with the short interest updates, you'll see a major decrease. In the latest update, Apple's volume was down more than 55% over the comparable year-ago period. The last 11 short interest updates have shown volume declines of at least 29.7%. Apple's volume has taken a nosedive, and that is something to watch. Obviously, interest in Apple is not what it used to be.
Keurig Green Mountain (NASDAQ:GMCR):
Green Mountain shorts ran away in a hurry after the Coca-Cola (NYSE:KO) deal was announced. Short interest that topped 41.6 million shares in December 2013 was down to under 13.6 million shares at the end of February. Recently though, that trend ended, with short interest popping more than 3 million shares in the first half of March.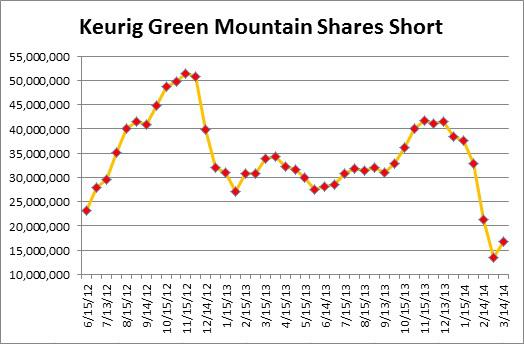 As you saw in the chart above, this pop was off a roughly 2-year low for short interest in the name. The Coca-Cola deal propelled Green Mountain shares to nearly $125, but the stock has pulled back a bit since then. Going forward, the company will be judged on its results, and the next quarterly report probably won't have a major deal announced with it. At the last report, revenues missed and guidance was light. A main theory is that the company low-balled guidance to set up a beat next time around, when no deal is expected. I would not be surprised if short interest increases a little bit more as earnings season approaches. With results from the company being shaky in recent quarters, there should be some non-believers.
Intel (NASDAQ:INTC):
The chip giant saw its short interest come down in late 2013 and early 2014 as investors were hoping for a rebound from the company. After two years of declining revenues and earnings, 2014 was supposed to be a better year. Intel is making a push into tablets and smartphones, and investors were getting excited. Even though Intel's original 2014 guidance (given in November 2013) was lackluster, investors thought the company was being conservative. As you can see below, short interest started to turn lower.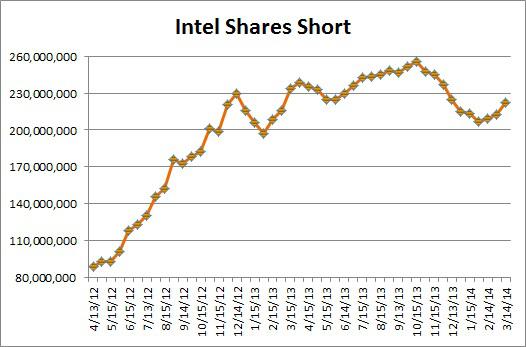 However, short interest has reversed and is currently heading higher. The company reiterated its forecast in January, leaving investors a little disappointed. The dividend has still not been raised, and revenue and earnings estimates are at new lows. Intel may be set up for another failure, and shorts are coming back. If Intel does not give a strong Q1 report or solid guidance, short interest may head to new highs. Right now, Intel is the most heavily shorted name in the US large cap technology space.
Netflix (NASDAQ:NFLX):
The streaming giant makes this list for the longer-term trend. As you can see from the chart below, Netflix short interest is at a two-year low. At the peak, more than 17.2 million shares were short. At the latest update, less than 4.7 million shares were short. There has been a tremendous change in sentiment regarding Netflix in the past year and a half.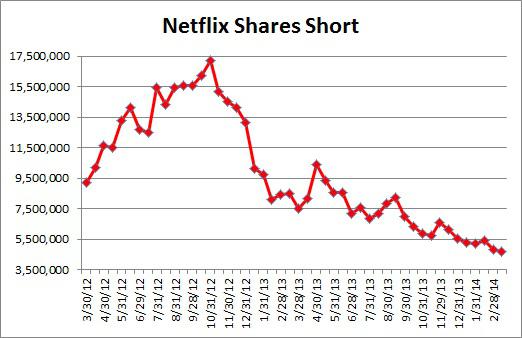 Obviously, Netflix overcame some of its late 2011 troubles, and shares rallied from the low $50s to a high of $458 recently. Recently, Netflix has led a momentum name sell-off, with shares closing at just $372 on Wednesday. Profit-taking is certainly one reason, and the fact that Carl Icahn has sold some of his position didn't help. Additionally, Q2 is the weakest quarter of the year for sub growth, so some investors may be worried about guidance at the upcoming earnings report. Finally, rumors of Apple entering the streaming video space have accelerated the fall. The next short interest update will be very interesting for Netflix, with either the drop in the stock causing a lot more shorts to cover, or worries about the business thanks to Apple leading to more shorts.
SolarCity (NASDAQ:SCTY):
This is the first time I've discussed SolarCity in terms of short interest, but it is a name definitely worth watching. As you can see from the chart below, short interest has skyrocketed for this name. A year ago, just over 2.5 million shares were short. At the latest update, more than 11.3 million shares were short. Part of the reason was due to a rise in the outstanding share count, which jumped from 75 million to 91 million during 2013, per the 10-K filing.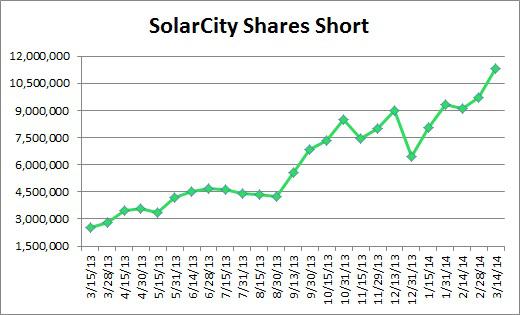 Shares in this name went from $20 to $90 over the past year, before falling to current levels in the low $60s. SolarCity is connected to the next name on my list, both of which have seen massive rallies in the last year. The latest push lower for SolarCity came after earnings. While the report was decent, worse-than-expected EPS guidance helped to push shares lower. This is another name to watch at the next update, given the recent fall in shares. One thing is certain. SolarCity's short interest has skyrocketed in the past year.
Tesla Motors (NASDAQ:TSLA):
Perhaps one of the most discussed names in the market over the past year, Tesla has had an interesting short interest story. Short interest for Tesla spiked early in 2013, then took a nosedive as shares first began to rally. In the second half of the year, short interest continued higher. In the latest update, short interest dropped by more than 2.6 million shares, as you can see in the chart below. I brought up Tesla, as short interest is at a 4-month low.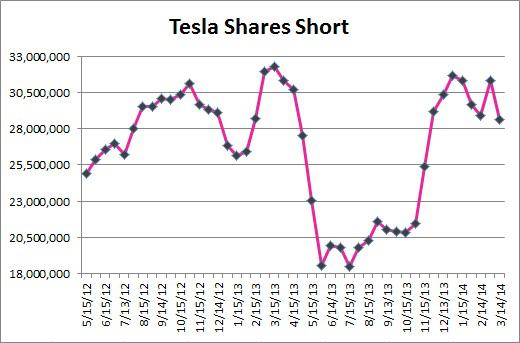 Tesla shares peaked in late February, and have dropped more than $50 since. It looks like some shorts took the fall as an opportunity to cover. We already know that Q1 will be weaker than Q4, but how much weakness is priced in? There seem to be concerns about Q2 being weak as well, with some saying demand has peaked. Like Netflix, Tesla has helped to fuel the recent momentum sell-off.
Twitter (NYSE:TWTR):
Twitter's short interest move was probably the least significant of all the names I brought up. Since the name only went public late last year, there are not a lot of data points, so I only posted the table from NASDAQ below, instead of a formal chart.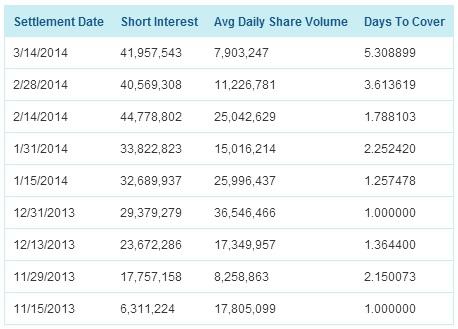 I brought up Twitter because the situation reminds me of the one with Apple. Look at the days to cover ratio. It was around or under 1 at the beginning, but now it is above 5.30. Twitter's volume had really dropped in recent weeks, but volume has picked up a little in recent days with the rest of this momentum sell-off. In fact, Twitter shares fell below their IPO opening price on Wednesday, and are now more than 40% off their post-IPO high. Twitter faces a huge lock-up expiration in May, which will have a major impact on short interest if insiders sell a chunk of stock.
Final thoughts:
The latest short interest data is out, and each name tells a different story. Apple has seen its days to cover ratio soar as trading volumes have plunged. Twitter is in the same boat. Green Mountain short interest increased a little after massive covering following the Coca-Cola deal. Intel's short interest has started to rise again, as concerns may be building over 2014. Netflix short interest continues to hit new lows. SolarCity short interest has rocketed higher, while Tesla short interest declined a bit. For many names on the list, the next update will be very interesting, as many of these names have plunged in a momentum sell-off in the market recently.
Disclosure: I have no positions in any stocks mentioned, but may initiate a long position in SCTY, TSLA, TWTR over the next 72 hours. I wrote this article myself, and it expresses my own opinions. I am not receiving compensation for it (other than from Seeking Alpha). I have no business relationship with any company whose stock is mentioned in this article.
Additional disclosure: Investors are always reminded that before making any investment, you should do your own proper due diligence on any name directly or indirectly mentioned in this article. Investors should also consider seeking advice from a broker or financial adviser before making any investment decisions. Any material in this article should be considered general information, and not relied on as a formal investment recommendation.