BDC prices have dropped due to interest rate concerns and being excluded from certain indices. I have performed interest rate sensitivity analyses on most BDCs to identify the ones that will be the most positively impacted by rising rates. As for the potential changes regarding BDCs being excluded from certain indices (especially the Russell), I believe this will only have a short term impact that I will cover in a following article but does not have an impact on the fundamentals of BDCs and should be seen as a buying opportunity over the next 6 to 8 weeks.
In a recent series of articles I attempted to find the 'best in class' BDCs for my updated "Total Return Portfolio Q1" for 2014. Please read "Part 1" for a complete description of the portfolio but basically it is for investors that want dependable regular dividends and the potential for special dividends as well as long-term capital appreciation from increased stock values. The other five portfolios that I cover are: General, Risk Averse, High-Yield, Value, and Underdog but these will also be updated over the coming weeks. This article will take into account the latest reported financials and adjust the total return portfolios accordingly. For the most recent updates to these portfolios please visit my "Total Return Portfolio" page.
Projected Total Returns
The following table shows the projected total return for each BDC using the current regular dividend yield plus committed/expected special dividends and projected net asset value ("NAV") per share growth over the next 12 months. I use a conservative approach to project NAV per share growth assuming only 50% of actual last 12 months growth with the exception of American Capital (NASDAQ:ACAS) that I assume performs similar to last year (due to not paying dividends and using returns to buyback shares). I also assumed that the BDCs with recent declining NAV per will stabilize in the future and used a growth rate of 0% (this could be optimistic for these companies). The chart shows the average return for these BDCs is 10.8% and uses the standard deviation to come up with a 'high' and 'low' to imply 'expected' returns based on relative risk levels.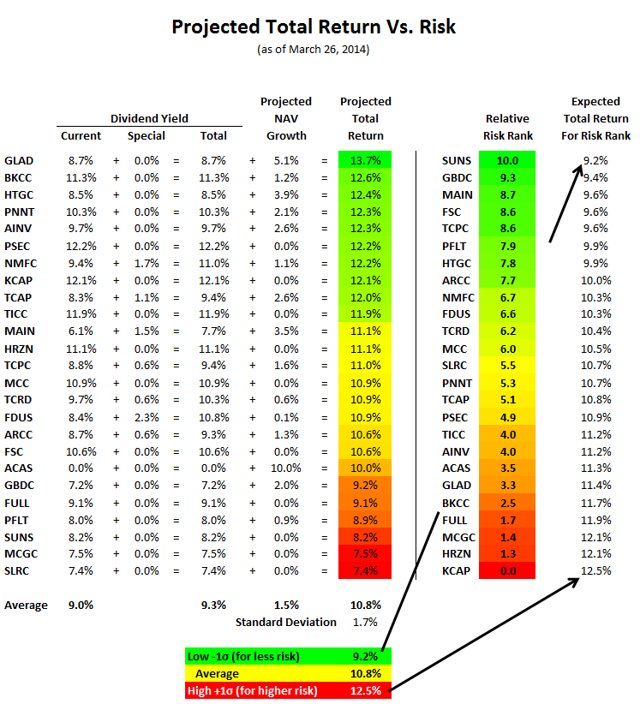 Total Return Pricing
The table below uses the projected and expected returns from the previous table to generate the proper price based on those returns. For more information on the calculation of these prices please see "Total Return Pricing" but the basic formula is the current stock price times projected return divided by expected return equals the implied price. For example Prospect Capital (NASDAQ:PSEC) will likely return 12.2% at its current price of $10.85 = $1.32 (its dividends) divided by the expected return of 10.9% (near the average for BDCs because it has an average risk profile) equals an implied price of $12.18 that is 12% above where it is currently trading. I have also indicated the portfolios I have suggested for each including a lower risk total return portfolio and a new higher total return portfolio.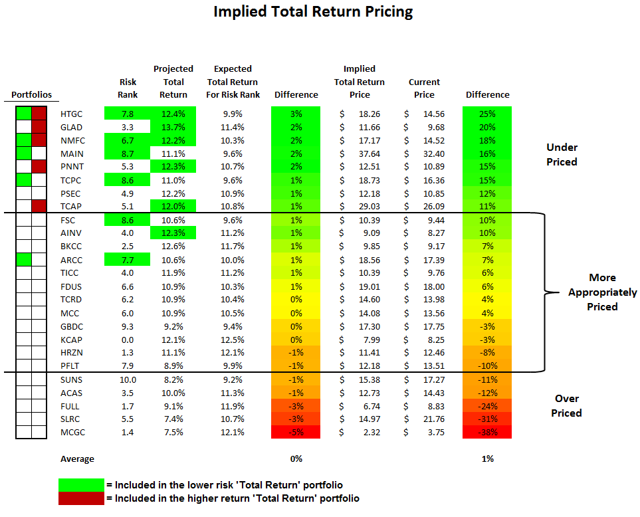 The only changes from last quarter are replacing Fidus Investment (NASDAQ:FDUS) with TCP Capital (NASDAQ:TCPC) in the lower risk portfolio and replacing KCAP Financial (NASDAQ:KCAP) and Main Street Capital (NYSE:MAIN) with Triangle Capital (NYSE:TCAP) and New Mountain Finance (NYSE:NMFC). Most of these changes were due to changes in risk adjusted returns as BDCs are priced higher or lower. For example KCAP has higher than average returns but for the amount of risk both TCAP and NMFC could provide the same level of returns with much lower amounts of risk. The only BDC that I have considered for these portfolios that is not underpriced by more than 10% (using returns) is Ares Capital (NASDAQ:ARCC) but it has more NAV per share growth than most as shown in the table below. The only BDC that was underpriced by more than 10% and is not part of these portfolios was PSEC. This is because I see no chance for meaningful dividend increases or special dividends as well as very little NAV growth.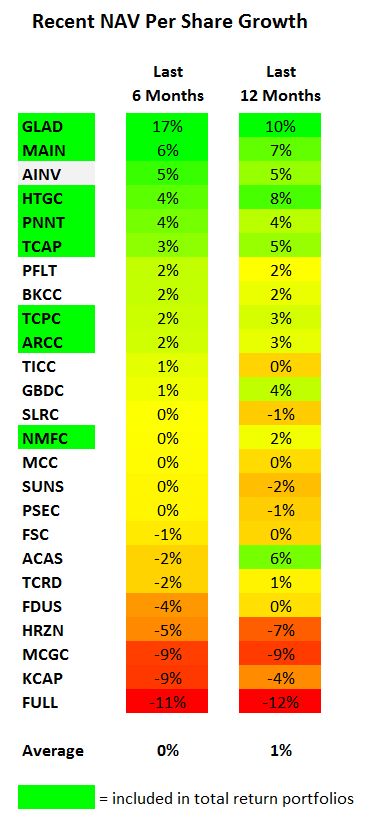 Both Apollo Investment (NASDAQ:AINV) and Golub Capital BDC (NASDAQ:GBDC) have also had higher than average NAV growth, especially over the last 6 and 12 months, and were contenders for these portfolios but not as well priced as most of the others.
Lower Risk Total Return Portfolio
This suggested portfolio includes MAIN, NMFC, TCPC, ARCC and Hercules Technology Growth Capital (NASDAQ:HTGC), with an average risk ranking of 7.9 and much safer than the average BDC with total projected returns of 11.5% compared to the average of 10.8%. I would suggest this portfolio for investors that want stable regular dividends with a good chance of dividend increases (not cuts) and special dividends along with share price appreciation higher than most BDCs.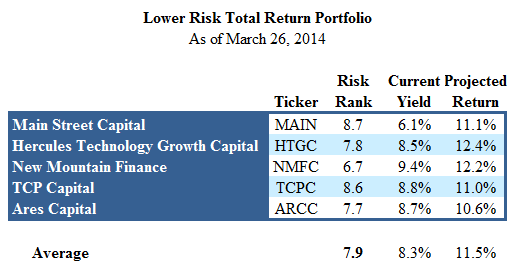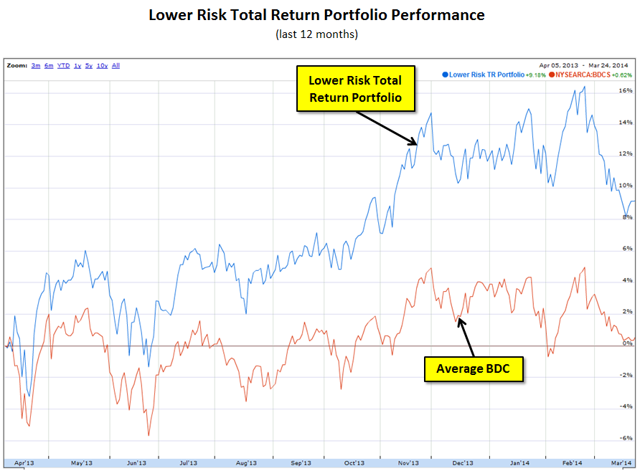 Other contenders for this portfolio: GBDC, FDUS, Fifth Street Finance (NYSE:FSC), THL Credit (NASDAQ:TCRD) and Medley Capital (NYSE:MCC), all have safer than average risk profiles with decent returns but not priced as well lowering their returns to shareholders.
Higher Total Return Portfolio
This suggested portfolio comes with higher risk but a higher current dividend yield and projected returns. It also has HTGC and NMFC because of their higher than 12% projected returns but also includes riskier BDCs such as TCAP, Gladstone Capital (NASDAQ:GLAD) and PennantPark Investment (NASDAQ:PNNT). I have recently upgraded GLAD to a 'Buy' for the reasons discussed in my "GLAD March 2014" report but basically due to improved credit quality, NAV growth, commitment to dividend coverage, low use of leverage, selective portfolio growth and expected total return. However it is one of the riskiest BDCs that I recommend which is why it is also in the "underdog" portfolio that I will be updating next week and excluding MCG Capital (NASDAQ:MCGC) for many reasons including a likely dividend cut announcement of over 40% if the board approves and has already been factored in the returns above.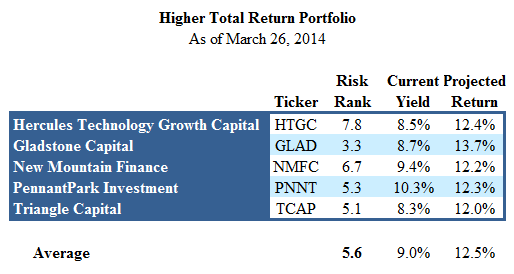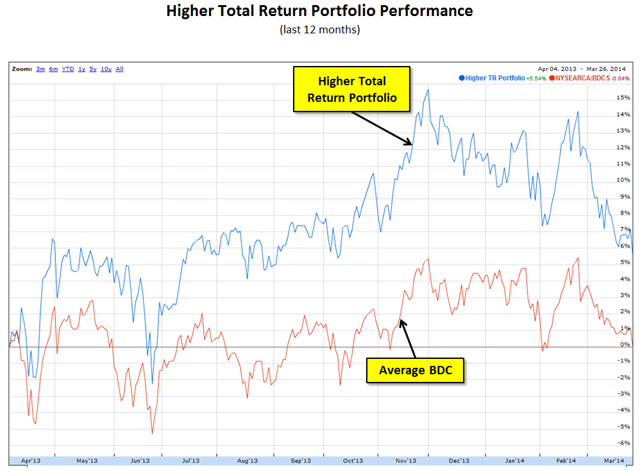 Other contenders for this portfolio: PSEC has high projected return but was not included for the reasons already discussed and at this point I believe it is range bound and offers little in the way of price appreciation. AINV, BlackRock Kelso Capital (NASDAQ:BKCC) and TICC Capital (NASDAQ:TICC) were also considered but not priced as well as the others (using returns). I believe there is a chance that BKCC may cut dividends reducing the expected return.
For more information, performance charts and general updates to this portfolio please visit my "Total Return Portfolio" page.
Investors should only use this information as a starting point for due diligence. See the following for more information:
Disclosure: I am long PSEC, HTGC, MAIN, TCPC, FSC, ARCC, FDUS, TCRD, NMFC. I wrote this article myself, and it expresses my own opinions. I am not receiving compensation for it (other than from Seeking Alpha). I have no business relationship with any company whose stock is mentioned in this article.