Quantitative easing has provided excess liquidity to markets. Low interest rates have enticed investors to seek out high-risk, high-return investments.
Blue chip companies have been increasing earnings per share through cost cutting and share buybacks, while top-line growth at these companies has been lagging behind.
This phenomenon in the general stock market caused investors to seek out companies that have revenue growth. The stocks that were able to grow revenues soared to incredible valuation and became known as "momentum stocks." These include social networking names, like Facebook (NASDAQ:FB), and LinkedIn (NYSE:LNKD), 3D printing companies, like 3D Systems (NYSE:DDD) and Stratasys (NASDAQ:SSYS), and Cloud Computing companies, like Salesforce (NYSE:CRM) and Workday (NYSE:WDAY). Other tech momentum stocks included Netflix (NASDAQ:NFLX), which has recovered from its bust two years ago, and Tesla (NASDAQ:TSLA), which only proved itself as a viable concept in the past two years.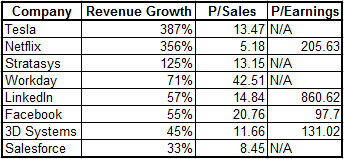 The new focus on revenues instead of profits made investors more tolerant of aggressive growth strategies which may not be sustainable.
One such strategy is to grow via acquisition. The company issues more of its shares, which are overvalued, and uses the cash to buy new companies. The company's shares are then rewarded for the new revenues acquired, and become even more overvalued. This trend has been in evidence most notably in 3D Systems, which is now in a self-reinforcing bust, but also has occurred in varying degrees with the following companies:

(Netflix is included for completeness.)
A variant of this strategy is to use the overvalued shares to generate organic growth, which has occurred at Tesla.
This strategy allows the company to acquire growth at a discount. The discount the company gets on the acquired company is equal to overvaluation in its own shares.
Another strategy is to use overvalued shares to pay employees. This strategy allows the company to pay employees at a discount, equal to the overvaluation of the company's shares. This happens most frequently in the tech industry, where new hires often require equity compensation to begin working. To get a sense of the magnitude of this component, take a look at the 2013 stock-based compensation figures as a percentage of operating cash flows across a range of tech companies: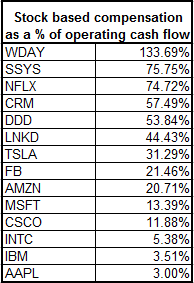 Notice that the momentum stocks top the list, while members of "old-guard" of tech companies are near the bottom.
To get a view of how much each of these momentum stocks is dependent on issuance of new shares, take a look at issuance of new shares as a percentage of operating cash flow: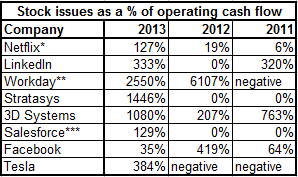 Notes:
* Netflix also has net debt issuance in 2013 that amounts to 277% of operating cash flow.
** Issuance of convertible notes included
***The issuance of convertible notes was included, but the issuance due to employee stock plans was not. See stock-based compensation table above.
From the table above, we can see that Workday, 3D Systems, and LinkedIn have repeatedly issued stock in amounts many times larger than operating cash flow, and thus we may conclude that their growth strategies are highly dependent upon share price. Tesla also exhibits this phenomenon, as I explained when I argued for a boom in Tesla's share price a year ago.
The momentum stocks are highly dependent on using their shares as a means to grow their companies. This fuels a self-reinforcing boom where share price and revenues increase simultaneously, however it is unsustainable.
If the share price of any of these companies declines substantially, the ability of the company to grow its revenues will be jeopardized. If the ability to grow revenues is damaged, investors may begin to reassess the high valuations for these companies, and a self-reinforcing bust would ensue, where lower share prices lead to lower revenue growth, and vice-versa. Investors in these companies should beware of the risk of such a bust, particularly in light of the large downward moves in many of these stocks in the past few days.
In addition, the indication from the Federal Reserve that Quantitative Easing may end this fall, and that interest rates may begin to rise afterwards, may force investors to realign their investing prerogatives to one more suitable for a rising rate environment. In expectation of that change, the long bull run of these high-risk, high-reward plays may soon be over.
Disclosure: I am short DDD, LNKD, NFLX, WDAY. I am long TSLA. I may sell shares in TSLA or FB in the next 72 hours. I wrote this article myself, and it expresses my own opinions. I am not receiving compensation for it (other than from Seeking Alpha). I have no business relationship with any company whose stock is mentioned in this article.