Just read in the recent headlines, Walt Disney (NYSE:DIS) has agreed to buy Maker Studios, a supplier of online video content to YouTube, for at least $500 million, gaining technology and experience with short-form video entertainment.
In addition to that, Disney will also pay as much as $450 million more if Maker Studios meets strong performance targets, which could boost the total acquisition price to $950 million, near to $1 billion. Disney Chairman and Chief Executive Robert Iger said:
Short-form online video is growing at an astonishing pace and, with Maker Studios, Disney will now be at the centre of this dynamic industry, with an unmatched combination of advanced technology and programming expertise and capabilities.
The feeling is mutual, as Ynon Kreiz, exec chairman and CEO of Maker Studios, said in a statement:
Disney is synonymous with the best entertainment and is the ideal partner for us, strengthening our position as the leading player in online video.
Walt Disney Is Joining The Bandwagon
Recently, Warner Bros. is involved in a whopping $18 million investment in Machinima, the once-dominant video game-focused YouTube multichannel network that has been steadily losing millions of viewers and thus, millions in revenue.
The funding round, which the MCN announced in the second week of March, includes monetary participation from other big-time investors, namely, Google (NASDAQ:GOOG), MK Capital and Redpoint Ventures. That totals to $67 million raised, following the $35 million round led by Google in May 2012.
Microsoft (NASDAQ:MSFT) is in talks with the French telecom group Orange, as disclosed at the Mobile World Congress expo in February 2014. The company could come close to an arrangement for Microsoft to buy a portion of DailyMotion, a YouTube competitor and arguably the fifth most active video sharing site on the web, with the French company maintaining a controlling stake in the company, said Stephane Richard, CEO of Orange.
Twitter (NYSE:TWTR), after finding in a study over two million tweets sent by thousands of verified users across different fields over the course of a month, that unsurprisingly, adding video, links and photos results in an impressive boost in the number of retweets (almost by 28%), has decided to include video options in the service.
Apple (NASDAQ:AAPL) has been making progress in the video streaming service with the update Apple TV, along with the latest deal with Comcast (NASDAQ:CMCSA) over a new set-top box that would blend live TV with apps, web video and a focus on gaming. Even Netflix (NASDAQ:NFLX), sensing competition from the upcoming rivals, is looking to expand into the European market, most probably France, one of the toughest destinations in terms of the media industry to break through. Needless to say, with Amazon (NASDAQ:AMZN) Prime service freshly reaching 20+ million customers, the online video market is pretty hot right now.
With Maker Studios, Walt Disney is following the path taken by DreamWorks Animation (NASDAQ:DWA). DreamWorks Animation, producer of the Shrek movies, bought AwesomenessTV, a smaller competitor of Maker Studios, with over 55,000 channels, aggregating over 14 million subscribers and 800 million video views, for US$33 million plus as much as US$117 million in incentives last year.
But the question is whether Maker Studios was the right choice or not.
Why Maker Studios Might Be a Good Choice
With over 55,000 channels, 380 million subscribers and around 5.5 billion views a month on Google's YouTube, Maker Studios can be marked as one of the top online-video networks for young audiences. Needless to say, it is one of the best choices Disney could make while foraying into the online video business. Will Richmond, an online-video analyst who runs VideoNuze said:
For Disney, the deal makes a lot of sense strategic sense, as the media conglomerate strives to remain connected to younger audiences that are increasingly consuming content on YouTube and other digital outlets…it would be a huge blunder for (Disney) to lose the pulse on that market.

Moreover, if we are to go by what Maker Studios CEO Ynon Kreiz says, the company's revenue has been growing at an astounding 300% in the past couple of years. With the acquisition of Blip as an alternate video channel, along with the possibility of better ad sharing revenue from YouTube, Maker Studios might be maturing as a business.
Perhaps, with Disney taking charge of the company, it will become more and more independent, thus creating a far more stable source of revenue for the mother company.
The entertainment landscape is shifting and the birth of YouTube, in particular, has resulted in explosive growth in the volume and popularity of short-form, user-generated video content. The buy is supposed to ensure Disney stays up-to-date and relevant in this changing entertainment landscape.
Do Disney's Financials Justify The Acquisition?
The acquisition is one of the biggest for Disney, since its $4 billion purchase of Lucasfilm in 2012. In the online space, Maker Studios could potentially go over the $563.2 million Disney spent in 2010 on mobile game maker Playdom and the $350 million in 2007 for Club Penguin, a social network for children.
But does that justify the financial statements of Walt Disney?
Disney's revenue has been continuously increasing, compared to that of Netflix and DreamWorks Animation. It was reported at $45 billion in September 2013.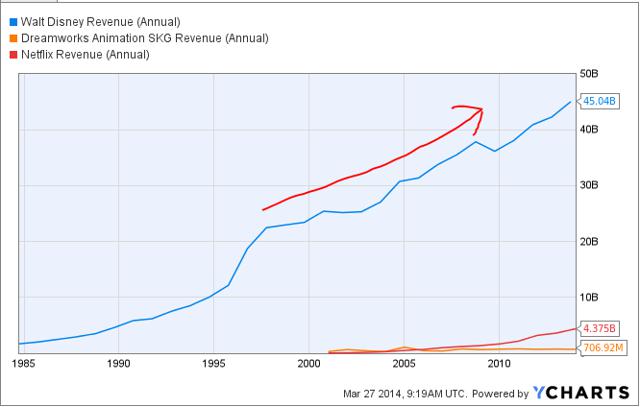 With around $3.39 billion of cash and equivalents in hand, $12.78 in total borrowings and an ever-increasing EBIT line, Walt Disney seems to be pretty strong financially at the moment.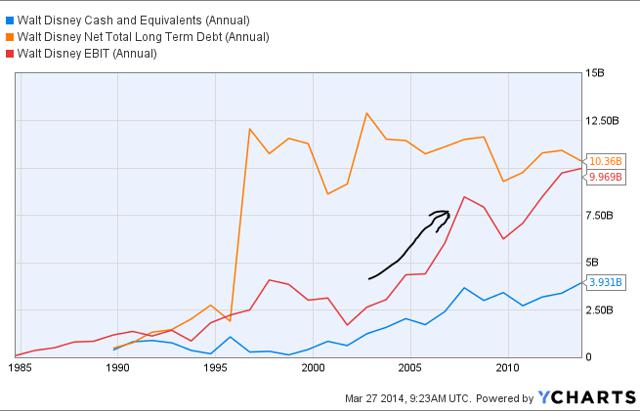 And if we consider the margins since the last 5 or more years, it is pretty clear that Walt Disney is improving over time. Take a look at the chart below.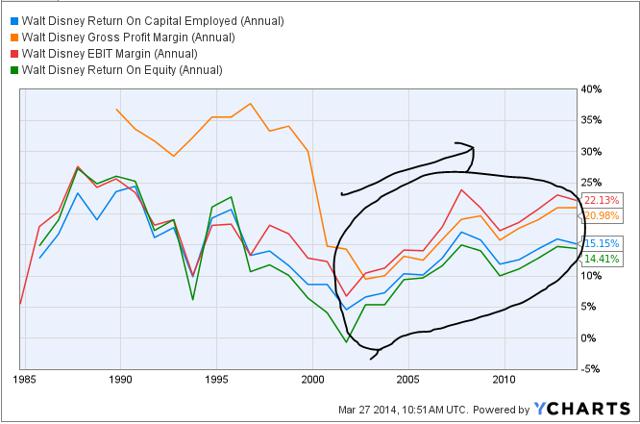 Alpha Bottom-line
The online video market is still at its nascent stage. According to a study by Nielsen, over 147 million Americans watch video on the internet. To add to that, according to Business News, 75% of online video viewers have interacted with an online video ad in the past month.
In fact, when Cisco (NASDAQ:CSCO) says that two-thirds of the world's mobile data traffic will be video by 2016, you got to take notice.
And that's what Walt Disney is doing at the moment.
Acquiring Maker Studios, one of the most prolific MCNs on the web, if executed properly, might be one of the best decisions by Disney taken this year.
Disclosure: I have no positions in any stocks mentioned, and no plans to initiate any positions within the next 72 hours. I wrote this article myself, and it expresses my own opinions. I am not receiving compensation for it (other than from Seeking Alpha). I have no business relationship with any company whose stock is mentioned in this article.
Additional disclosure: This article consists of my personal opinion. Please consult your financial adviser before you make any investing decision.