Like most smaller bank stocks, Banco Popular (NASDAQ:BPOP) peaked back in 2005 and then proceeded to lose 95% of its value over the next five years. The decline turned sharply lower when the bottom fell out of an overheated mortgage market, and got even worse when a second wave of defaults on commercial loans began taking shape which is expected to peak later this year. Being a smaller bank, Banco Popular has a larger percentage of its assets exposed to the commercial lending sector, and the commercial properties backing these assets have seen huge declines in property value. They also have less availability to easy capital than the big banks. Add in the fact that this company does business mostly in Puerto Rico and elsewhere in Latin America, where the recovery has been even slower than in the U.S., and you can see why BPOP's performance has lagged behind the giant lending institutions.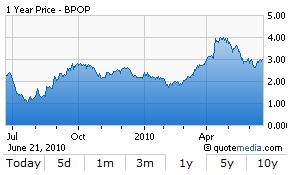 Over the past year, however, BPOP has been on the rebound along with other small banks, and has significantly outperformed its peers. The stock is currently trading below book value and right at the cash per share number which may sound cheap, but is actually a premium compared to many similarly sized banks. The stock has also seen a huge influx of trading activity over the past several months on the NASDAQ, and has even been more active than Sirius XM Radio (NASDAQ:SIRI), averaging over 50 million a day in dollar volume. The company currently has 600 million shares outstanding.
All of the buzz may be for good reason, as several developments have helped the bank obtain stronger footing going forward. Back in May, the FDIC took over three banks in Puerto Rico. Popular Inc., which is already the largest bank in that region by deposits, ended up taking an even larger share after they acquired more from one of the troubled banks assets while the FDIC's Deposit Insurance Fund essentially took care of most of the debt. This gives BPOP the best chance for recover should things begin to pick up in Puerto Rico due to the governments restructuring. Unemployment in Puerto Rico is currently around 15%, well above what it is on the mainland.
Additionally, Banco Popular has more loan loss reserves than it does potential loan losses. This is better than most of the banks that are heavily leveraged to commercial real estate and other non performing assets. Recent acquisitions have been funded by stock sales, but with the planned sale of a subsidiary coming up potentially netting 700 million, more stock sales do not seem likely.
Despite some serious challenges, this stock may continue to stand out in the crowd.
Disclosure: Unbiased, no position