Among these 25 companies, 11 (or 44%) are tech stocks: Apple (
AAPL
), AT&T (
T
), Cisco Systems (
CSCO
), Dell (
DELL
), EMC (
EMC
), Intel (
INTC
), Microsoft (
MSFT
), Motorola (MOT), Oracle (
ORCL
), Sprint Nextel (
S
) and Yahoo! (
YHOO
).
7 companies (or 28%) are financial related: Bank of America (
BAC
), Citigroup (
C
), JPMorgan Chase (
JPM
), Morgan Stanley (
MS
), Regions Financial (
RF
), Wells Fargo (
WFC
) and soon to be de-listed FANNIE MAE (FNM).
10 Most Undervalued Stocks Based on Analyst Target Price
I compared these high frequency traded [HFT] stocks with their 1-year analyst target price and found the following 10 most undervalued ones:
Alcoa -- the Most Undervalued
On the list above, Alcoa is 49% below analysts' 1-year target price. The world's largest aluminum producer could benefit from a global economic recovery, but it must cope with low and uncertain aluminum prices. In the meantime, as worldwide need for aluminum expands, large world inventories of the metal remain worries.
Pfizer - the Most Attractive
From the value point of view, Pfizer is the most attractive one in this list. Its 12-month-trailing P/E is 14 and forward P/E is only 7 and it's offering a nice 4.7% dividend yield. Pfizer's current stock price is 43% below 1 year analyst estimated price based on 17 brokers' estimations.
However, Pfizer faces looming patent expirations, weak productivity from its recent research spending and uncertainty surrounding the U.S.'s sweeping healthcare reform. The stock price is currently below its 50-day moving average of $15.8 and below its 200-day moving average of $17.37.
The following chart shows Pfizer's top 10 products and their percentage of revenue. In November 2011, Pfizer will lose exclusivity for Lipitor, which accounts for over 16% of company's revenue. Nonetheless, there are over 133 programs in company's pipeline, ranging from phase I through registration.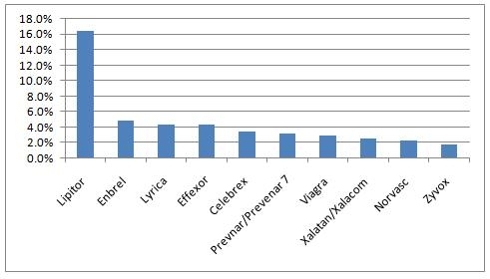 Conclusion
Quantitative traders use computer-driven trading systems that often trade rapidly into and out of the market. They may account for more than one-third of the volume on the New York Stock exchange,
according to Forbes
.
The fact that there are large numbers of HFTs in these stocks is a benefit to retail investors as these HFTs provide substantial liquidity.
Many quant funds seek out small arbitrage opportunities that have to be leveraged highly to get a decent return, and any leveraged portfolio can explode. However, there is opportunity for retail investors: if the quants are to blame for a declining stock price, then the selling may eventually stop, and the stock could rebound, based on its fundamental value.
Disclosure: Long PFE. Data is from SEC filings and Yahoo Finance and is valid as of June 20, 2010.