Success lies in being "Country Specific". Shift to the "Fiscally Responsible".
While MSCI EFAE (NYSE:EFA) seems to be the default option for many advisors and brokers, most don't understand that this ETF is comprised of 88.54% developed Europe and Japan. These nations are obviously faced with significant problems with debt and the austerity measures needed to correct the problem that they find themselves in. The 1-year return on EFA is not one to ignore at 53.92%. While the 3-year return is -7.07%. Play good defense with 1 year gains.
If you are hearing the normal refrain "It will come back" we would suggest " It may come back " might be more appropriate advice. In order to best shelter yourself from the problems and risks associated with the crisis in Europe, here are two country specific ETFs that should benefit from fiscal responsibility.
iShares MSCI Canada Index Fund (NYSE:EWC)
During an appearance on Fox Business last week, Tracy Byrnes stated "They kind of dodge the bullet don't they…" when discussing the Canadian economy with me. While Canada has certainly felt some of the pain of the recent recession they have recovered far more quickly than other nations experiencing the same problems. This is directly attributed to the following:
Canada has a broadly diversified economy with a cyclical focus on financial, materials and energy.
Canada is the largest exporter of energy supplies to the United States, it exports oil, natural gas, uranium and electric power. U.S. energy independence doesn't appear to be on the horizon any time soon.
They also have a banking system that emerged from the Financial Crisis of 2008-2009 as the envy of the world. Royal Bank of Canada (NYSE:RY) and Toronto Dominion (NYSE:TD) are the two largest holdings in EWC. Both of these Banks have a strong conservative banking system, which does what banks should, deposits and loans.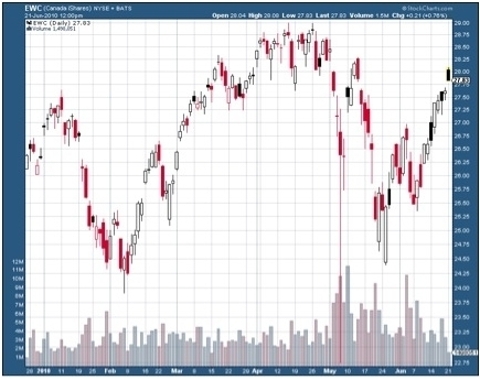 iShares MSCI Chile Index (NYSE:ECH)
The similarities between Canada and Chile are staggering.
Chile has a broadly diversified economy. Commodities, financial services, utilities and agriculture.
A strong financial Institution system made up of banking powerhouses such as Banco Santander Chile (NYSE:SAN) and Banco de Credito. Again, the resounding theme of conservative banking rings true in Chile as well.
A rules-based counter cyclical fiscal policy, which builds surpluses during time of prosperity and allows deficit spending only when times are challenging. This policy has led to Chile having a sovereign wealth fund of $20 billion separate from their Central Bank Reserves.
The combination of fiscal policy and strong banking institutions have enabled Chile to garner the highest sovereign debt bond rating in all of Latin America.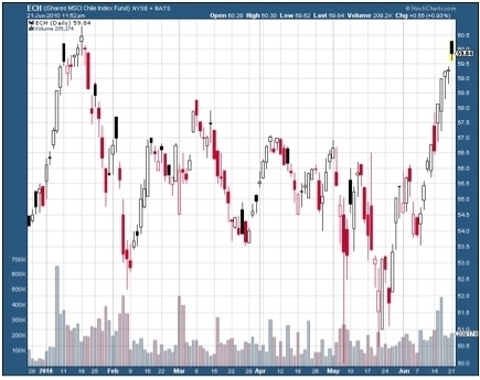 The risk to the investor on both of these country specific ETFs is they are both widely dependent on commodity pricing. Volatility should be expected.
Our quest for fiscally responsible Country Specific ETFs continues. Stay tuned…
Disclosure: Long TD, Long ECH, Long EWC