Gordmans Stores Inc (NASDAQ:GMAN) released it's earnings the other day, topping Street expectations as the company announced that their CEO, Jeff Gordman will be retiring. Both pieces of news were thought to be seen as positive signs for the company, as GMAN closed up almost 4% on solid volume that day, only to plunge almost 10% the next day.
Fundamentals
As of last week, GMAN was undervalued compared to its industry (Discount Stores) by over 68% for P/CF, 10% on P/B, and 50% on P/E, making it a solid value play for fundamental-driven investors. After incorporating those earnings, the company still showed signs that it was undervalued in the market with each of those ratios still below the industry average mark:
| | | | |
| --- | --- | --- | --- |
|   | Company | Industry | % Undervalued |
| P/CF (mrfy) | 3.79 | 13.76 | 72% |
| P/E (TTM) | 8.72 | 18.84 | 54% |
| P/B (mrq) | 3.01 | 3.44 | 13% |
Source: Zack's Investment Research
As it stands with the new results, each of these metrics shows that GMAN is even more undervalued than it was prior to the earnings release.
One of my favorite reasons for using the three ratios above is that they encompass a fairly broad picture of a company's financial health. I prefer the P/CF and P/B because some times earnings can be negative, so the P/E is rendered useless in some industries during parts of the business cycle ~ And those are the times when stocks tend to be the most undervalued!
When it comes to a story that seems almost too good to be true, I like to pull in some specific competitor ratios to see just how they stack up against more comparable companies. For Gordmans, I've chosen Kohl's Corp (NYSE:KSS), Macy's Inc (NYSE:M), Dillards Inc (NYSE:DDS), and TJX Companies Inc (NYSE:TJX). Ranking is in brackets.
| | | | |
| --- | --- | --- | --- |
|   | P/CF (mrfy) | P/B (mrq) | P/E |
| GMAN | 3.79(1) | 3.01 (3) | 8.72 (1) |
| KSS | 6.70(2) | 1.99 (2) | 13.67 (3) |
| M | 8.43 (4) | 3.45 (4) | 14.42 (4) |
| DDS | 6.75 (3) | 1.95 (1) | 12.63 (2) |
| TJX | 16.53 (5) | 10.18 (5) | 21.33 (5) |
Source: Zack's Investment Research
Even with a more competitor-specific fundamental analysis, it's clear that GMAN is still an undervalued play in the Discount Retail industry.
When I take a look at the stock performance history vs. Kohl's, it's clear that Gordmans has underperformed some of these bigger names in the market, further adding to the point that it's not fairly valued.
Price Target
Given the fundamentals and industry averages presented above, my estimate is that Gordmans could double when you look at just the industry averages. Such a bold statement is a bit misrepresented, as industry averages tend to have some significant outliers so upon further analysis with its close industry competitors I'd say the stock has a 20-50% upside potential in the next year.
Technical Analysis
Finally, I always like to take a quick look at the technicals on a company to if the chart has any significant signs that would scare investors away.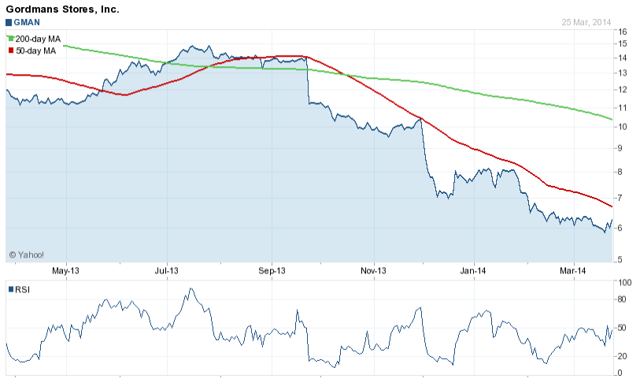 Source: Yahoo! Finance
This chart is definitely not the prettiest thing in the world, but it speaks to the undervalued position that Gordmans has taken in the industry. Although the company is in a significant downtrend, with a death cross formation from October 2013 still in effect, I believe that the bottom has started to form and the upside potential I mentioned above is quite feasible. As a more conservative play, it may be beneficial to wait and see how the market reacts in the next week or two with the recent financial results and if the stock begins to climb.
Conclusion
When it comes to fundamental analysis, there will always be stocks that seem like the perfect play in an industry but don't ever materialize while seemingly overvalued stocks get pulled up by momentum. I've always trusted the fundamentals and positioned myself accordingly, knowing that historically value stocks have outperformed growth stocks in the long-run. There's no crystal ball when it comes to investing and no saying when or even if GMAN will reach the target of 20-50% growth, but given the fundamentals it is hard to argue that is isn't worth your time if you're looking for a solid value-play in the market.
Disclosure: I am long GMAN. I wrote this article myself, and it expresses my own opinions. I am not receiving compensation for it (other than from Seeking Alpha). I have no business relationship with any company whose stock is mentioned in this article.