Citigroup (NYSE:C) is a bank that I haven't really covered so much, but one that bleeped across my screen yesterday (3/26/14) due to it having a rough day. I knew that prior to the news, Citi traded at one of the lowest valuations of all the banks - it's the BP (NYSE:BP) of its sector - and I was wondering if things had changed in the last few months or if the dip represented an even bigger discount to the bank's book value.
Citi has traded well, up 12.8% in the last year alone, and up exponentially since the subprime crisis, which is now almost six years ago.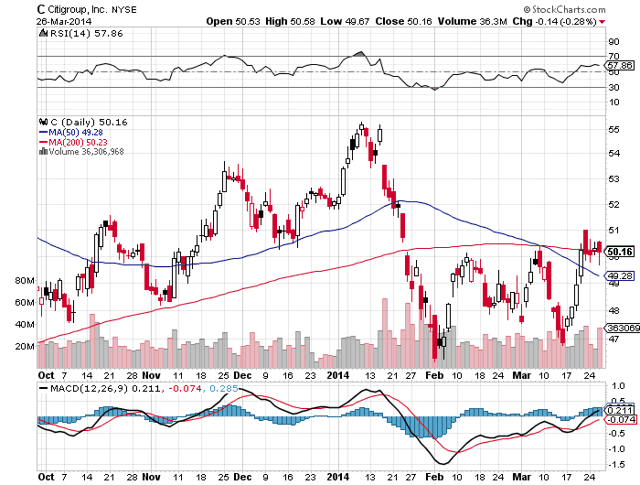 The story is that the Federal Reserve, unlike with my favorite bank, Bank of America (NYSE:BAC), rejected Citigroup's capital plan to get some money back out to shareholders. After the news broke, shares were hammered down 5.6%. Seeking Alpha reported:
We are deeply disappointed by the Fed's decision regarding the additional capital actions we requested," says Citigroup CEO Michael Corbat. "The additional capital actions represented a modest level of capital return and still allowed Citi to exceed the required threshold on a quantitative basis."
Press release
As previously reported, Citigroup's capital return plan was rejected for "qualitative" reasons, with the Fed saying promised improvements in the bank's capital planning processes have not been made fast enough.
Citi had shot for a boost in the dividend to a nickel a share, and a $6.4B repurchase program. The bank will be allowed to continue with its current $0.01 dividend and $1.2B buyback plan.
Shares -5.6% AH on heavy volume
While I acknowledge that this news is significant, investors are clearly not seeing the bank's valuation heading into and out of this news. Further, the bank is going to be able to continue its current $1.2 billion buyback plan - still substantial news.
The bank sports a forward P/E of around 9.6 and a price/book value of 0.77.
Even without the dividend, this stock is simply dirt cheap. Compared to its peers, it's the cheapest in terms of forward P/E and the strongest when it comes to price/book value.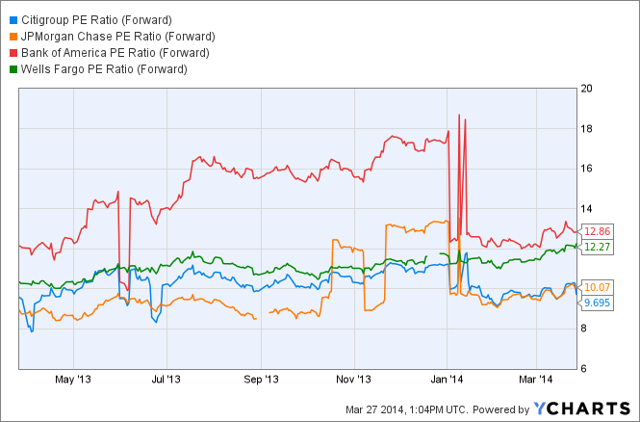 C PE Ratio (Forward) data by YCharts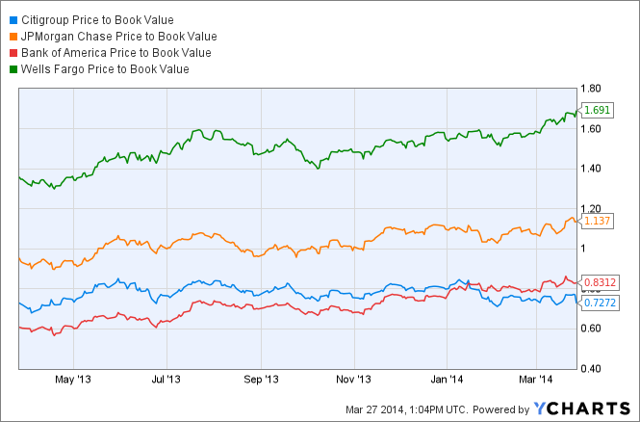 C Price to Book Value data by YCharts
Again, regardless of the Fed news and whether or not the company does eventually wind up raising its dividends (it'll happen eventually, trust me) this stock is cheap. It's not going to take much longer for investors to realize the even bigger discount to market they are getting on the heels of this news and pile back into Citigroup.
Investment thesis: Citi remains cheap both for the short and long term here. Short-term traders can do well to buy in and hold for the coming 8-10% gains as it eventually makes its way over $50 again. Long-term traders still get the discount to book here, but will likely have to hold a bit in order to get the security blanket of the dividend. However, I contend that dividend or not, Citigroup is too cheap of a stock to be overlooked on this sell off. Best of luck to all investors.
The stock is slated to open this morning, Thursday (3/27/14), around $47.32.
Disclosure: I have no positions in any stocks mentioned, and no plans to initiate any positions within the next 72 hours. I wrote this article myself, and it expresses my own opinions. I am not receiving compensation for it (other than from Seeking Alpha). I have no business relationship with any company whose stock is mentioned in this article.