In April 2008, I featured Bridgford Foods Corporation (NASDAQ:BRID) as a possible ten-bagger (Stock Guru's Peter Lynch's pseudo baseball analogy to achieving a ten-fold appreciation in a stock selection).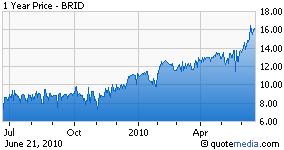 Fast forward two years, and it appears that prognosis is turning into reality, thanks to the shares massive dip in March of 2009, to an all time low of $2.50 and then subsequent relentless price appreciation (rallying more than seven fold).The rationale for the jump- an extremely oversold value stock coupled with a tremendous string of earnings improvements.
Now, the company has just come out with impressive third quarter earnings results, with earnings nearly doubling from 10 to 18 cents, on only a 5% sales gain. Catalysts for the big earnings gain were a gross profit margin increase from 40.8% to 43.90% coupled with a 120 basis point drop in SG&A costs to 35.4%. The "cherry on top" was the snack food maker's ability to grow its cash holdings 21% from $14 million to $17 million, while simultaneouly paying a cash dividend and buying back its own shares.
Time for some gloating: Well I guess I need to pat myself on the back and throw out a couple of 'I told you sos' on this baby, but in reality, I was skeptical this scenario would ever come to fruition. It's too bad that not more family and friends actually took my advice and invested, or that I didn't possess enough conviction to hold and nurture my entire position (selling about 2/3 of my holdings at about $9), but it's easy to look back and play Monday morning quarterback.
It is interesting to note, that through the huge run up in price, there have been no additional shares created (prompting no earnings dilution) through the exercise of employee or director stock options, because the company has no outstanding stock options. It has a simple formula for rewarding management- the top five officers each partake in a bonus plan based on a percentage of the bottom line. Besides the cash bonus, management really makes its dough through the stock's appreciation and cash dividend (since they own 75% of the company). The point is, these guys have plenty of incentive to see the company prosper, because it's their own money on the line, not someone else's!
Ten bagger almost a reality: with the shares needing only about a 50% gain to make it happen, I would be surprised if it didn't take place, because you have to go with the trend (remember a trend in motion is assumed to remain intact until there is a clear change) and the momentum on this one is through the roof! This explains why Wall Street often does things backwards. It often jumps on any momentum train and asks questions later. It absolutely loathed the stock at $2.55 and has a raging crush on it at $16.60. It seems more logical to love a stock when it is cheap, and get bored with it when it is expensive-how else are you supposed to buy low and sell high?
Bottom line: Even though BRID has already experienced an incredible move, there is more to come. A new all time high of $21 is probably just around the corner, and an onslaught of the "ten bagger" sweet spot of $25 is not far behind!
Disclosure: Long BRID