One of my most talked about long positions is the one that I took in Bank of America (BAC) around $16, after a year of singing the praises of the bank for its turnaround, as well as the job that management has been doing for the last couple of years.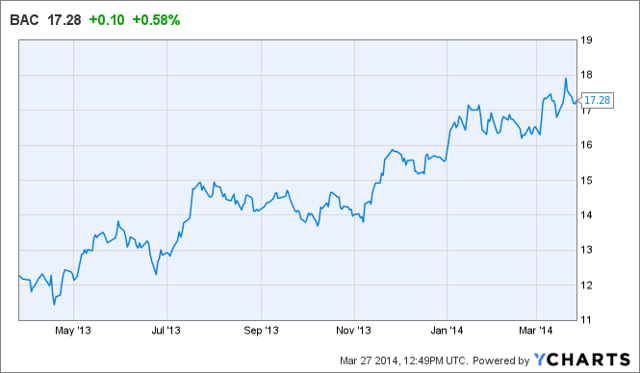 The bank was in the news earlier this week over some commentary Goldman Sachs (NYSE:GS) made about it as a result of the bank's performance during this year's stress test. I advised investors that I was ignoring Goldman's sentiments and would be buying on any Goldman-induced dips. As I concluded in my last article, a dividend increase that I've been expecting for a year has happened and the bank's legal issues remained the sole risk for this investor:
I will, however, point out that risk remaining from litigation - something that Goldman did not point out in its statements - remains a bit bigger of a risk for the company. However, for the long-term, I do believe the bank will prevail over this issue.
Earlier yesterday, the question then became whether or not the Fed was going to allow the bank's plan to pay dividends or buy back stock. We found out after trading yesterday that Bank of America was, in fact, approved for its capital return after modifying its plan to do so. As reported by Street Insider:
Bank of America (NYSE: BAC) announced that it intends to increase its quarterly common stock dividend to $0.05 per share, beginning in the second quarter of 2014. Also, the Board of Directors authorized a new $4.0 billion common stock repurchase program. This authorization, which covers both common stock and warrants, replaces the prior year's common stock repurchase program that expires on March 31, 2014.

The Federal Reserve Board has informed the company that it completed its 2014 Comprehensive Capital Analysis and Review and that it did not object to the company's capital plan, including the proposed dividend increase and repurchase program, covering the period from the second quarter of 2014 through the first quarter of 2015.

"Over the last few years we have focused on positioning the company to return capital to our shareholders," said Chief Executive Officer Brian Moynihan. "We know that increasing the common dividend is important to our shareholders and we are pleased that we can continue to return excess capital through both repurchases and dividends."
I feel your pain, Mr. Moynihan, I've been calling for these dividend raises and watching the preferred yield dividends for the better part of a year. It's been a long road, but we're heading in the right direction, sir.
The legal issues have certainly acted as a dark cloud over BAC's head - they've been something I've been confident on eventually going away and not having a massively material effect on the bank. Just yesterday, we found out that BAC had settled with FHFA regarding its residential mortgage backed securities.
I first postulated ignoring BAC's legal woes on August 8th of 2013. At that time, the stock was trading at around $14. Since then, I've hammered home this sentiment in most of my articles related to Bank of America. I stated:
Sure, it's likely to cost the company some money in the interim, so we may not see a significantly reduced amount of spending in terms of legal expenses, but as the company continues to go "lean and mean," cutting branches and employees, it shouldn't make a difference.

In addition, I'd argue it's a forward thinking move to invest in Bank of America here. After all of this legal mess wraps up (which will probably be in the not-too-distant future), investors who will presumably have been benefiting from Bank of America's mortgages and housing growth (as long as the housing market continues to grow) will also benefit from a substantial reduction in legal costs, causing Bank of America's profits to likely receive a boost.
The news was out yesterday afternoon and pinged through on Seeking Alpha's Breaking News. Seeking Alpha reported:
Bank of America today announced it reached a settlement with the Federal Housing Finance Agency (FHFA) as conservator of Fannie Mae and Freddie Mac to resolve all of FHFAs residential mortgage-backed securities (RMBS) litigation with Bank of America, as well as other legacy contract claims.

The FHFA settlement resolves four lawsuits FHFA filed against Bank of America, Countrywide and Merrill Lynch entities beginning in September 2011, alleging they falsely represented that the underlying mortgage loans complied with certain standards. Approximately $57.5 billion (in purchase cost) of private-label RMBS purchased by Fannie Mae and Freddie Mac are covered by the settlement.

Under terms of the settlement, Bank of America will make cash payments totaling approximately $6.3 billion to Fannie Mae and Freddie Mac. In addition, Bank of America will purchase certain RMBS at fair market value (approximately $3.2 billion). In return, FHFA's pending lawsuits will be dismissed with prejudice and Bank of America and its affiliates will be released from all securities law and fraud claims, as well as certain other claims related to the private-label RMBS in dispute.
This is easily the biggest news to come out of the bank in a while. Sure, it's a costly settlement. However, with this in the rear view, money that was waiting on the sidelines should start to inch its way back into the bank.
The bank said that the settlement is going to reduce 1Q 2014 income by $3.7 billion, which equates to $0.21/share. BAC will be reporting these results on April 16.
But, the bigger picture here is that the bank is starting to move in the right direction. Yes, it's going to take some serious work to continue to reduce the amount of common outstanding, but there's nothing suggesting that the bank won't be able to do it.
This also further goes to prove my case that Goldman Sachs' note on BAC the other day was irrelevant.
Investment thesis: Brian Moynihan has done an exemplary job at the helm of this company. He joins the list of CEOs that have my trust, until they do something to lose it. I continue to remain long Bank of America and could potentially add common or warrants on any dip. I realistically see this stock through $20 by the end of the year and am projecting further dividend increases and buybacks in the coming years. Best of luck to all investors.
Disclosure: I am long BAC. I wrote this article myself, and it expresses my own opinions. I am not receiving compensation for it (other than from Seeking Alpha). I have no business relationship with any company whose stock is mentioned in this article.