With nearly $1.24 trillion in commercial real estate (CRE) loans that need to be refinanced over the next four years, commercial real estate firms are gearing up to raise capital through equity markets. About a dozen ambitious IPO deals are in the pipelines, according to Thomson Reuters research. Should investors jump on the opportunity to buy into CRE firms, or is this a last ditch effort for failing companies to ditch their toxic debt?
The last couple years have not been good to CRE firms. Cap rates have been creeping steadily higher since 2007 (up 41 bp), but the real story comes when analyzing CRE risk premiums.
When measuring cap rates against 10-year Treasury yields we see that the weighted composite CRE risk premium jumped 222 bp from 2007-2010. On average, investors are now demanding roughly 7% above the risk-free rate to hold high quality CRE (compared to less than 5% in 2007).
The big question is how should investors take this news? Are new CRE IPOs a sign of coming market strength, or continued weakness?
Two recent CRE IPO prospects might help shed some light on what to expect:
Welsh Property Trust Inc (WLS.N), owner of industrial and office properties, scaled back its plans for its roughly $350 million IPO in early June, and then shelved them altogether.
High-end hotel company Chesapeake Lodging Trust (NYSE:CHSP), debuted in late January after first delaying its IPO and then shrinking it by 40 percent. Its shares now trade 14 percent below their reduced IPO price.
So far, not so good. We can also look to Jay Ritter's seminal work, The Long-Run Performance Of Initial Public Offerings: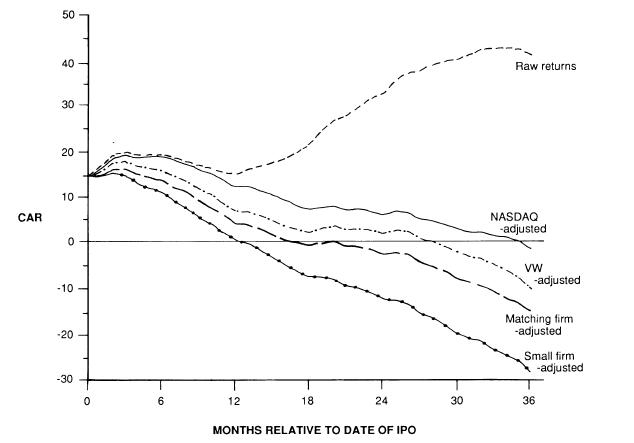 (Click to enlarge)
Analyzing IPOs from 1975-1984, Ritter showed that, on average, issuing firms underperform their respective equity indices (CAR = cumulative average return). One reason he cites for this systematic underperformance is that firms tend to take advantage of "windows of opportunity," while stock markets are highly valued to dump their equity onto irrationally exuberant buyers.
With all these considerations in mind, we must ask ourselves if the growing commercial real estate IPO pipeline is a last act of desperation for failing firms holding toxic assets, or if these represent buying windows of opportunity for prudent investors?
In the end, the return on investment for any asset is dependent on its acquisition price. There will likely be good deals and bad deals ahead. Some strong CRE firms will likely issue stock at bargain prices, while other, lower quality ones misprice their equity on the high side.
What we do know is that we don't really know much about the future. We'll just have to wait to see what happens when we get there.
Disclosure: No positions