Alcoa (NYSE:AA) came out of the open screaming today, currently trading near its highs of the day - up 6.32% right now at $12.60.
I am long Alcoa stock, and named it as an "Attractive Trade" for 2014.
Alcoa has traded extremely well for those that have been in since the beginning of 2014, up 17.8% counting today's trading. In the last year alone, the stock has been up 47.5% - and there's still room for it to run, in this investor's opinion.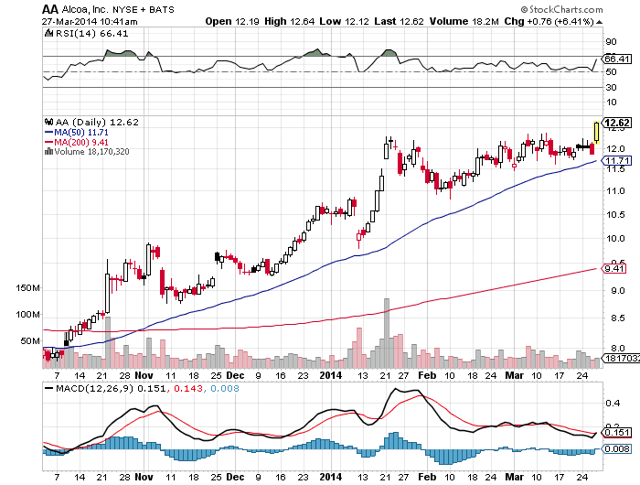 You don't need to be an expert chartist to understand that Alcoa's chart is one fine-looking picture for bulls.
I've owned Alcoa since the beginning of this year, and I added on the dip after Alcoa's earnings, which drove the stock down under $10. I cited my reasons for buying as the dividends, usage in the automotive and aerospace industry, and eventual turnaround of the aluminum market.
I contend that Alcoa is going to continue to raise its dividends in the coming quarters, significantly increasing its yield.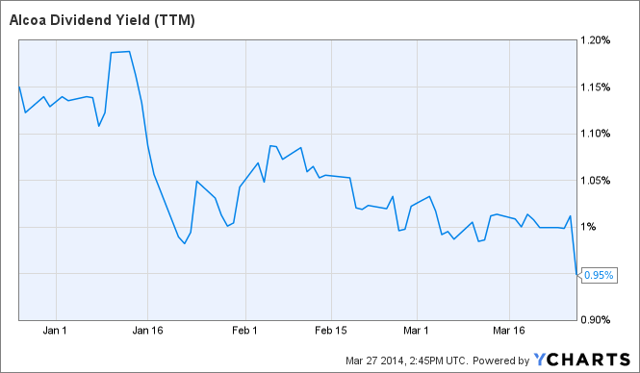 AA Dividend Yield (TTM) data by YCharts
I reaffirmed that sentiment when Ford (NYSE:F) and General Motors (NYSE:GM) announced that they were going to be working with Alcoa to produce aluminum trucks going forward:
These three positions make up some where around 24% of my portfolio when combined - news like this sometimes has me wondering if I'm going to reach some sort of auto-maker nirvana this coming year. I continue to believe Ford and General Motors are undervalued, and this could contribute to an upswing for Alcoa this year, as well.

Sure, there's a risk that the aluminum won't catch on, but as I've already said, the more companies that do it, the more likely it is the catch on with consumers.

A someone who has a long-term outlook on his investments in Ford, GM, and Alcoa (looking for 2017-2019, barring catastrophe), I like this news of three of my bigger positions all working together to bring innovation to the auto market.
Since then, Alcoa has been screaming, and I'd argue that the company could continue its run-up to $15 without much trouble. The main event that continues to catalyze my thesis on the company is rebounding aluminum prices.
Aluminum prices have been on the decline over the past couple of years, but are forecasted to bottom and rise in the coming year. When they do, companies like Alcoa, who are taking on tons of new business (like Ford), stand to benefit in a major way - as do their shareholders.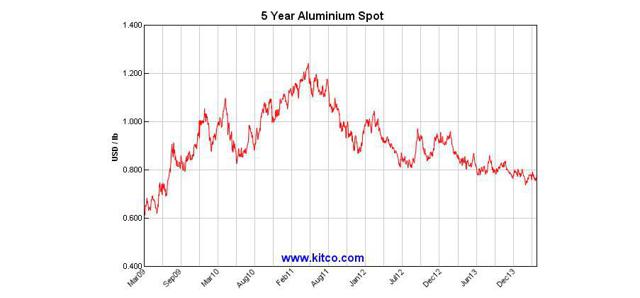 Additionally, Alcoa did get some analyst support over the last month. On March 11th, the company got a nudge from Morgan Stanley, as reported by Seeking Alpha:
Alcoa ( +1.7%) has enjoyed a 15% run YTD, and Morgan Stanley's Paretosh Misra thinks shares look expensive at 34x 2014 earnings forecasts vs. the historical one-year forward P/E of 14x, but the firm sees three reasons Alcoa shares could hold up nicely.
Stanley thinks Q1 consensus looks too low; based on quarter-to-date average FX, alumina and aluminum prices, the firm sees Q1 EPS at ~$0.10 vs. current consensus of $0.04.
The auto body sheet story has gained traction, the firm says, sensing investors may overlook weakness in near-term earnings given the focus on 2015-20.
Alumina prices are $15/ton below the YTD peak level, but the firm cites some expectation that Indonesia may not restart bauxite export this year, which could tighten the market.
Still, Morgan's base case for AA stock is $11, 11% lower than today's price.
And days after that, Sterne Agee weighed in, starting Alcoa with a buy and a $15 price target. Seeking Alpha also reported on this analyst coverage:
Alcoa ( -0.2%) is initiated with a Buy rating and $15 price target at Sterne Agee, which believes each of Alcoa's three market segments are poised to "enjoy independent secular trends."
AA's downstream segment, which is 52% aerospace sales, will benefit "as destocking abates and as the long-term aerospace delivery cycle engages Alcoa's world class fastener, investment cast, and forging operations," the firm says.
For the midstream segment, the analyst expects 1.2M tons of auto sheet by 2025, but this number "could grow more than 2x as adoption accelerates across platforms."
43% of AA's sales come from the upstream commodity segment, which are "executing on cost curve improvements through utilization [and] rationalization."
With analyst sentiment behind the company starting to come around, and an eventual bottom in the aluminum market hopefully coming, I still don't think that Alcoa is too expensive to get into right now.
In other words, the juggernaut might still have a head of steam behind it.
With the dividends acting as a safety blanket until the company ratchets them up again, Alcoa has the technical momentum behind it and the fundamentals swinging to its side in the aluminum market. I'd contend Alcoa should be a buy up to around $15, where it can then be reconsidered.
My position in Alcoa is a very long-term one that I plan on holding for multiple years.
Best of luck to all investors.
Disclosure: I am long AA, GM, F. I wrote this article myself, and it expresses my own opinions. I am not receiving compensation for it (other than from Seeking Alpha). I have no business relationship with any company whose stock is mentioned in this article.