The main thesis of my last article on U.S. Geothermal Inc. (NYSEMKT:HTM) was that this small company, after years of organic work, transformed itself into an established utility business.
Yesterday, the company published its 2013 annual report and, in my opinion, this document confirms the company's transformation.
In this article I would like to cover a few topics, which, in my opinion, are crucial for the company's performance. Then, I want to present some thoughts on the current valuation - since my last article U.S. Geothermal shares went up from $0.39 to $0.84 (the chart below).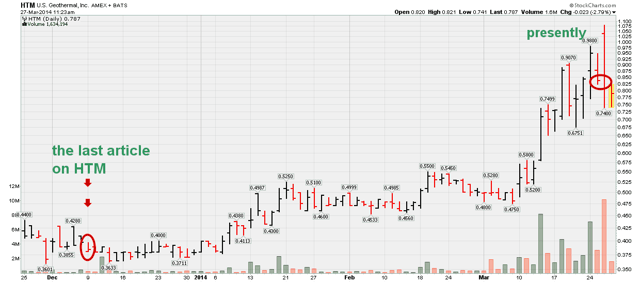 source: www.stockcharts.com
First, some basic financial measures: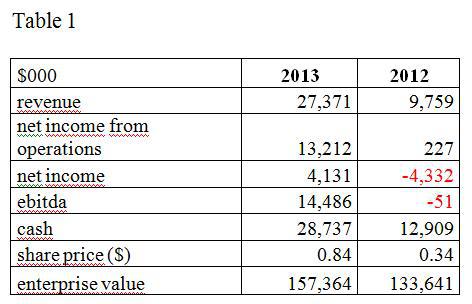 As the table shows, the majority of measures were much better in 2013 than in 2012.
As for the crucial topics, let me start with the projects in operation. Currently the company operates three geothermal units:

Two of them are run as joint ventures (Raft River with Goldman Sachs and Neal Hot Springs with Enbridge). The biggest project is Neal Hot Springs. This utility has changed the company's picture a lot. Fully operational since the fourth quarter 2012, Neal Hot Springs sells as much electricity as two other projects combined and provides the company with the biggest share of cash flow from operations.
Let us look at the details: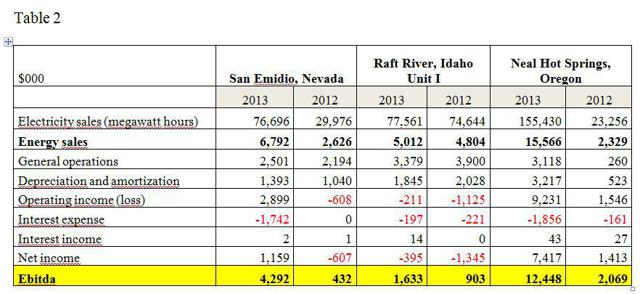 Notice: please keep in mind that the table only shows the operational results of three projects; some of the company's general expenses are not included in this table.
As table 2 depicts, all three operating power plants were profitable in 2013 and these profits were higher than in 2012. What is more important, all three projects generated positive cash flows (to be more precise - EBITDA) for the company - totally $18,373 thousand (only $3,404 thousand in 2012) with the biggest contribution of the newest plant, i.e. Neal Hot Springs ($12,448 thousand). This plant is a real game changer - all operational figures in 2013 are higher mainly due to Neal Hot Springs.
Summary of three power plants in operation is presented below: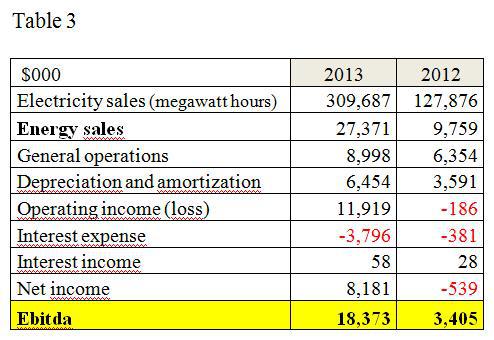 Now, let me focus on production costs. To be competitive in a highly regulated electricity business you have to care about costs very much. Though the geothermal business has some distortions built into its fundamentals (tax credits, grants etc.) it is always worthy tracking its costs. Table 3 presents the main figures: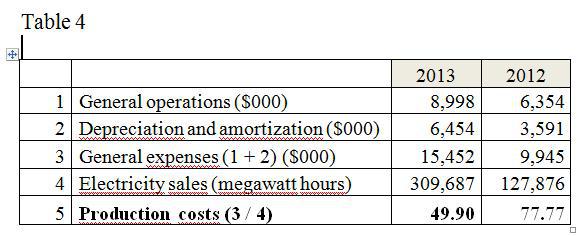 As the table shows, the costs of generating one megawatt hour were $49.90 in 2013 and $77.77 in 2012 (it went down 36%). Of the three plants, the one with the lowest costs was Neal Hot Springs ($40.8), which is another plus for the company - the biggest project incurs the lowest costs (in case of San Emidio and Raft River these costs were $50.8 and $67.3, respectively).
Are the costs of power generation big? To assess it, one should find some benchmark. In our case I think that quite a good benchmark would be costs recorded by Ormat Technologies (NYSE:ORA), the flagship of the geothermal business. In 2013 Ormat sold 4,253,489 megawatt hours to its customers incurring $232,874 thousand as costs of revenues. This makes $54.8 per megawatt hour, which is a little more than in case of U.S. Geothermal ($49.9). So at the cost level, U.S. Geothermal is similar to Ormat, which is another plus for the company.
Since my last article the company's shares went up 115%. Today, the company's market capitalization stands at $85.8 million ($0.84 a share). To assess whether it is an elevated level, let me compare U.S. Geothermal, once again, to Ormat (though it is not strictly a clean geothermal utility - Ormat also sells the technical solutions for geothermal businesses).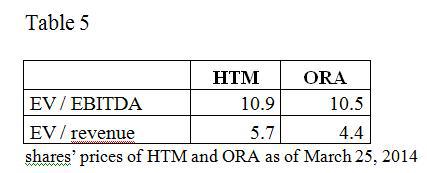 For comparison I am using two measures, which cannot be too easily manipulated: revenue and earnings before interest, taxes, amortization and depreciation. As can be spotted, both companies are valued, more or less, the same. Therefore, in my opinion, U.S. Geothermal does not seem to be priced at an elevated level.
Remark: there is quite an interesting deviation between HTM and ORA - the electricity prices recorded by HTM are in an uptrend while these recorded by ORA are in a downtrend: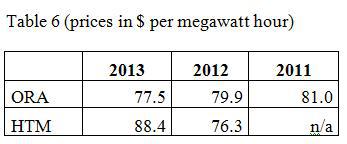 It seems that the states where U.S. Geothermal operates offer better prices than those where Ormat does. It could be another big plus for HTM but I feel that this conclusion demands a little more research.
What next? Due to the fact that at the moment U.S. Geothermal seems to be a well established business we should not expect any spectacular events in the coming future. But, fortunately, there could be two catalysts which could send prices higher in the long term. In fourth quarter 2015 the company plans to put two new power plants online. These plants should be 100% owned by the company:
El Ceibillo - the project is located in Guatemala and has a target capacity 25 megawatts
San Emidio Phase II - the project is an extension of San Emidio Phase I and has a target capacity 11 megawatts
These projects will transform the company into another stage again - the overall capacity will grow from today's 41 megawatts to 77 megawatts, nearly twofold. But there are some cracks in that picture. Though in its annual report the company confirms the opening date of this project, El Ceibillo could be delayed due to the fact that the drilling on the site is not finished yet and the concession on that land expires in 2015. The company is also looking for partners participating in that project.
As for San Emidio Phase II, the company states in its annual report: "The Phase II expansion was delayed due to the extended time required to get Phase I online, and is still dependent on successful development of additional production and injection well capacity." Well, it does not sound too optimistic. Anyway, these two projects need a lot of money (San Emidio Phase II $55 million and El Ceibillo $135 million) and quite a few things have to be clarified before the company goes further.
Summary
For U.S. Geothermal the year 2013 was a year of transformation. After putting into operation the new power plant, Neal Hot Springs, the company's geothermal portfolio is a very solid asset now. In my opinion, this transformation has been discounted in the company's share prices. Looking at the present valuations, shares of U.S. Geothermal seem to be fairly priced. To bring stock valuation higher, a catalyst is needed. Putting another two plants into operation in 2015 could be such a catalyst but, for the time being, this process seems to be a little bit delayed.
Disclosure: I have no positions in any stocks mentioned, and no plans to initiate any positions within the next 72 hours. I wrote this article myself, and it expresses my own opinions. I am not receiving compensation for it (other than from Seeking Alpha). I have no business relationship with any company whose stock is mentioned in this article.
Editor's Note: This article covers a stock trading at less than $1 per share and/or with less than a $100 million market cap. Please be aware of the risks associated with these stocks.
Editor's Note: This article covers one or more stocks trading at less than $1 per share and/or with less than a $100 million market cap. Please be aware of the risks associated with these stocks.