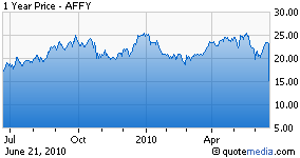 Click to enlarge
Affymax Inc. (NASDAQ:AFFY) traded 16 million shares on June 21st, which in itself is not that many for any given stock, but when the whole float is about 20 million shares that is a lot of shares being traded back and forth. Can anyone say HFT (high frequency trading)... ?
I read the report, listened to the conference call and looked at a surface level of the books, and I could not figure out a reason why the stock was sold off so far, beyond perhaps panic and a fund that wanted to get out. With a 40 or even a 50% drop, I would have thought it a bit overdone, but in the world of getting a FDA approval meaning the difference between the penthouse and the out house, it is not all that uncommon to see a low value stock lose half its value or even more. On the other hand, AFFY was not what most would call a penny stock, as it was trading above $20/share for quite some time.
Hematide is a drug for treating anemia. It just completed its phase III trials, which did not go as well as hoped by the management team or the investors of Affymax. At the same time, Hematide did not arrive DOA, with some honest hope that even if not fully approved for the entire 3 billion dollar market, just a part of the market should send AFFY stock soaring higher.
Even with limits on who Hematide can be marketed to, due to possible health risks of 5% of the market, that would still be $150 million dollars a year in sales for Affymax. With an active float of about 20 million shares and a price in the mid $7, that would give the stock a price to about one year's sales. Looking at the assets and cash on hand metrics, we see that depending on how greatly assets are discounted, that AFFY has cash of more than 50% of the current closing price.
Taking it one step further, we see that the burn rate appears to be going down, which, taken as a whole, makes me believe that AFFY is not in danger or falling apart. It sure had the action yesterday of a company that was about to implode though. At one point, I thought it would have a very real chance of going down 70% for the day. Each time AFFY started looking at a price of $7, buyers stepped up and drove the price back up away from $7.
In after hours trading, the stock was largely traded at the offering price, giving me the impression that when anyone wanted to offer some shares up at near the closing price, buyers would step up and take what they could. The stock didn't move much higher relative to the fall from Friday, but it is not unusual for me to see a stock continue to fall after a beating like AFFY received all day long.
This leads me to believe that AFFY more likely than not will pop higher today and will generally trade higher over the next few trading days, as the news gets digested, and some real value is seen with the strong balance sheet compared to the stock price, in my opinion.
Another way to look at the stock, is that it is much like a long dated option, but without an expiration date. If Hematide does get approved, it would be easy to believe that AFFY could be a three or four banger. If it only gets partly approved for some of the market, it could easily double in price or better, I believe. I will be looking for a price of over $10 within the next couple of weeks, with a price target of $16-20 later this year.
Disclosure: Author long AFFY