Barely 6 weeks ago our profit hunt bagged an exciting trophy in the form of a ProShares UltraPro Russell2000 ETF, species (NYSEARCA:URTY). We captured his action from $ 80 on February 11 until he prepared to drop only 19 market days later, just short of a month, at a prize $97.
Now he is reconstituting himself, building his strength by plunging into mudholes at $85, headed, we're told, for $82 - or possibly lower - before striking out into the old territory above $96 where we last saw him faltering.
Our guides have been tracking him daily, as an extension to our earlier escapades. Here's what they show of his moves: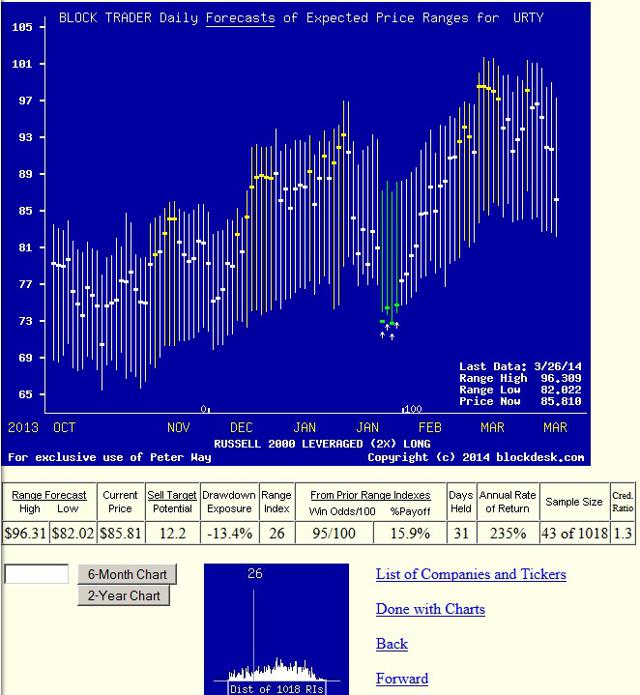 (used with permission)
Maybe he won't have the stamina to do another charge. He is a bit older, and the expectations of the guides still have him in recuperation, not yet in rampage mode. But see what his history has been in just the past two years. That's a small part of one of these beasts' lives.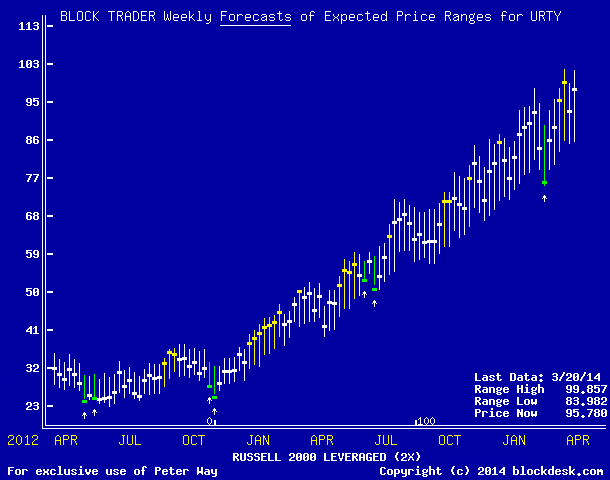 That's a pretty steady upwards path, with only brief stumbles and quick recoveries. He's nearing the lower side of this trail. Are you a Sport? Can you take on a spot of thrill from possible temporary loss danger?
Our supplies will last us 3 months out in the brush. That should be ample to finish him off. Last time took less than one month. Can we count you in?
Conclusion:
It's buy time to start scaling into a position here in the low $80s. Keep plenty of pixels at the ready because we may encounter many opportunities at lower prices. But don't let this favorable prospect slip away in a surprise move. We should at least have enough of a trophy to be able to brag that we saw it coming.
Disclosure: I have no positions in any stocks mentioned, and no plans to initiate any positions within the next 72 hours. I wrote this article myself, and it expresses my own opinions. I am not receiving compensation for it (other than from Seeking Alpha). I have no business relationship with any company whose stock is mentioned in this article.